If you love bananas foster as much as I do, then this is the snack for you! I seriously can't believe how much it tastes like the traditional dessert, and turned into a party Chex mix, your guests are going to love this unique and delicious Chex mix recipe (that also happens to be a completely gluten-free snack recipe!)
This bananas foster Chex mix is such a crunch and versatile snack which only takes a few minutes to make, you're going to want to keep some on hand for after school snacks or make it for any party you have!
I was in the check out line at the grocery store and spotted the Taste of Home Homemade Gifts booklet and I had to pick it up. I am so glad I did! It is full of amazing recipes that double as gifts. This bananas foster party Chex mix recipe is no different.
I was having a super busy day and was planning on making a bunch of recipes for gifting (like this peppermint fudge) and my husband offered to go to the grocery store to buy the ingredients with our son Ben (he such a good shopper, he sits in the cart and yells 'hiiiya' at people lol). I told my husband I was planning on wrapping this party Chex mix as gifts to give around the holidays.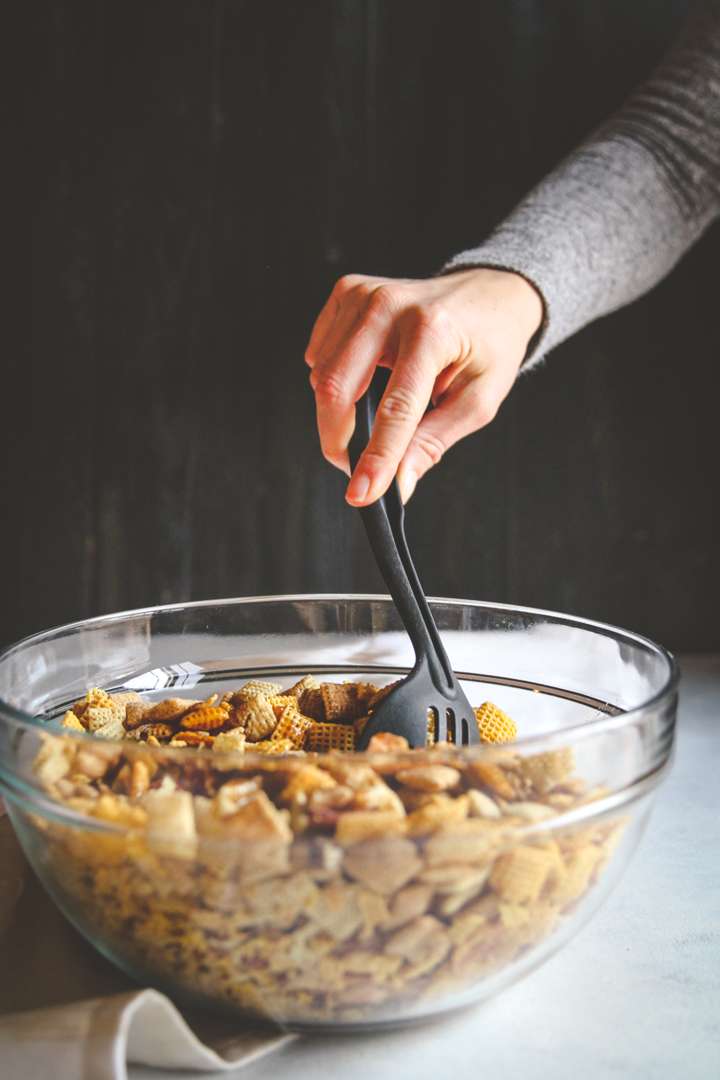 He came home with the cutest bags for wrapping the Chex mix in, he found these Reynolds wax paper sandwich bags which worked so perfectly. All I did was use the bag and tied it with a bow for the cutest little gift.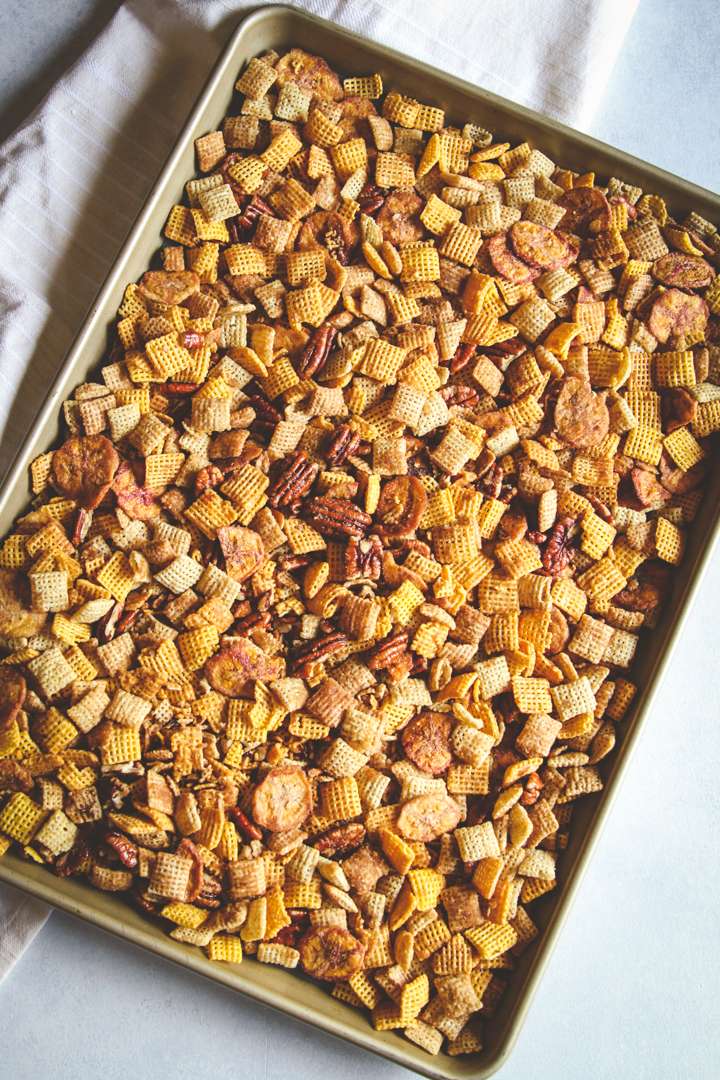 Let's talk about the amazing recipe and how to make a party Chex mix!
Making this bananas foster Chex mix couldn't be easier. All you you is combine Honey Nut and Cinnamon Chex with pecan halves and dried bananas chips, and then melt butter, brown sugar and cinnamon in the microwave, stir in some extracts for added flavor, and then combine and microwave everything together and then let it cool.
This bananas foster Chex mix makes a great snack or addition to any party spread! And, this is a completely naturally gluten free snack recipe!!
Yield: 8 1/2 cups
Bananas Foster Party Chex Mix Recipe
Prep Time 5 minutes

Cook Time 5 minutes

Additional Time 30 minutes

Total Time 40 minutes
Ingredients
3 cups Honey Nut Chex cereal
3 cups Cinnamon Chex cereal
2 cups pecan halves
1 1/2 cups dried banana chips
1/3 cup butter, cubed (5 1/2 tablespoons)
1/3 cup packed brown sugar (light or dark ok)
1/2 teaspoon ground cinnamon
1/2 teaspoon banana extract (optional)
1/2 teaspoon rum extract (optional)
Instructions
Place the first four ingredients in a large microwave-safe bowl and set aside.
Place the butter, brown sugar and cinnamon in a small microwave-safe bowl; microwave on high for 2 minutes, stirring once in the middle.
Stir in extracts. Pour over the cereal mixture; toss to coat.
Microwave cereal mixture on high for 3 minutes, stirring every minute.
spread onto baking sheets to cool.


Nutrition Information:
Yield:
12
Serving Size:
3/4 cup
Amount Per Serving: Calories: 358