If you've been a reader for a while, you'll know that I love cooking with ground turkey. As I mentioned in this Asian ground turkey and rice bowls recipe, I find myself purchasing ground turkey over ground beef all the time.  So today, I wanted to share 10 easy ground turkey dinner recipe ideas with you all so you can see how easy it is to make tasty meals a touch healthier!
This is a meal we eat all of the time for dinner.  The slight sweetness balances out a slight bit of spice for the perfect flavor combination.  Best of all, this is a great make-ahead or freezer meal!
This has quickly become one of my favorite dinners to make.
The mini meatloaves are perfect for a family and then you can easily get creative with whatever sides you'd like.
Best of all, you can bake everything on one sheet pan so the clean up is minimal!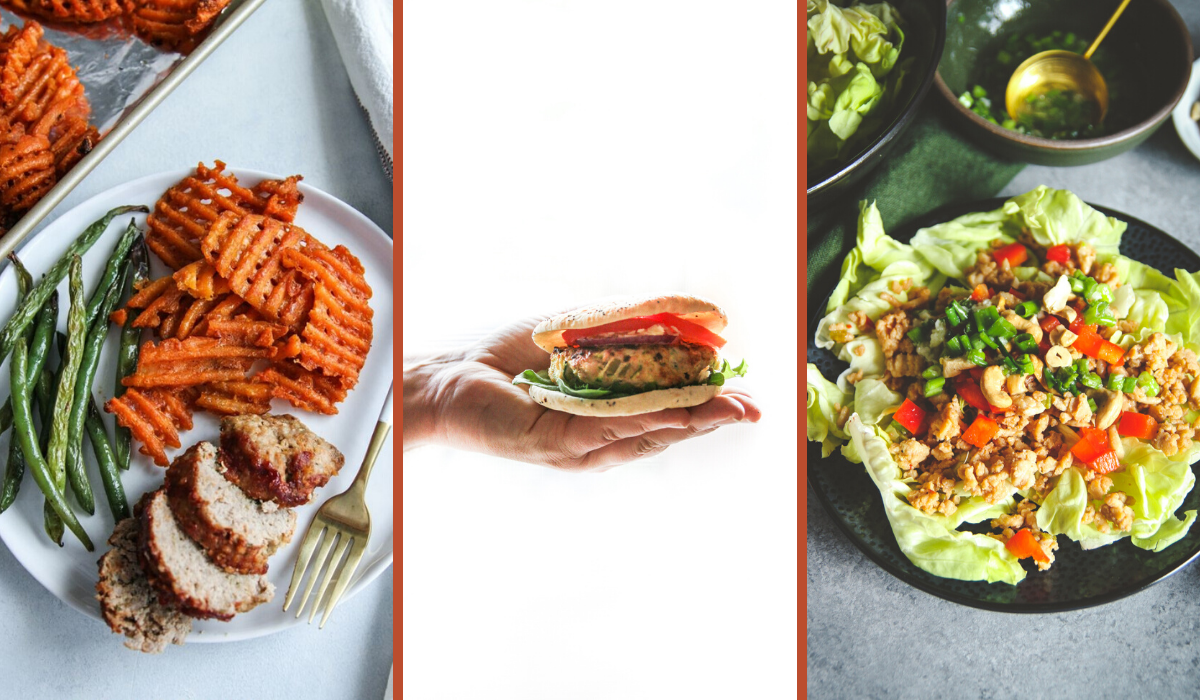 I love this dish when I'm looking for something delicious and comforting.  Plus, the vegetables look beautiful on the plate!
It's good with any roasted veggies you have
Have you tried cooking in an Instant Pot?  I love experimenting with mine and came up with this comforting dish that can be made in less than 30 minutes and only using one pot.  What's not to love?!
Another quick dinner!  This one only takes 15 minutes and features Asian flavors, which I love.
The best part about 'bowl' recipes is that you can choose what toppings you like best.
Oh my goodness, I love these burgers!  They are great for a lunchtime meal or a light dinner.
This recipe is ready with only four easy steps and even the kids love it.
Similar to the ground turkey and rice bowls, this recipe takes similar flavors and makes them into a salad or lettuce wrap – every little bit of healthy eating counts, right?
You can go wrong with tacos and this is a classic recipe.  Often made with ground beef, try this recipe to mix things up a bit.  I promise, the kids will never know the difference.
These are just the best ground turkey tacos, and we make them all the time
Another meal classically made with ground beef, but so tasty when using ground turkey.
I used the Instant Pot to make a family favorite dish even easier.  And, again, only takes one pot from start to finish!
Did this one surprise you on the list?!  Yup, I make my enchiladas with ground turkey and they are so super yummy!  Once you combine all of the delicious flavors, no one will miss ground beef or even chicken in their enchiladas.
Ground turkey is a great way to substitute in some healthier protein.  I hope this list of 10 easy ground turkey dinner recipe ideas gets you started on trying some new recipes. Give one a try and let me know what you think!