Combat the afternoon energy slump with these amazingly delicious 3 ingredient chocolate hazelnut date energy bites, one energy bite and you'll be ready to face the rest of the day!
Now it's no secret I love dates.
Yes, I love dates with my hubby, but what I'm talking about are the sweet little fruits: dates. In particular, medjool dates.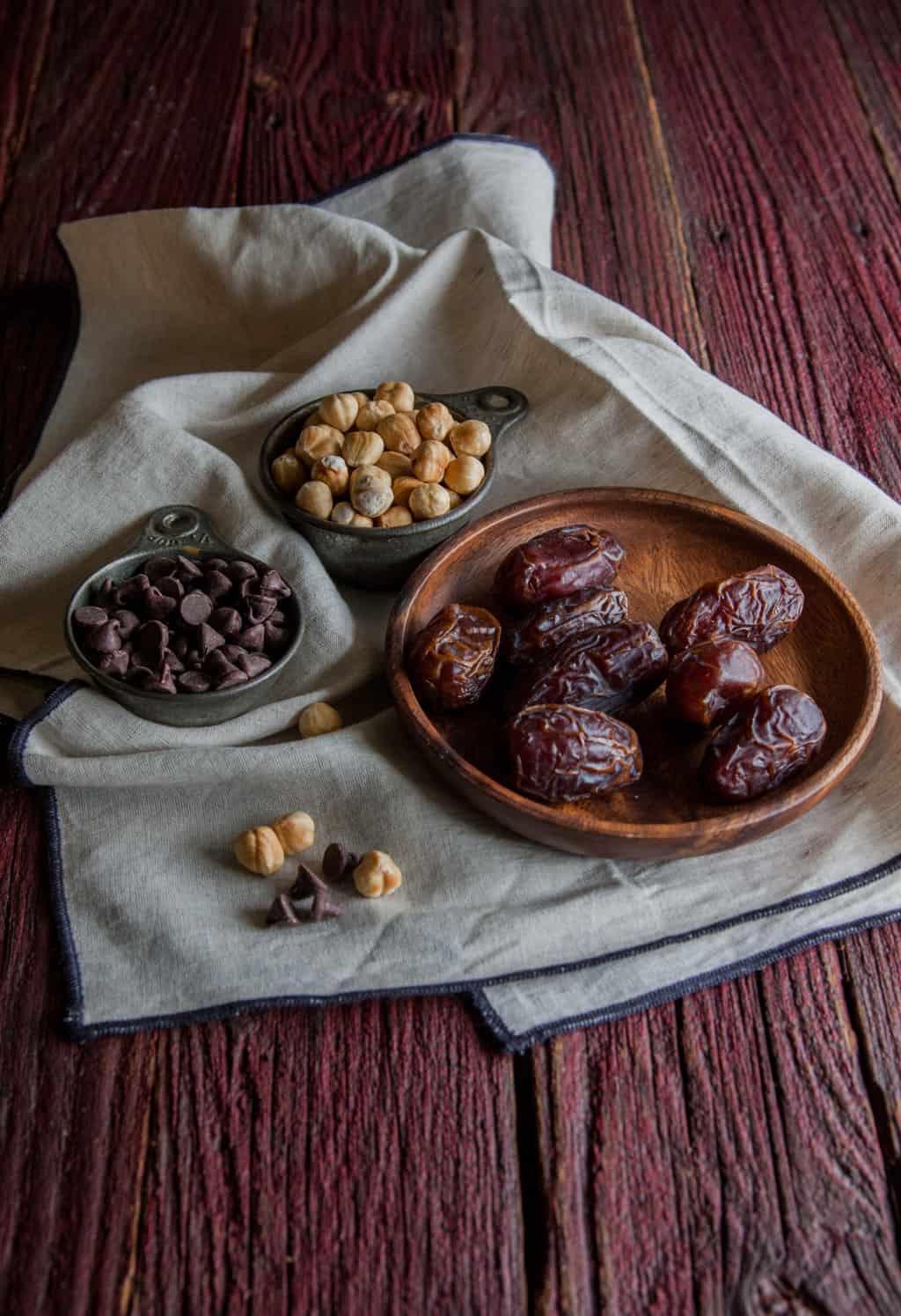 They're naturally sweet and are so fantastic to use in recipes. In fact, I've used them quite a few times, like when I made these coconut fruit and date fruit tarts, or these no bake coconut date energy bites , but I know not everyone is a coconut fan and I definitely wanted to show how great these fruits are, especially in energy bite form!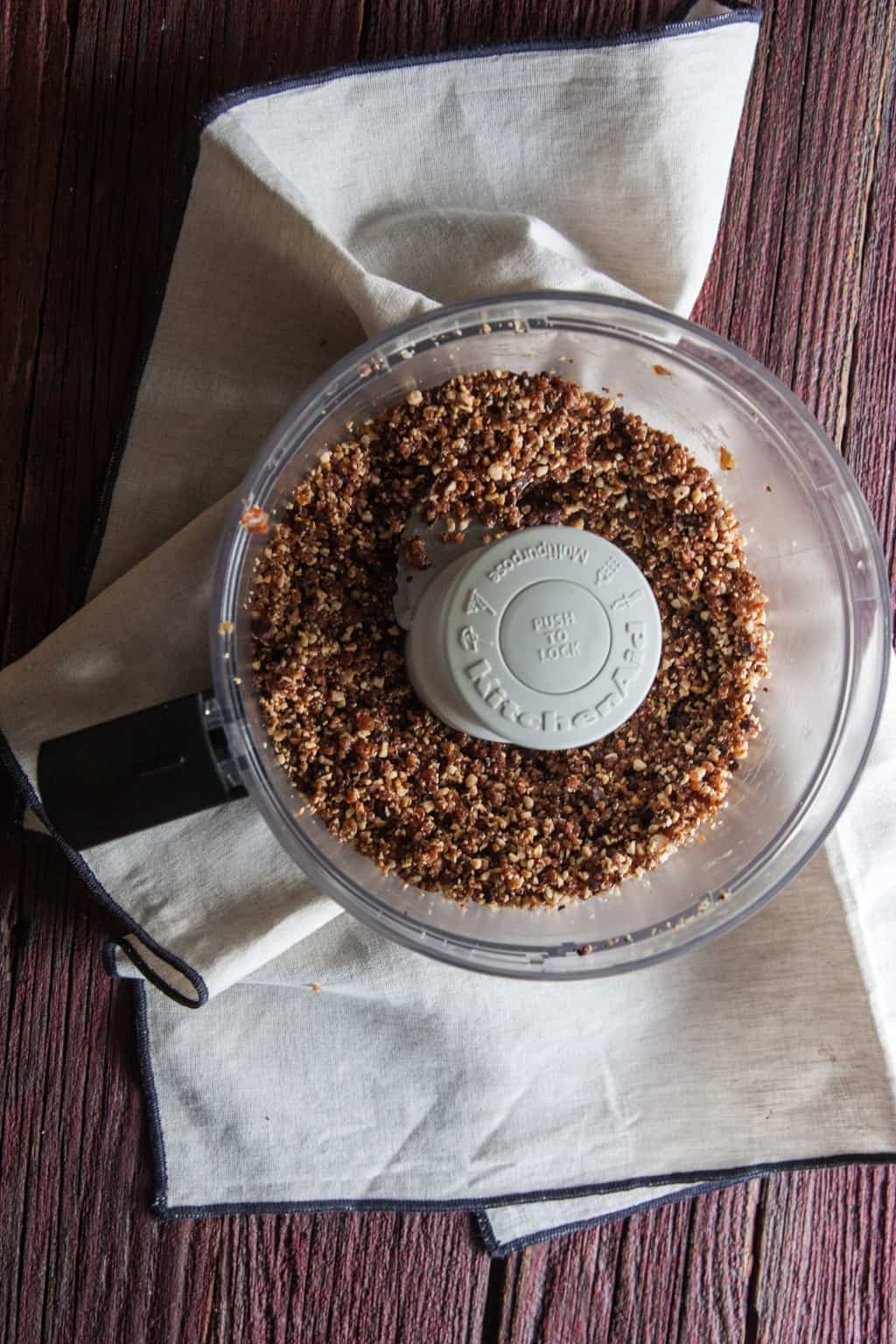 With busy schedules and long days, sometimes the afternoons can seem daunting and like they will never end. It's about the 2-3:30 pm hour mark when I need a little snack. These energy bites are the answer. They provide the energy to get you through the longest of afternoons, they only have 24 calories per date, are high in dietary fiber, high in antioxidants and contain more potassium than bananas!
Best yet, dates combine with other ingredients (like toasted hazelnuts and chocolate) to make wonderfully nutritious snacks that are very transportable. What I love doing is making a batch of these on the weekend and then just storing them in a container in the fridge at my work (they don't have to be refrigerated, but I like how hard they get when they're cold.)
AND, you know what toasted hazelnuts and chocolate combined taste like? NUTELLA! These energy bites definitely have a hint of nutella taste to them, with no actually nutella used.
Whenever I talk about making energy bites, I always like to include some tips, because when you use the right equipment and your bites come out perfectly, there's just no better snack!
Use a good food processor. I use this food processor, it really makes a difference texturally
Process the nuts first, then add in the dates and other ingredients, this will keep you from having uneven chunks of nuts
Use a cookie scoop to make even size balls, then roll with hands
Fun little cupcake liners make the energy bites super enjoyable (we eat with our eyes too, right? And how cute are these?)
Let your energy balls refrigerate for an hour or over night (and store in the fridge) this will allow them to harden and come together.
Ingredients
1/2

cup

hazelnuts

peeled and toasted

8

medjool dates

pitted

1/4

cup

semi sweet chocolate chips
Instructions
Start by toasting the hazelnuts if they're not already toasted (you can buy them peeled/shelled and toasted) - bake them at 350 on a lined baking sheet for 10 minutes or until slightly golden brown, remove from oven and allow to cool.

In a food processor process the hazelnuts for 3 seconds, then add in the dates and chocolate chips and process for about 30 seconds, or until there are no big chunks left (sometimes i have to pulsate the food processor for a few more seconds until the contents look uniform.)

With a 1-2 tablespoon cookie scoop, scoop 1 scoop into hands (when I use a 1 tablespoon scoop it obviously makes smaller balls and the yield is about 24 balls, when i use a 2 tablespoon ball it is half that at 12), pressing and rolling between hands to form a ball, then place in a little wrapper if desired (they don't need to be in wrappers, you can just put them in a container or on a plate.) Repeat the scooping/rolling process until all the balls are done.
Disclaimer: some of the above links are affiliate links, if you purchase amazon products through my store at no cost to you, I will earn a few pennies. As always, thank you for supporting the brands and products I love that make the Sweetphi blog possible.