In the height of apple season I'm sharing with you a recipe that I recently made following a trip to the apple orchard with my family: 5 ingredient slow cooker apple butter.
This is the perfect recipe to make ahead of the holidays and have in your fridge for when guests are over for breakfast, just spread some apple butter on toast and you have yourself a delicious breakfast!
This year we did something I've never done before: we went to a 'you pick your own' apple orchard.
It was amazing, we just so happened to all be wearing plaid (don't know how that happened…winky face lol).
We had so much fun, it's definitely going to be an annual thing.
When we got home, I asked Nick what I should do with the apples. He said "why don't you make something different…like apple butter?"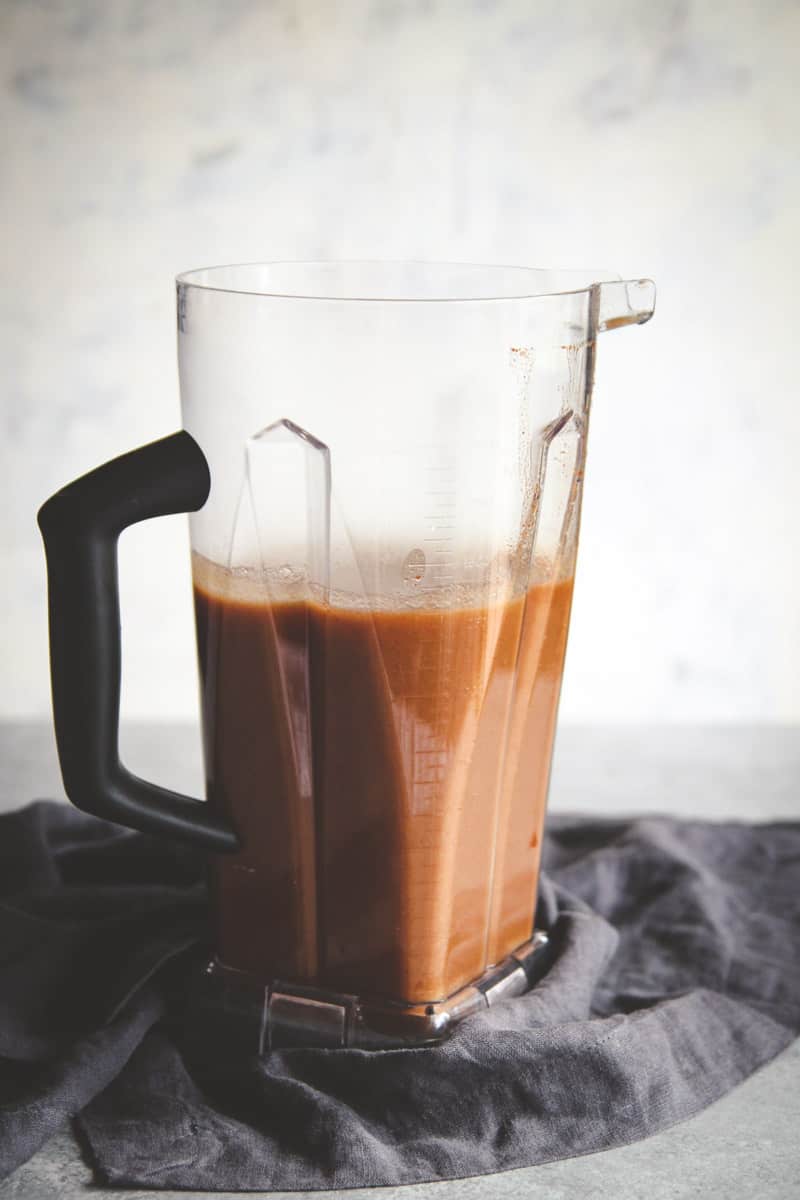 Oh my goodness, yes! It was the perfect way to use a lot of apples and have something that lasts for a while.
Apple butter doesn't have any actual 'butter' in it, but it's a thick butter like fruit spread, and my recipe for 5 ingredient slow cooker apple butter couldn't be easier to make.
My husband made biscuits while I was making the apple butter, so I put some apple butter on them, and omg so good, it would definitely recommend trying that, it's SO good (p.s. – I have an insanely awesome biscuit recipe in my cookbook!!)
You spend a little time peeling and coring apples (it's actually not that bad once you get going), and then you put them in the slow cooker. You can simply set-it-and-forget it while you're out of the house at work or running errands, and then come home to a house that smells amazing.
If you're looking for other recipes to make this holiday season, I put together a list of 35 of the best 5-ingredient recipes. Happy holidays!


Yield: 8-9 cups of apple butter
5 Ingredient Slow Cooker Apple Butter
Prep Time 15 minutes

Cook Time 4 minutes

Inactive Time 6 hours 36 minutes

Total Time 6 hours 55 minutes
Ingredients
9 cups of peeled/sliced apples (about 3 pounds)
2/3 cups sugar
2/3 cups brown sugar
Instructions
Peel/core/slice and dice your apples and put them in aslow cooker.
Cook on low for 8 hours or high for 4 hours.
Let cool for a little bit, then put contents of the slow cooker into a blender or food processor and process until smooth (about 1-3 minutes!)
Pour into jars, let cool and then put in the refrigerator.