Donuts for breakfast -pretty much one of the best things ever, and this baked lemon glazed donuts recipe is no exception, they're incredible!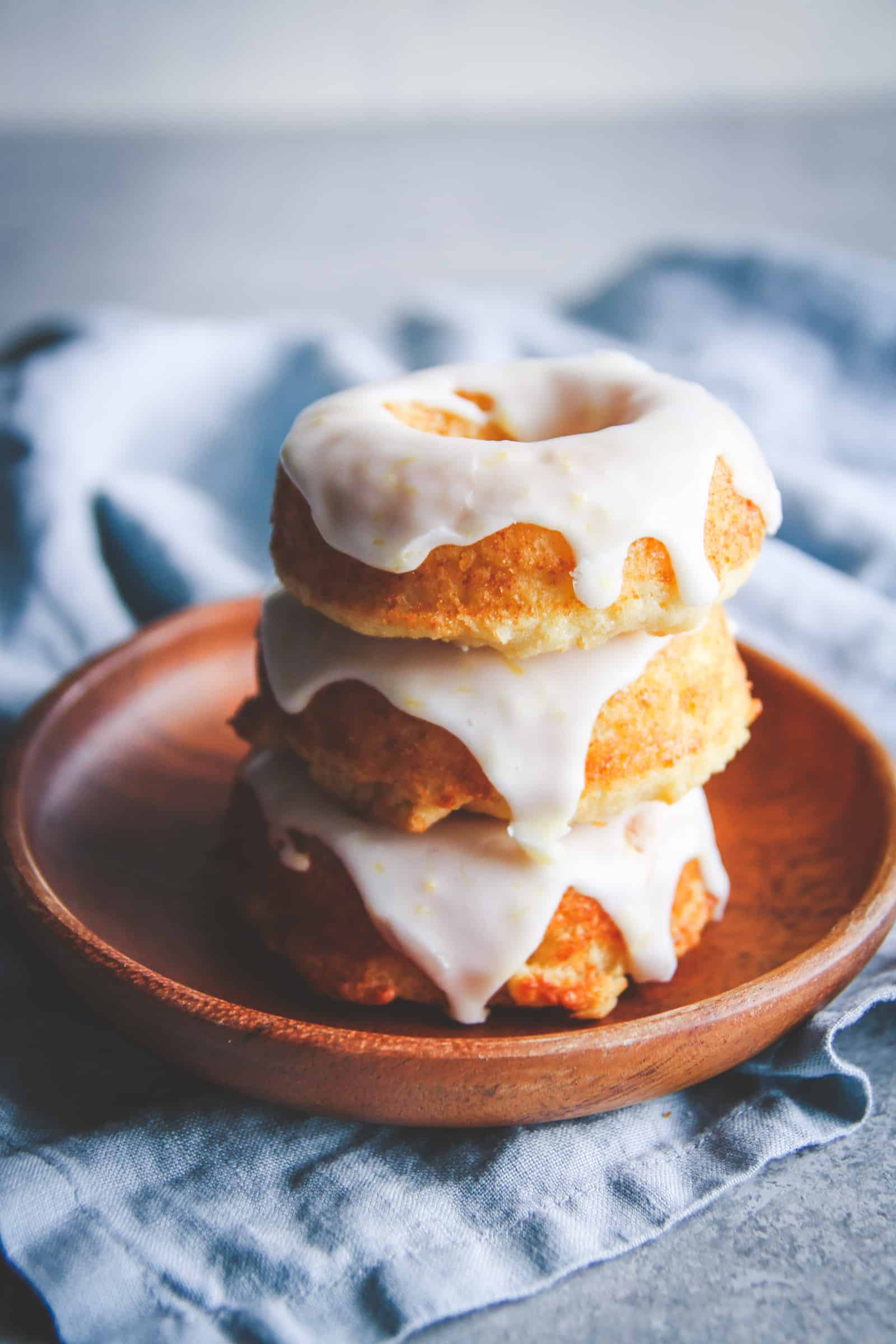 OK soooo…I finally caved and bought a baked donut pan. What on earth had I been waiting for?
I had literally wanted one for years. It's not like they're expensive or anything (the one I bought – this one – was not even $12). Who knows what it was, but boy am I happy to report that I finally bought a donut pan and am in love!
Baked donuts are so easy to whip up, and they're absolutely delicious. I might even go so far as to say I am liking baked donuts more than their fried counterparts! I'm truly having so much fun creating different baked donut recipes.
This baked lemon glazed donuts recipe is definitely my favorite one I've made so far. It tastes almost like a mini bunt cake, with a zippy lemon glaze. Soooo good! The first time I made these I ate two without the glaze and a third one with glaze shortly thereafter (I'm a very picky preggo eater, so I totally don't feel bad lol). I had to physically put them away so I wouldn't be tempted.
The next time I made them I, let them cool, frosted them, and then put them in the freezer. They freeze really well, and in the mornings I can just take one out of the freezer and let it thaw on the counter, and then boom, breakfast is served!
You're going to love these baked lemon glazed donuts, and if you're on the fence (like I was) about buying a donut pan, do not wait any longer, it's totally worth it!
Other recipes you might enjoy:
Yield: 6 donuts
Baked Lemon Glazed Donuts Recipe
Donuts for breakfast -pretty much one of the best things ever, and these baked lemon blazed donuts are no exception, they're incredible!

Prep Time 10 minutes

Cook Time 8 minutes

Total Time 18 minutes
Ingredients
3/4 cup flour
1/4 cup sugar
1 tablespoon baking powder
2 tablespoons butter, melted
1 tablespoon honey
1/2 teaspoon vanilla extract
1 large egg
1/4 cup milk
1 1/2 tablespoons lemon juice
For the glaze:
1 1/2 cups powdered sugar
1 teaspoon lemon zest
2 tablespoons lemon juice
Instructions
Preheat oven to 400.
In a bowl whisk together flour, sugar and baking powder (I do this in a measuring cup instead of bowl).
In a large bowl melt the butter (30 seconds in the microwave), then add in the honey and stir, add in the vanilla extract and egg and stir.
In a small bowl combine milk and lemon juice and let sit for a minute, then add the milk mixture to the wet ingredients.
Mix dry and wet ingredients together.
Spray a donut pan with cooking spray.
Spoon batter into donut pan, filling each circle 3/4 full.
Bake for 7 minutes, then turn the oven off and let the donuts sit in the oven for 1 minute. Remove from oven and allow to cool for 5 minutes, then turn onto a wire cooling rack and allow to cool before glazing.
To make the glaze, stir the powdered sugar, lemon zest and lemon juice together until a smooth glaze forms. Spoon glaze onto the top of donuts. Enjoy
Nutrition Information:
Yield:
6
Serving Size:
1
Amount Per Serving: Calories: 262Total Fat: 5gSaturated Fat: 3gTrans Fat: 0gUnsaturated Fat: 2gCholesterol: 42mgSodium: 295mgCarbohydrates: 52gFiber: 1gSugar: 38gProtein: 3g

Nutrition information isn't always accurate.