This week on Catching up with the Kelnhofers, I need your help to settle a very important debate.  Plus, I'm sharing an amazing (and easy) beef brisket dinner and a simple substitution that made an already delicious soup even tastier.
Here to tell you about the MOST DELICIOUS family meal ever. We are becoming known for it, and I'm completely ok with that. It's for brisket made in a tomato sauce. When we're talking about canned tomatoes, my preferred brand to use is Red Gold Tomatoes. I cannot convey my excitement enough to share that I partnered with them to bring you this incredible recipe.
It's actually Nick who introduced us to this incredible recipe, which we've now made for many family occasions. Even if you're a smaller family, I'd recommend making this – leftovers reheat really well, and it makes excellent brisket sandwiches. 
Speaking of Nick…you guys…I'd love for you to help us decide, which shoes do you like better with his new outfit?
In case you're curious Left is Nike Air Force 1 and Right is Old Skool Vans.  
Just comment below to let me know, I'll tally the votes and let you know next week!
Excited to share another week full of great new posts to make your week a little easier. 
Butternut squash soup but with sweet potatoes instead.

We had 4 sweet potatoes that we needed to use, and Nick suggested making my recipe for

butternut squash soup

with the sweet potatoes instead of butternut squash. I did so and omg, soooo good. The only thing we replaced was the sweet potatoes and it was incredible. 
Soup in an Instant Pot vs. Stovetop

. I made the above recipe in an

instant pot

vs. stovetop. Sauteed the onions/butter/garlic for 9 minutes, added all the other ingredients and high pressure for 11 minutes, then used an

immersion blender

. 

Cheesy air fryer chicken salad

This

cheesy air fryer chicken

is just perfection. We used grated parmesan cheese and had it over salad with caesar dressing.
I love this ramen with an egg for a super easy dinner and always happy to hear that my readers love it too!
"Just tried this- it was DELICIOUS! I used the beef flavored ramen and it worked great. It was plenty filling too!"
Sticking with this tasty ramen with an egg and showing off this reader re-creation.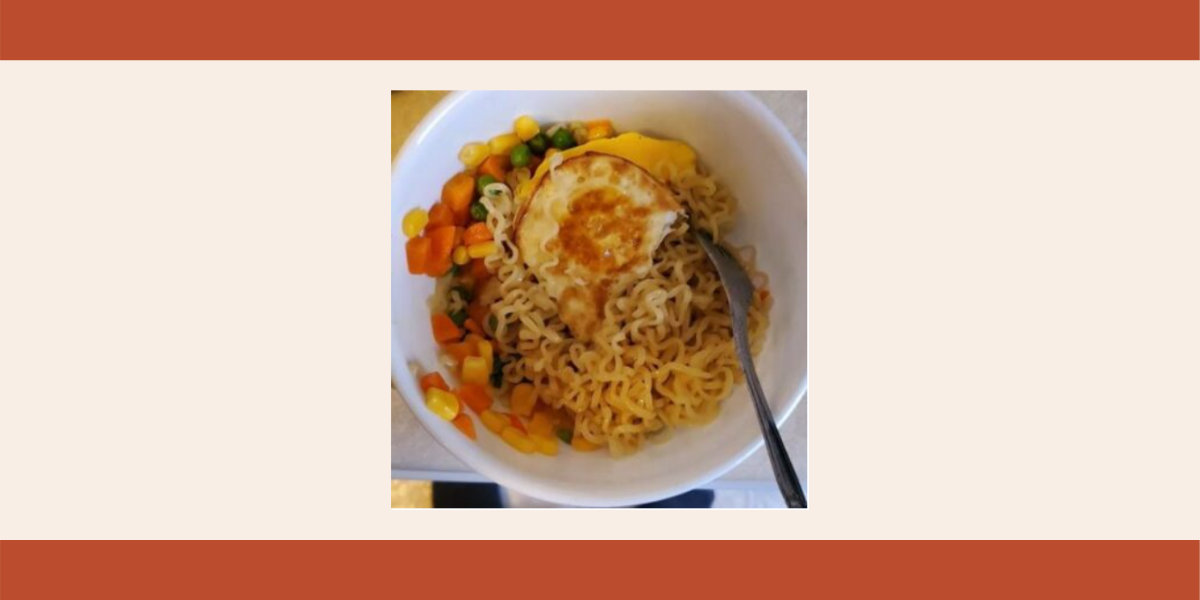 This

shampoo brush

was showing up everywhere in targeted ads for me so I got it (months ago!) I love it, it really suds up the shampoo and is a like a little scalp massager. 
Just finished this cute romance:

You know when you finish a good book and you're a little sad it's over? That's how I felt after

Life's Too Short

. It was super cute and the light/romance book I needed after that awful "thriller" that gave me nightmares (Behind Closed Doors, it was awful). 
Another new release:

Just out this week and one I just started is

Second First Impressions

by Sally Thorn, I'm so enjoying these romance new releases. 
Cookbook of the week:
Feeding a Family

: A real life plan for making dinner work. I love that this book has seasonal recipes and a feature I really like is that included at the end of recipes is "For Baby" and "Tomorrow's Dinner" which then tells you how to use remaining ingredients or leftovers. For example, one dish that uses a little bit of cabbage (Noodle Bowls) then tells you in "Tomorrow's Dinner" to shred the remaining cabbage and, using a wok, stir-fry the cabbage, some thinly sliced chicken/pork/tofu, garlic and fresh ginger in canola oil. Serve over brown rice with any remaining noodle bowl toppings.  
Toys galore

. Frankie loves emptying bins of toys, and then Ben helps her lol. 

Tool Bus

. Santa brought a

Tool Bus

for Freddie but all the kids love this thing, it's such a fun toy. Frankie has taken to climbing it lol. 
Flowers and Sticks

. I cannot believe that the flowers Ben and I planted 2 weeks ago are beautifully growing. We go check on them and play outside with sticks. The kids have hiding places for their sticks because there are no sticks allowed inside the house. 
Bakery adventures.

Ben and I went on a little adventure to one of my favorite bakeries:

Rocket Baby

. They have window service and I did not anticipate the HUGE line (or the rain). But Ben was a happy little camper and stood in line and waited his turn and was then rewarded with a cookie in the car on the ride home. The next day Nick asked "did someone eat in my car" because there were crumbs…no idea how that happened lol!
EAT
Park pizza picnic –

We ordered pizza from

Classic Slice

and packed up the kids (with their aunty) and we ate in the adjacent park. 
WATCH
I've been hearing about this Hulu Original called

WeWork

.  Has anyone seen it?  I'm super curious to check it out!
PURCHASE
Let's talk office chairs! I got a reader comment asking if I still liked my

office chair

a year after sharing about my

small home office

. We have since moved, but the answer is a resounding YES, it's amazing and worth the price. It makes me feel like I'm sitting properly, and it's comfy (and it doesn't make my rear fall asleep).

Nick has

this one

. More expensive, but he loves it and it was well worth the investment because he works from home for now and uses it hours upon hours every day. He said he feels like his is more ergonomic than mine, and I feel the same about mine vs. his, lol.