These Cherry Chocolate Chip No Bake Energy Bites come together in a flash, are super delicious, and best of all are a super healthy snack option!
I'm sure everyone has seen some version or another of no bake energy bites. I know I've heard of them for ages and seen all sorts of recipes, but never have I actually had one or tried to make them myself. To be honest, I was a little put off by the thought of making them. I was convinced I would need twenty thousand 'trendy' ingredients that I would never use again and wasn't convinced that they'd taste all that good.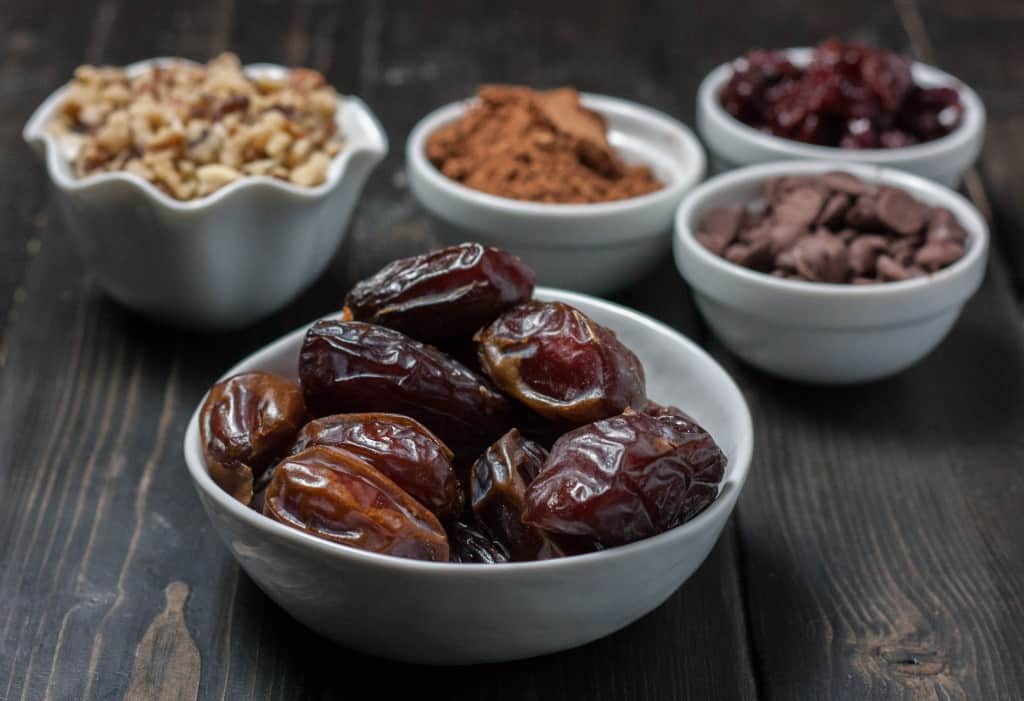 I had a few leftover dates from when I was making party appetizers and decided to 'wing it' and try making energy bites by combining ingredients in my food processor.
HOLY WOW! The end result was so absolutely delicious, consider my mind blown!
The natural sweetness of the dates melds perfectly with the tart dried cherries and then is nestled perfectly with the rich chocolate flavors!
They taste like a combination between a brownie and a piece of fudge, and I just can't stop raving about them! Plus, they're super healthy:
Ingredients
1

cup

dates

pits removed (I used medjool dates but you could also use deglet nour dates)

1/2

cup

walnuts

chopped

1/4

cup

dried tart cherries

1/4

cup

cocoa powder

1/4

cup

semi-sweet chocolate chips

1 1/2

Tbs

water
Instructions
Remove pits from dates and place dates in a food processor along with the water. Run the food processor for about 30 seconds, and then add all the other ingredients and pulsate again until it is a smooth paste-like consistency.

If it is too thick and not coming together, add a little bit more water (only a 1/2 teaspoon water at a time)

With a spoon (careful not to hurt yourself with the food processor blades) scoop batter and roll between hands to form a ball. Place in a little wrapper or simply on a plate. You can refrigerate the energy bites for 30 minutes or store them in the refrigerator if you want a fudgier consistency (I did this and loved it!)
Notes
These energy bites can be sticky when you roll them, after refrigerating them they become firmer and a fudge like consistency. [br]You can also add a little less water to make them less sticky, but I find that I need the water to help with the food processing.
For this recipe you need a good food processor. I used this food processor, it is my favorite kitchen appliance ever, like ever ever!
Have you ever made energy bites?
This post contains an affiliate link, if you purchase amazon products through my store at no cost to you, I might get a few pennies.