I've been wanting to make Homemade Granola Bars for quite some time, but was always a little daunted by the task and thought store bough ones would just be easier/better…well, folks, I was WRONG! I made these Fig and Chocolate chip chewy granola bars and was pleasantly surprised at not only how easy they were to put together, but how flavorful they tasted! To tell you the truth, these are better than the dry packaged granola bars I've had, and they have NO SUGAR added,  use EGG WHITES, and contain FLAX…sounds pretty healthy, right? Turns out they are!
I was curious as to just what the calories were so I used MyFitnessPal.com to generate the nutrition information, and found that these delicious Homemade Chewy Granola Bars are about 150 Calories per bar! I couldn't believe it…they taste so good AND are a healthy nutritious snack.
For the flavor I used California Nutra Figs-found in grocery stores in the fruit section and paired that with chocolate chips. The process was super simple for making these. Throw the figs in the food processor to break them up a bit, then add the other dry ingredients and process to combine. Combine wet ingredients in a separate bowl, the combine wet and dry ingredients, bake, let cool, cut and enjoy!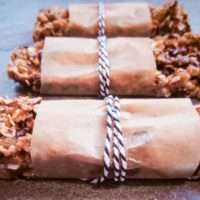 Ingredients
2.5

Cups

Oats

1

Cup

Honey Roasted Peanuts

1

Cup

8oz California Nutra Figs

1

Cup

Egg White Liquid

1

Cup

Semi Sweet Chocolate Chips

1/2

Cup

Honey

2

Tbs

Flax Seeds

1

Tbs

Vanilla Extract

1

Tsp

Salt
Instructions
Preheat oven to 350. Line a baking sheet with parchment paper.

In a food processor pulse figs and peanuts a few times (I pulsed them about 3 seconds twice) to break them up a little. Then add Oats, Salt, Chocolate Chips and Flax. Pulsate for 30 seconds.

In a separate bowl combine honey, egg whites and vanilla and whisk.

Combine wet and dry ingredients with a spoon.

Spoon mixture onto parchment paper lined baking sheet and form with the back of the spoon into a rectangle shape.

Bake for 25 minutes, until the edges are golden brown. Remove from oven and let cool completely (about 2 hrs.)

Cut into bars (I got about 30 bars 1 inch each.
This recipe was adapted from a recipe for Toasted Oat and Flax Bars from Liz over at The Lemon Bowl (whose blog is AHHH-MAZING) who originally adapted it from the Dr. Oz Show