These breakfast cups are AMAZING! They are make ahead egg white sun dried tomato spinach and feta cups. You can make them, then store them in the freezer and reheat them or just portion them in the fridge and reheat…SO GOOD…did I mention they are amazing? I even had some leftover quinoa from when I made Cheesy Green Chile Pepper Chicken and Quinoa and just added one of these cups to the plain quinoa, break it up, heat it, and it makes the perfect lunch! Also, you can throw one of these bad boys in a wrap and it tastes just like Starbucks' Spinach & Feta Egg Breakfast Wrap (which is kind-of where I got the inspiration from, because that wrap is delicious, but I wanted to have something in the house to make quickly, can someone please tell me where they get the wrap in their wraps from?!?) Here is the recipe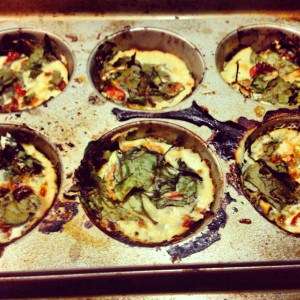 Ingredients
8

egg whites

4

Tbs

Skim Milk

2

Tbs

Parmesan Cheese

2

Oz

Feta

crumbled by hand

1

package Cherry Tomatoes

each cut into 4's)

1

Bag of Spinach or one large container of spinach

chopped

2

Tbs

Sun Dried Tomatoes

chopped

a little sprinkle of salt

pepper, and garlic salt (don't over salt because the sun dried tomatoes and feta have salt already)
Instructions
Preheat oven to 400. In a bowl combine all ingredients except egg whites and skim milk. Coat either a deep muffin pan or a regular muffin pan with cooking spray and spoon in spinach mixture. In a separate bowl whisk together egg whites and skim milk. Spoon over spinach mixture and then bake for 50 minutes. The cups that looked super full will cook down, let cool and then store in freezer or fridge, microwave 1 minute to warm up.
 The lovely ingredients
 The cups pre oven- the spinach mixture sticks out the top, the egg white and milk go to the bottom
 The cups out of the oven
  My breakfast, once piece of Ezekiel Toast with an Egg White Sun dried tomato spinach cup
 Here is my lunch the next day, left over quinoa with one of the breakfast cups broken up…SO GOOD!