Ok, so remember when I made homemade fish stock and the best ever Whitefish Chowder after I unexpectedly received a whole trout (with head and all!)? Well, I had some of the homemade fish stock in my freezer that I need to use, and I wanted to make the exact same recipe as the Whitefish Chowder, so I gathered all the ingredients and started making it. Well, when I got to the step of adding spices to the vegetables, it's dark out now, and as per usual I was doing more than one thing at once and wasn't looking and instead of using a half teaspoon… I used a tablespoon of Paprika! But guess what? I loved the result and think I'm going to make this recipe like this in the future, the Paprika ads a beautiful almost smokey flavor to the soup. Annnnnd, I made this soup with less of the half and half than I did last time and used fat free half and half, so here is the recipe redo for Paprika Whitefish Chowder: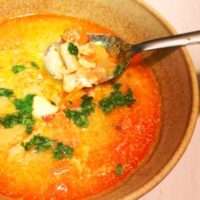 Ingredients
2

Tilapia fillets

cut into 1 inch chunks

2

small potatoes

peeled & cut into chunks

2

Parsnips

peeled & cut into chunks

5

baby carrots

or 2 regular sized carrots cut into small slices

½

onion

finely chopped

1

Tbs

Butter

1

Tbs

Olive Oil

2.5

cups

Fish Stock

see my recipe for Homemade Fish Stock, this had amazing flavor

1

Cup

Water

1/2

Cup

Half and Half

Fat Free

1

Tbs

paprika

½

tsp

cayenne peper

1

tsp

salt

1

tsp

pepper

1

Bayleaf

2

tbs

fresh Cilantro for garnish
Instructions
In a large pot melt the butter and add the onion and carrots, saute for 5 minutes until the onions start to turn translucent but do not brown. Next add the olive oil and then the chopped potatoes and parsnips, cook for 10 minutes, and then add the seasonings and stir and cook for another 2 minutes. Next put the tilapia in the pot, stir once to gently incorporate with the other ingredients and then add the fish stock and water (if you added additional vegetables, add 1/2 cup more water. Bring to a simmer, then ladle out about a cup of the hot liquid part and put in a bowl, slowly whisk in the half and half, and then add this mixture back into the pot (this is tempering the half and half). Add the bayleaf (or a few bayleaves -remove before serving) stir a few times, and then put a lid on the pot and let simmer for about 30 minutes, stirring a few times while cooking.

When you are ready to serve, ladle soup into a bowl, and sprinkle a little fresh cilantro on top. Serve with warm baguette or toast.