We love a good taste test comparison and this is a classic that's perfect this time of year.  The SweetPhi team did a sugar cookie taste test and comparison with sugar cookie mixes we're sharing the results with you now!
Before we begin any good taste test, there are a few notes on our methodology that are helpful to know:
All baked day-of, using packaging instructions, on parchment paper lined baking sheet.
We used the same cookie scoop for all (1 ½")

When we tasted, we examined baking, overall flavor, texture and mouthfeel as a whole.

Note that baking times really are very dependent on what your oven is and how brown you like your cookies.

Dough was bought in Wisconsin and prices are reflective of that.
We thought it would be interesting to only use a few "healthier"cookie options as well as traditional options you are likely familiar with. And, of course, if you'd like to make sugar cookies from scratch, we love this recipe.
One nice thing about the doughs we used for comparison, is that the non-premixed doughs all simply need one egg and one stick of butter (except for the plant-based one!).  
Sweet Loren's Pre-made Dough
This is a refrigerated, pre-made dough.

These were super easy to drop on the tray because the cookies come pre-cut.

When warm, these cookies held their shape.  When they cooled, the cookies fell a bit.

Visually, they looked dry and kind of had a grey tint in color.

The instructions say to begin with the lowest cook time and add as needed.  We baked ours for 16 minutes.
Costs about $6.99 per package
The Result:
The overall cookie was more floury and grainy in texture than the others.  But we all liked the mouthfeel.

The grainy texture likely comes from the cane sugar and oat flour used in the mixture.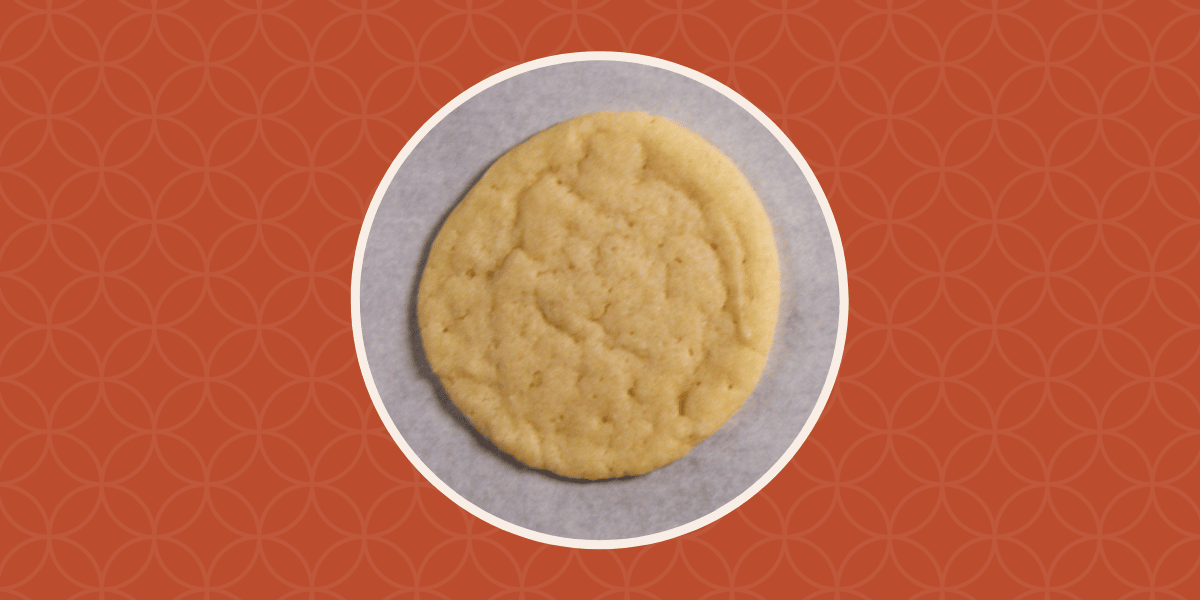 Pillsbury Pre-Made Dough 
This dough comes pre-made in a large tube.

You can also but this dough pre-cut, but it costs more that way.

Once baked, these cookies flattened quite a bit.
Costs $3.68 per package
The Result:
They have a mild buttery flavor, but definitely taste more butter-forward than sugar cookie forward. 

The cookie is bland and tastes flat, if that makes sense.  There is not much chew to it.
Betty Crocker Sugar Cookie Mix 
Dough seems very crumbly. 

The cookies turned out beautifully shaped.

Instructions say to bake for 12-14 minutes. We found they were done much quicker (ours were done in 8 minutes).
Cost is $3.48 per package.
The Result:
A general agreement was: "This is nice."  The cookie tastes like a sugar cooke should.  It's a little crispy, a little chewy.  It is homey and comforting.
This cookie is not as a buttery as the Pillsbury and generally is the one that tastes like the most traditional sugar cookie you would find at a store.
Pillsbury Cookie Mix 
You may think the batter is not going to come together, but it will.  Just keep mixing!

These shape up in a nice circular shape and brown nicely around the edges.
They are more fluffy than the Pillsbury pre-made cookie dough.
The instruction say bake for 8-10 minutes.  Ours were done in 6.  So these are a great option for quick cookies, even if they take the whole 10 minutes.
This bag costs $2.37.
The Result:
Crispy on outside, with an overall great texture.

The team had mixed feelings on how sweet they were.  Alyssa thought these were very sweet and buttery.  Alyssa and Bridget agreed that there was a slight almond taste and we all agreed that they taste a bit like cake batter (and cake batter ice cream in particular).  The worst review?  Phi felt like there was an artificial, sort of chemically taste overall.
Great Value brand boxed mix
This dough comes together very nicely; a lot quicker than the others.

The cookies are fluffy and look great.
There is a bit of a tangy after taste.
Cooking time says 8-12 minutes and we used the whole 12 minutes.
The box cost $1.47 and is a Wal-Mart exclusive brand.
The Result:
This was Phi's second favorite cookie!  We were all pleasantly surprised by the Wal-Mart brand cookie mix.
Simple Truth Plant Based Sugar Cookie Mix
A great option if you're cooking for someone who is plant based.
The dough is much wetter than the others.

When baked, the cookies are very flat.  They look similar to the Pillsbury pre-made dough cookies.

Cook time says 12-15 minutes.  We followed instructions for drop cookies.  Packaging also includes instructions for cut out cookies (both soft-baked and crispy).
This brand is exclusive to the Pick n' Save/Metro Market/Kroger chain of grocery stores.
Cost of package: $3.99
The Result:
Nothing negative and the team generally agreed that we all liked this option…particularly for a plant based cookie!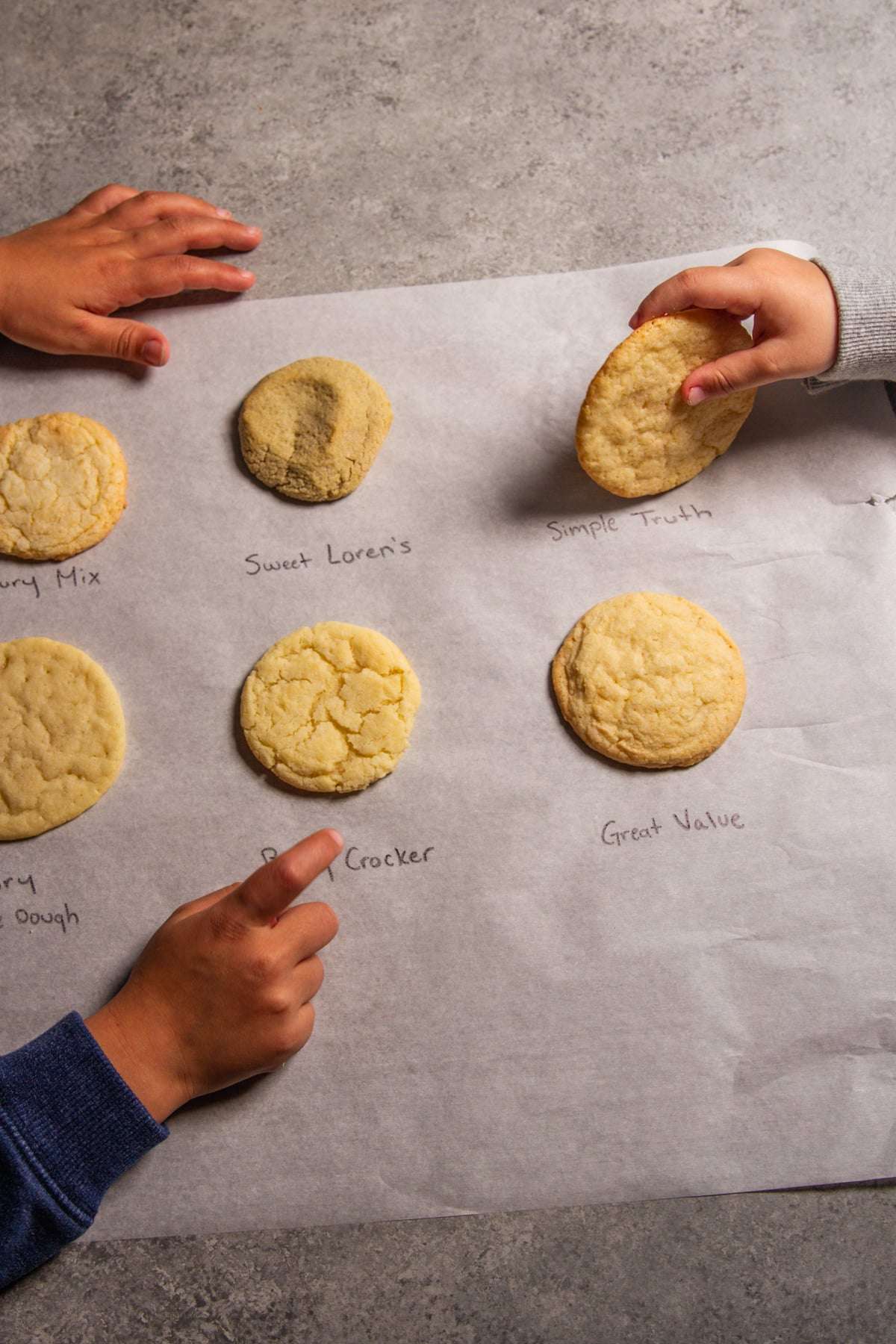 We had so much fun doing this taste test and finding all of the differences in each kind of cookie.  This would also be so much fun to do as a blind taste test at a party!