These delicious tropical low calorie popcorn clusters are made with the newly released Skinnygirl popcorn in Lime & Salt flavor (seriously, this stuff is so yummy and only has 25 calories per cup popped!), coconut flakes, dried pineapple and banana fruit and coated in dark chocolate and is part of a shop that has been compensated by Collective Bias, Inc. and its advertiser. All opinions are as always mine alone. #CollectiveBias

Let me tell you guys a story…the story shall be called 'I have been banned from eating popcorn at my house'. This ban may be self-imposed, but is definitely not disputed by my hubby who describes the way I eat popcorn as "I'm not quite sure what is happening, you take a handful, throw it towards your face and hope some makes it in your mouth, but most of it doesn't, so I'm covered in popcorn, you're covered in popcorn, the couch is covered in popcorn, and sometimes I'm sure Clover (our dog) is eating more popcorn than you are.' The part he's not sharing is that it leaves a buttery mess on everything and the popcorn that I was eating was not all that great for me. Since I love me some popcorn, I clearly needed an option that's better for me (and my house) and that was more of #SkinnyGirlSnacks!
So as I'm shopping at Walmart, staring at the popcorn aisle, I came across Skinnygirl Popcorn in Butter & Sea Salt and Lime & Salt flavors, both sounded intriguing so I purchased them. Confirming that I had made the right decision, the cashier told me 'these must be good, they just came out this week and have been flying off the shelves.'
Well, she was right, they ARE good. The products offer a sensible way of snacking by using mini bags to provide just the right amount of product, yet TASTE GREAT with just 25 calories per cup popped!
What makes the Skinnygirl products unique?
Every Skinnygirl product offers at least a 20% calorie savings vs. it's competitors
No artificial flavors
No artificial colors
No artificial sweeteners (e.g. aspartame, sucralose)
No high fructose corn syrup
Taste profile is not overly sweet, which represents the "better for you" and lower calorie benefit
Unique and interesting flavor profiles (like the Lime & Salt flavor…who knew that on popcorn this flavor combo is absolutely DELICIOUS?!)
Since I still had a desire to snack on some popcorn while snuggling and watching some movies, I problem solved by making these amazingly delicious, super easy to make (and eat lol) Tropical Low Calorie Popcorn Clusters that just so happen to be the perfect #SkinnyGirlSnacks !
Rich dark chocolate with the perfect zip of lime from the popcorn, with the hint of sweetness from the coconut, pineapple, and banana…it's one amazing flavor combination!
Now that I have the most perfect low calorie popcorn clusters that are easy to eat, I feel like I have the classiest movie treat to bring along for movie night, wherever that may be, and I won't be afraid of leaving unwanted popcorn kernels behind!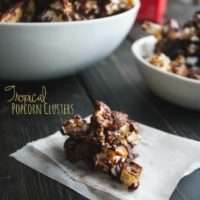 Ingredients
2

Bags Skinnygirl Lime & Salt Popcorn

popped

1 1/2

Cups

Semi-Sweet Chocolate Chips

melted

1/2

Cup

Dried Bananas Slices

1/3

Cup

Dried Pineapple Chunks

1/4

Cup

Shredded Coconut

unsweetened

1/8

Cup

Almonds

chopped (optional)
Instructions
Line a cookie sheet with parchment paper and set aside.

Pop the popcorn bags and when done empty in a bowl that is big enough for all the ingredients and allow the popcorn to air-cool. Pour in the dried bananas, pineapples, coconut and almonds (if using) and stir a few times. Then pour out onto the lined cookie sheet and pick out any popcorn kernels that remain.

In a microwave safe bowl melt the semi-sweet chocolate chips in 30 second intervals, stirring in between each interval until the chocolate has melted.

Once chocolate has melted dollop a few spoonfuls onto the cookie sheet, then pour the contents of the cookie sheet back into the bowl and spoon the rest of the melted chocolate over the contents in the bowl. Stir contents of the bowl gently until all the popcorn and fruit is coated with chocolate, then spoon out onto the cookie sheet. Allow to cool (I just put the entire cookie sheet in the refrigerator for about an hour).

When cool, break up into cluster and enjoy!