Moooove on over apple crumble and make way for this super easy and incredibly delicious 5 ingredient pear crumble for two!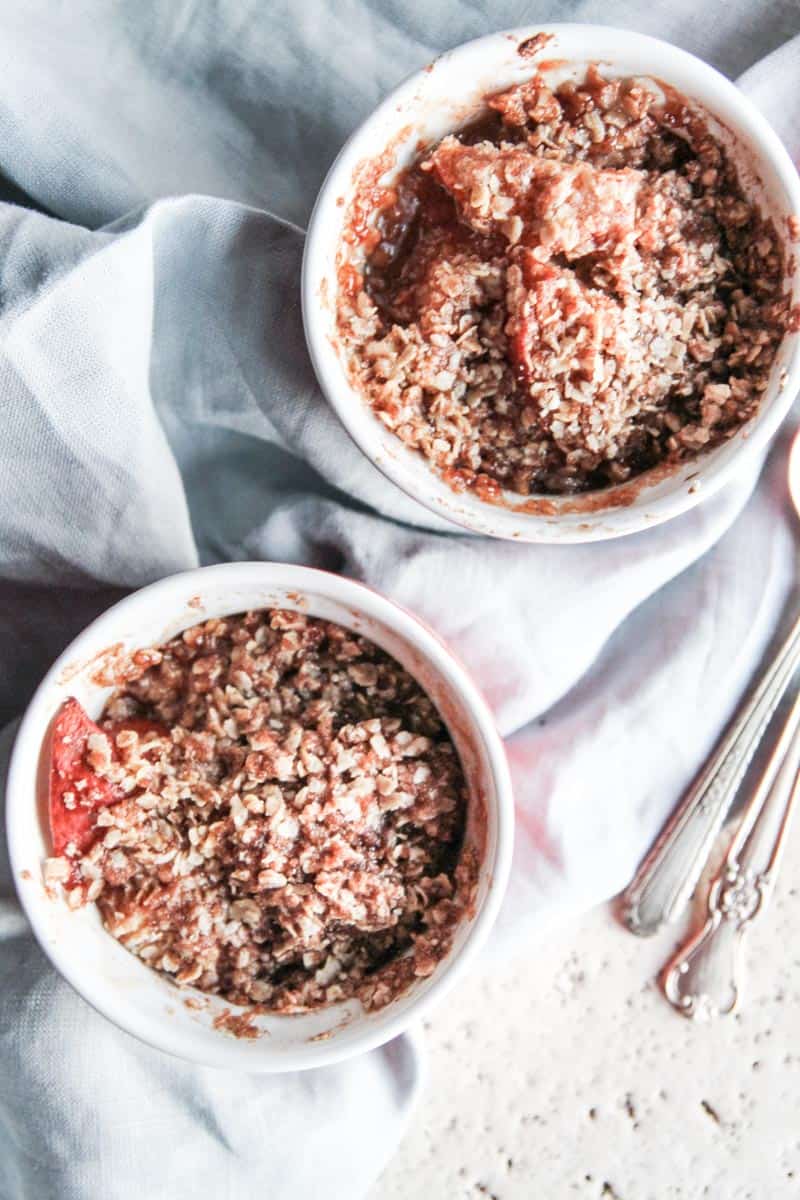 The story goes, when I was a baby I would not eat apples. My mom said she tried everything, but I just detested apples and would spit them out (very dramatic, I know lol), so she tried feeding me other other fruits like pears, cherries, etc. Basically anything that wasn't an apple. And guess what? She said I loved other fruits, especially pears.
That love of pears has continued to this day, and when my weekly Door to Door Organics produce box arrived, it contained beautiful bartlett pears. I love how Door to Door Organics always sends seasonal produce, actually, let me rephrase that, I love everything Door to Door Organics sends!! Their grocery delivery service saves me oodles of times every week and they have they truly source the best ingredients and food, and they're always inspiring me to try new things in the kitchen. For example, these balsamic mushrooms over arugula and cheesy polenta – so good, and I had never cooked with some of those varieties of mushrooms before. And these peanut butter banana chocolate chip granola bars, I make them all the time when I have ripe bananas to use – they're soft and chewy deliciousness. Also, I cannot wait to make these quick pickled vegetables this summer.
Because my weekly deliveries bring me joy, and thinking of my amazing mother brings me joy, I knew I wanted to make something super special with the pears, a recipe to honor her with.
And these pear crumbles, they're super special.
They're super easy to make, the pears (which are in season now) have a wonderful sweetness and get soft when baked, and the crunchy topping ties the dessert together. Make these pear crumbles for you and your mother for this Mother's day, and here's to wishing all the special moms out there a lovely day!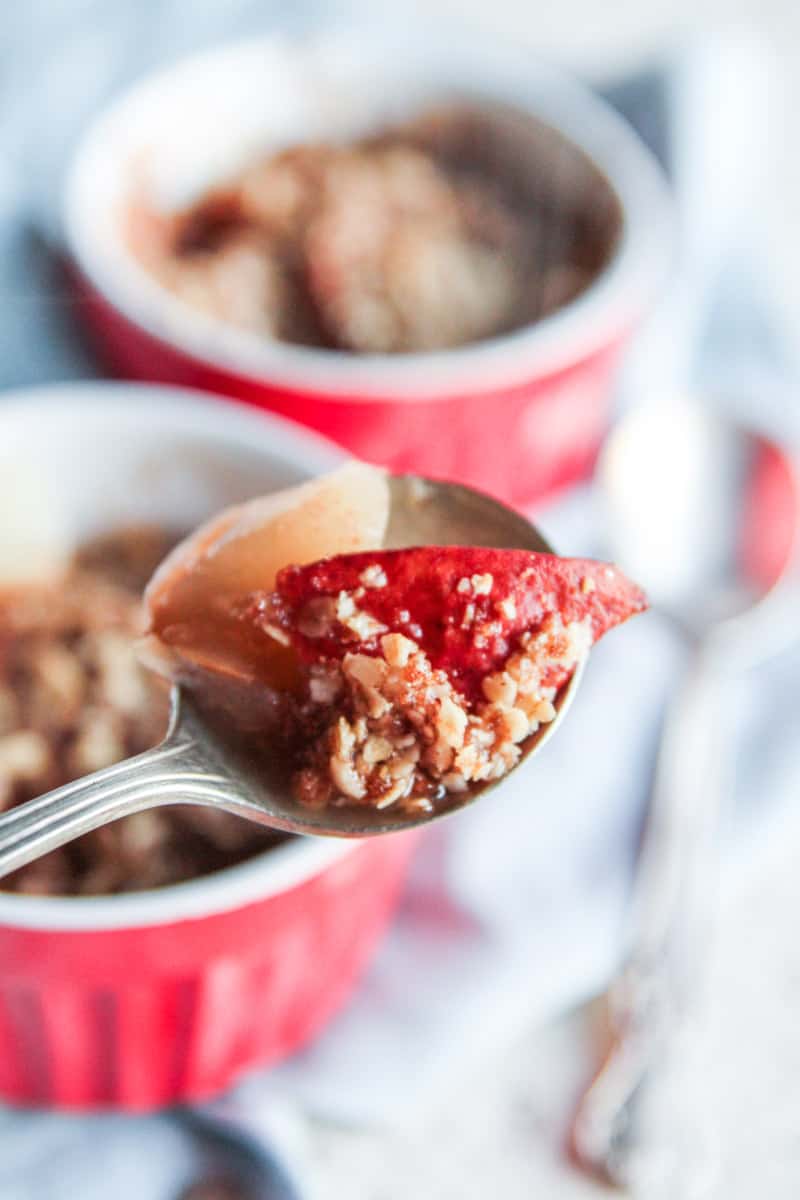 This recipe can be easily scaled up or down. These pear crumbles are also perfect if you're wanting a quick dessert for you and a loved one any night of the week (I made them this week for my hubby and I – I chalked it up to 'recipe testing'!
Other recipes you might enjoy:
Yield: 2
5 Ingredient Pear Crumble For Two
Moooove on over apple crumble and make way for this super easy and incredibly delicious 5 ingredient pear crumble for two!

Prep Time 5 minutes

Cook Time 20 minutes

Total Time 25 minutes
Ingredients
2 pears, peeled, cored, and diced
3 tablespoons oats
1 1/2 tablespoons brown sugar
1 1/2 tablespoons butter
1/2 teaspoon cinnamon
Instructions
Preheat oven to 350.
Place chopped pears into two ramekins.
In a food processor combine oats, brown sugar, butter, and cinnamon and pulsate for three seconds, spoon topping evenly between the ramekins.
Place both ramekins onto a baking sheet to catch any drippings.
Bake for 20 minutes, then remove from oven and allow to cool for at least 10 minutes, then serve and enjoy!
Nutrition Information:
Yield:
2
Serving Size:
1

Amount Per Serving:

Calories: 240 Total Fat: 9g Saturated Fat: 6g Trans Fat: 0g Unsaturated Fat: 3g Cholesterol: 23mg Sodium: 73mg Carbohydrates: 41g Net Carbohydrates: 0g Fiber: 7g Sugar: 26g Sugar Alcohols: 0g Protein: 2g

Nutrition information isn't always accurate.


This post has been sponsored by Door-to-Door Organics, thank you for supporting the brands that make the Sweetphi blog possible, as always, all thoughts and opinions are mine alone.
Click on the image below to pin with me!