Hi Friends! This week on Catching Up With The Kelnhofers-13, the twins turn 4 month old twins, halloween fun, and a project goes terribly wrong!!!
Have you ever had a project go wrong? Like horribly wrong? I always love hearing real-life stories…so I thought I'd share one with you. Since August, we have been working on this really cool project for Sweetphi.com for everyone who has purchased a cookbook (I literally use my cookbook multiple times a week, if you're a busy person you need this cookbook in your kitchen!) Anyone who purchased one of the cookbooks would get a tote as a thank you – mailed to them for free. You know those re-usable grocery tote bags? I use them all the time, my mom always used them (before they were a 'thing' and 'eco-friendly') and someone gave me a baby shower gift in one and I thought it was a genius idea to use instead of a gift bag that gets tossed.
Anyway, we had a really cool one and had a deadline and a photoshoot with the bags scheduled. The deadline came and went and there were issues with the company and the ordering (who would have thought it was so difficult to print a simple promotional item?) and they finally arrived yesterday!!!! WELL….they're the wrong size. They're this awkward small/medium size. The straps wouldn't go over your arm, and no groceries would fit in it. It's super awkward and weird. I would not want to give them to anyone and had to cancel the photoshoot and it puts my plans way back as I figure out how to/if to get different totes and reschedule things. In the grand scheme of things, it's not a big deal, but it's just something that went way left when it really should not have been that hard. Onward.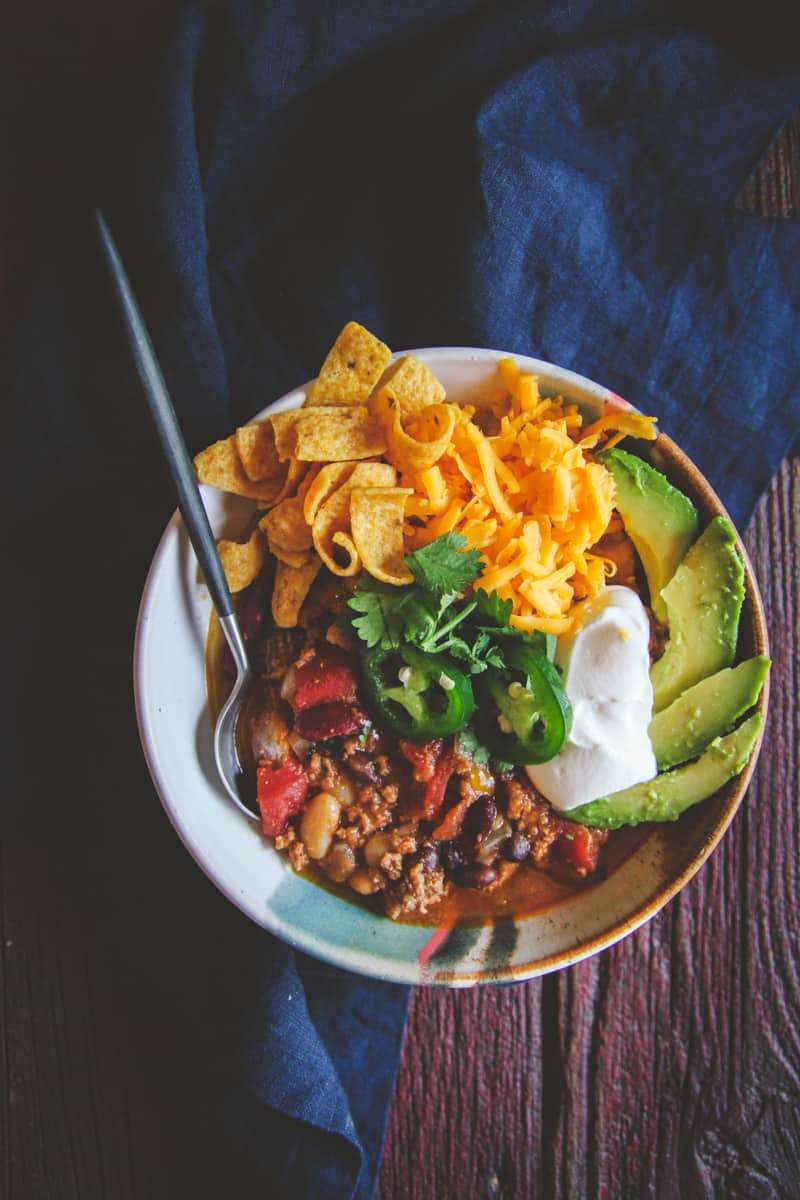 A great make-ahead meal that freezes well? CHILI!
I should tell you how I much love making chili. I usually make it in two different ways: in an Instant Pot (Easy Chili Con Carne) or in a Slow Cooker as part of a chili bar-great for large parties or football viewing.
And If you haven't ever tried to make a large amount of chili and freeze it, do so immediately. It's so nice to come home after a long day and simply be able to pull out a batch of chili from the freezer, reheat and have a hearty meal for the family!
November Giveaway:
For November, I've got a very special giveaway. To celebrate eight years of blogging (holy cow, can you believe it!?), I am giving away eight $100 gift cards! The winner of each gift card can select $100 to Starbucks or $100 to Amazon. Four winners will be chosen on the blog and four winners from Instagram, so if you don't follow me already, make sure to hop on over to Instagram for more chances to win.
For full details on how to enter, check out the blog post here.
New on the Blog:
What to Make:
It's officially November so we're talking all things Pumpkin! I have plenty of yummy pumpkin recipes to keep you baking all November long – some faves are below:
Reader Comments:
Let's kick of November giving you the confidence to cook a turkey! I have a recipe for a Super Simple 5 Ingredient Turkey that I got this lovely comment on:
"It was the most delicious turkey we have ever had, and so moist. Thanks for the recipe. It is our new favorite."
General stories/things I'm loving:
We had such a fun Halloween as a family. Ben and Nick were firemen and the twins and I were Dalmatians
Found these cool candles from a local company called White Yeti Candle Company and got the Shave and a Haircut and it smells so good!
Started reading A Woman Is No Man which was recommended to me – it's so good! "In her debut novel, Etaf Rum tells the story of three generations of Palestinian-American women struggling to express their individual desires within the confines of their Arab culture in the wake of shocking intimate violence in their community—a story of culture and honor, secrets and betrayals, love and violence. Set in an America at once foreign to many and staggeringly close at hand, A Woman Is No Man is an intimate glimpse into a controlling and closed cultural world, and a universal tale about family and the ways silence and shame can destroy those we have sworn to protect."
Other posts you might enjoy:
How was your Halloween? What did you dress up as? Just leave a comment below and let me know!
Until next time,
Phi