You have a bunch of friends coming over to watch the big game…what do you make to eat?! After being faced with this time after I time, I can now tell you, the way to go is to make a slow cooker chili bar for a party!
Everyone loves chili, and with a bunch of different toppings, there is something for even the pickiest of eaters!
The best part about this crock pot chili bar? Everything can be made ahead! AND since it's a crock pot recipe, you just set it and forget it and it cooks itself. I hate slow cooker recipes where one has to brown things or cook things before they go in the crock pot, so the really amazing thing is that with this recipe the ingredients literally just go in the slow cooker!
One of the things that typically happens with parties is that most of the time, the host is busy in the kitchen! Well, not with this slow cooker chili bar.
The chili cooks itself to perfection in the slow cooker. This is the one I have – I actually have two of the exact same ones, just different colors and am thinking of getting a third, because they're so awesome for parties. In fact, this past weekend I had a party and all the food was in the slow cookers (I made these 5 ingredient slow cooker cheesy potatoes) and it's totally what I'm going to do from now on, it was so nice to have the food done and to be able to enjoy time with the guests.
This crockpot chili it so delicious. It has hints of spice and just the right combination of beans in it. After making this recipe many times, I will say that it turns out best when it's cooked for 8 hours on low. Towards the end, it really comes together so that it's thicker, versus soupy.
My husband now requests slow cooker chili bar for parties with his friends: football parties, wrestling parties (what to make for a WWE party is a topic of conversation I did not think I'd be having in my adult life lol) and family Sunday dinners.
You'll definitely be the hostess with the mostess and everyone will love the different topping options. Here are the toppings I made with this bar:
Tortilla chips
Fritos
Cheddar cheese
Sour cream
Lime wedges
Avocado
Cilantro
Corn bread muffins
Jalapenos
Tater tots
Green onions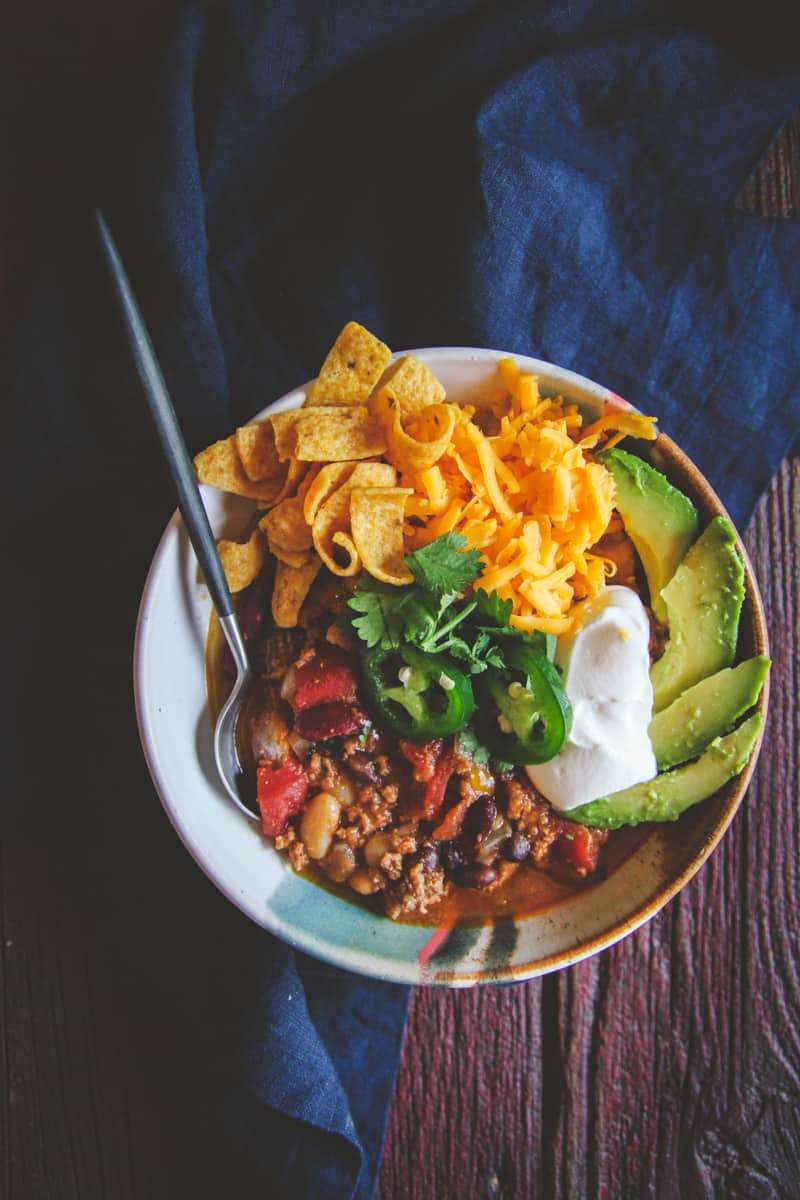 Now I'd love to know – what are your favorite chili toppings?
Yield: 8-12
How to make a slow cooker chili bar for a party
Prep Time 15 minutes

Cook Time 8 minutes

Inactive Time 13 hours 12 minutes

Total Time 13 hours 35 minutes
Ingredients
For the chili:
2 pounds lean ground beef
1 medium red or yellow onion, chopped
2 garlic cloves, minced
2 tablespoons of chipotles in adobo, chopped (I used about 1 chipotle, use more if you like spicy)
2 (15 oz) cans diced tomatoes
1 cup beef broth
2 (15 oz) cans black beans, drained and rinsed
1 can (15 oz) kidney beans, drained and rinsed
1 can (15 oz) white beans (such as cannellini or navy), drained and rinsed
2 teaspoons chili powder
2 teaspoons cumin
1 teaspoon garlic salt
1 teaspoon hot paprika
Chili toppings:
green onions
cilantro
jalapeno slices
avocado slices
cheddar cheese, shredded
sour cream
tater tots (or fries)
corn bread muffins
tortilla chips
fritos
Instructions
Put first three ingredient in a slow cooker (ground beef, chopped onion, garlic cloves) and break up the meat either with a spoon or with your hands. I just use my hands and massage the meat to break it up and incorporate the onions.

All all remaining ingredients to the slow cooker and turn on low and cook for 8 hours.

A few times throughout cooking, stir the chili and break up the meat.

Chili will thicken towards the end. Turn slow cooker setting on warm, and you can leave the chili in the slow cooker for hours and keep it nice and warm for guests. Serve with toppings of choice.