Sometimes the classics are just better. Like a good old fashioned milkshake or something that conjures up old timey images, to me, there's just something homey and delicious about a classic egg salad. So today I'm sharing a super old school classic egg salad recipe. It's nothing crazy and is super simple to make and is a great use for those hard boiled eggs you might find yourself with after Easter.
Better than being a super simple and classic recipe, this recipe only has 3 ingredients. And while normally I would post this recipe on a Friday as part of Five Ingredient Fridays, I'm posting it today because I had all of these Easter eggs from when I made Easter eggs dyed with natural ingredients, and I have something exciting planned for Friday that uses this very egg salad.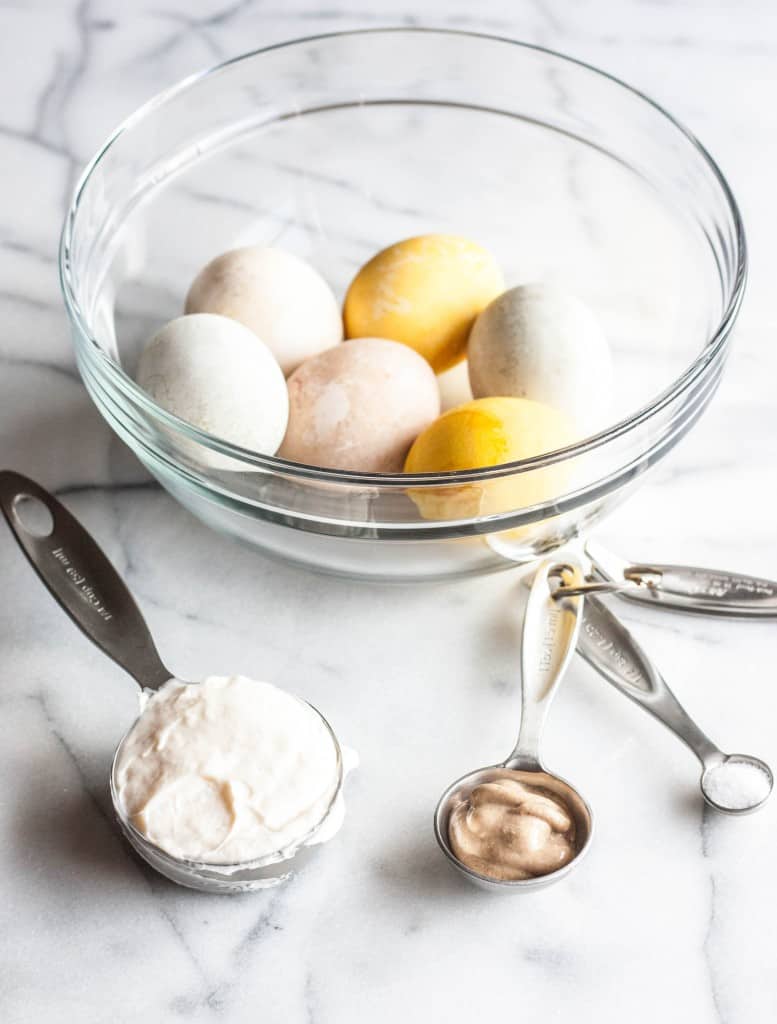 As soon as I saw the hard boiled eggs in my fridge, I just had a hankering for some egg salad.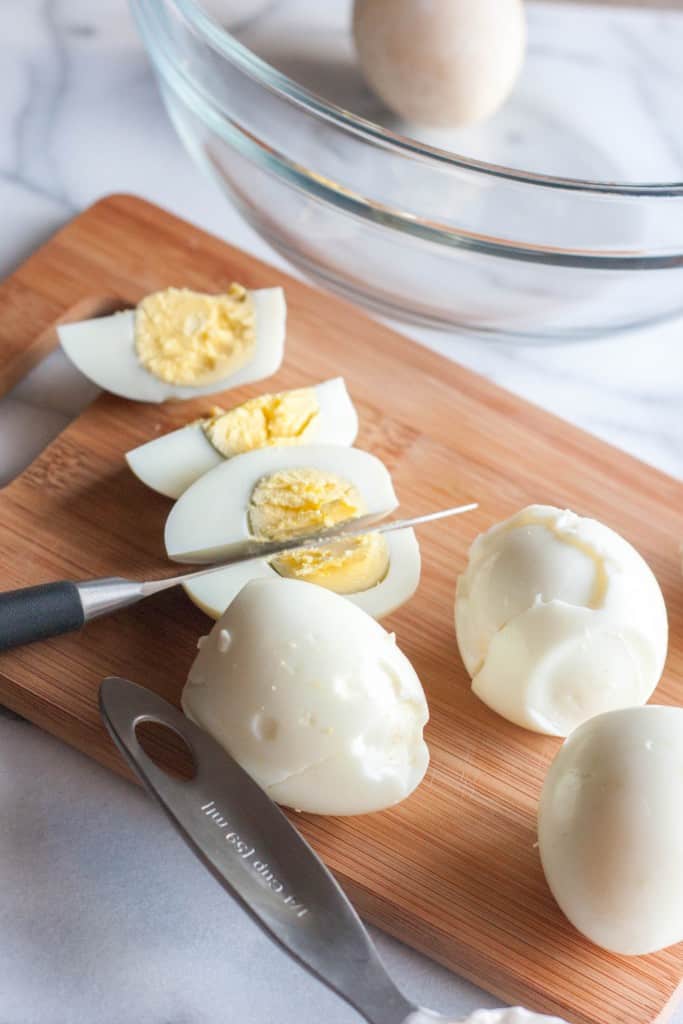 It takes all of 3 ingredients to make a classic egg salad, and is super easy to whip up.
You peel the eggs, chop them, add in some mustard and mayo and stir. And that's it!
Since egg salad is so easy, you can do a bunch of fun variations on a classic egg salad:
Curried egg salad- prepare as directed but add 1 teaspoon curry powder to egg mixture
Caesar-style egg salad – prepare as directed, only use 1/8 tsp salt. Add 2 talesoons parmesan cheese and 1 teaspoon anchovy paste to egg mixture
Mexican style egg salad – prepare as directed, add 1/3 cup chopped fresh cilantro and 1/2 tsp hot pepper sauce to egg mixture
Deli-style egg salad – prepare as directed but add 1/4 cup chopped celergy and 1/4 cup chopped red onion to egg mixture
Ingredients
6

hard boiled eggs

1/4

cup

mayonnaise

I use light mayonnaise

1 1/2

tsp

Dijon mustard

1/4

tsp

salt
Instructions
Peel the hard boiled eggs, chopp them and add them to a bowl.

Spoon the mayonnaise and mustard into the bowl and add the salt and stir until well combined. Serve or store in the refrigerator
Recipe and variations adapted from the All New Good Housekeeping Cook Book (this cookbook is one of my favorites, my friend gave it to me from a garage sale she had been too, and I saw it used on Amazon for $0.16…that's right, less than fifty cents, totally worth it!)
This post contains an affiliate link, if you purchase amazon products through my store at no cost to you, I will earn a few pennies. As always, thank you for supporting the brands and products I love that make the Sweetphi blog possible.