Creamy egg salad with crunch bacon makes one delicious sandwich! Enjoy this egg salad sandwich with bacon as lunch or dinner, and be amazed with what you can do with leftover hard boiled eggs!
You've dyed all your Easter eggs with love and care, you've had your Easter celebration, and you come to find yourself with tons of leftover hard boiled eggs. Now what?
After dyeing eggs with natural ingredients I came across that exact dilemma. I had all these hard boiled eggs and didn't want them to go to waste, so the first thought that came into my head was egg salad. I didn't feel like doing anything too crazy, so I just made a classic egg salad recipe and was pleasantly surprised at how much I enjoyed it. It had been years since I had had egg salad.
But not wanting to just eat plain egg salad (which, by the way, is delicious with some crackers, I may have been treating it like a dip) I decided to make it into a sandwich. After a long day at work, sometimes the last thing I want to do is cook, so a sandwich was perfect. It took a total of 5 minutes to put everything together because I cooked the bacon in the microwave (have you ever done that? It's such a great fast way to cook bacon, you just put paper towel on a plate, put your bacon slices on the paper towel and cover with several more pieces of paper towel and then microwave it until it's nice and crunchy.)
For this particular sandwich you want a smokey bacon that holds its own, thick cut, and you want a peppery lettuce like arugula or ruccola. Both the bacon and the lettuc break through the creaminess of the egg salad and create complimenting flavors and textures. Smooth egg salad, crunchy bacon, peppery lettuce and sturdy grainy bread all come together to make a one delicious sandwich!
Even though I could easily eat egg salad sandwiches with bacon for days, I know variety is the spice of life, so I've put together 13 ideas for what to do with leftover hard boiled eggs: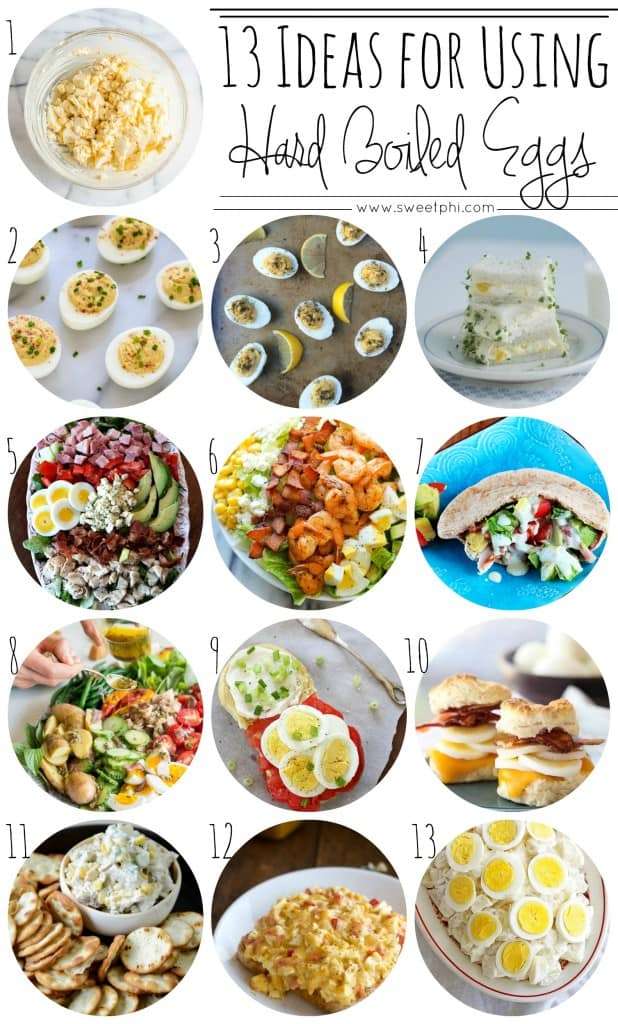 Ingredients
1

cup

classic egg salad

1/2 a batch of -6 hard boiled eggs, 1/4 cup light mayonnaise, 1 1/2 tsp dijon mustard, 1/4 tsp salt

4

slices

thick cut bacon

1

handful arugula

4

slices

multigrain or wheat bread
Instructions
Line a plate with 3 sheets of paper towel. Place bacon on the paper towel, then place another 2 pieces on top of the bacon, and then microwave for 4 minutes, check the bacon, if it is not crispy microwave for another minute, check it, then microwave it in 30 second intervals until it is to your desired level of doneness.

While the bacon is in the microwave make the egg salad if you don't have it made already. Chop up the hard boiled eggs and mix it with the majo, mustard and salt. Store half of it in the fridge, use the other half of the batch for sandwiches.

Lay out 4 slices of bread. On two slices of bread spoon out egg salad and on the other pieces of bread place arugula.

When bacon is done, break each piece in half.

Place bacon on top of arugula, then place bacon arugula bread half on top of the egg salad bread half and press together to form the sandwich.
Do you use hard boiled eggs after your Easter celebration? What do you do for Easter?
Note: This recipe has been made by a reader and featured on my Reader Recreation page. If you ever make a SweetPhi blog recipe that you'd like to share, just include the hashtag #Sweetphiblog on social media or send me an email to sweetphiblog@gmail.com, I love seeing your recreations!