It's back to school time and there is a lot to get in order – like figuring out what to pack for your kid everyday for lunch.  I'm sharing some amazing school lunch ideas for kids, complete with a printable list to hang on your refrigerator!
Sending your kids off to a full day of school can be daunting, especially if this is their first year away from the house for a full day.  When lunchtime comes, it's always nice to do something special and fun for them, but all while making sure they stay full throughout the day and get some healthy food in their bellies.
What should I put in my kid's school lunch?
Packing a mixture of types of foods will keep your kids interested in the lunch and make sure they get a little bit of each type of food they should be eating throughout the day:
A vegetable
A fruit
Some sort of grain
A protein source
Something fun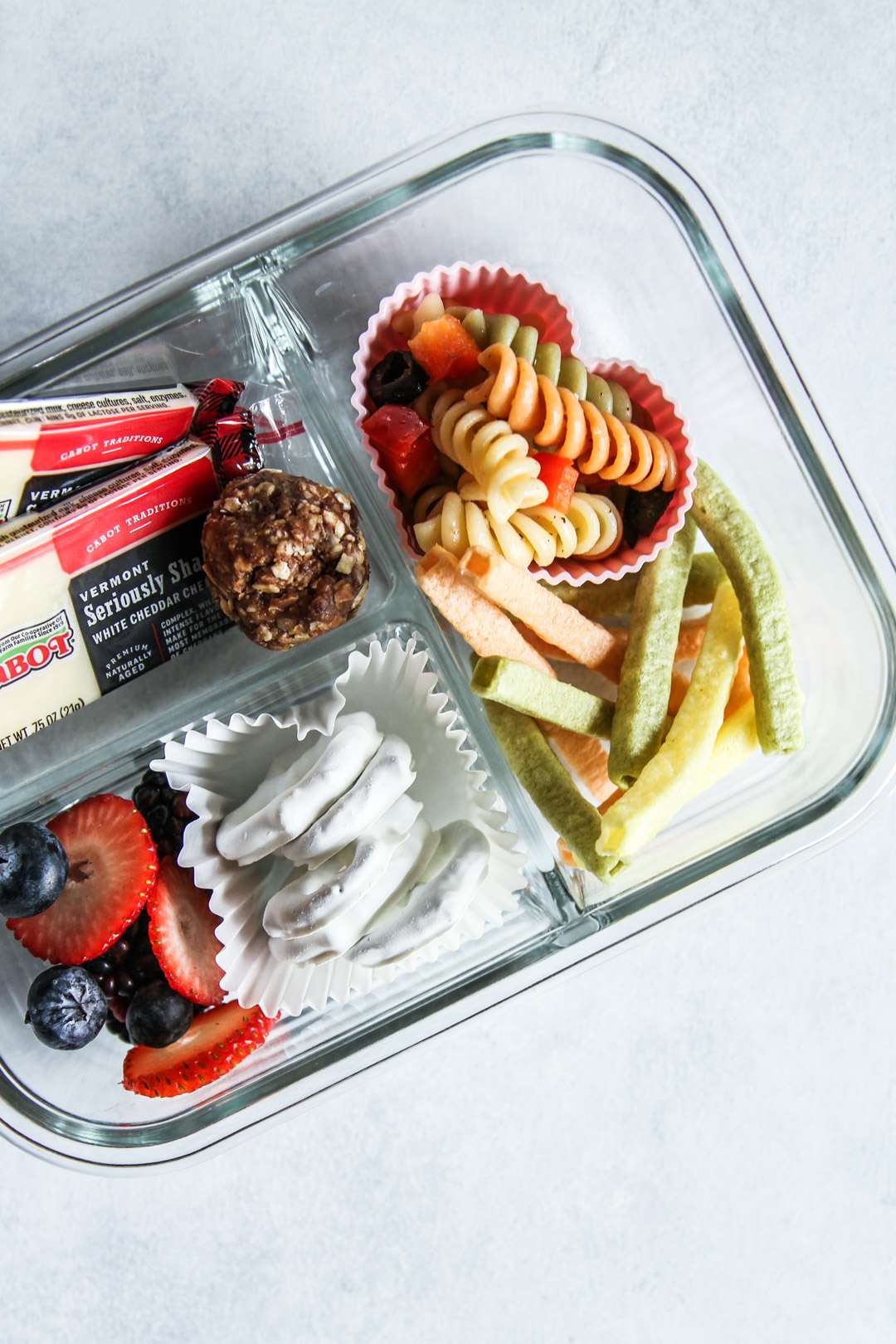 What are some tips to get my kid to eat what I pack in their school lunch?
Cut food into fun shapes using these mini cookie cutters.  Think sandwiches, cucumbers, fruit pieces all cut into fun shapes to make it a bit more appealing to kids.
Pack at least one thing they think is fun or that they will love.  This will, at least, get them starting to eat and engage them with lunchtime.  Plus, then lunchtime is a little bit fun for them too.
Keep food in separate containers/areas.  This is why I love the Bento style box for lunch boxes (more on that below.  This one is my favorite!
Use these silicone cups or paper muffin cups to help keep foods divided as well.
If raw veggies aren't a favorite of your kids, think about turning them into a mash like this or sneaking them into a recipe like this zucchini bread.

What are some good kid-friendly recipes for school lunches?
What are some school lunch ideas for kids?
Tzatziki, cucumber slices, pita slices or chips, dried fruit leather
Pasta salad, energy ball, veggie straws, berries, yogurt pretzels, cheese
Hard boiled egg or pickled egg, energy bite, grapes, berries, cheese, crackers
Peanut butter and jelly sandwich, trail mix, grapes, cheese
Hummus, sliced bell peppers, pretzels, cheese, berries
What are your favorite lunchboxes for kids school lunches?
I wrote all about that here at the bottom of the post.  This depends on the age of your kid, but generally, I love the YumBox (the blue box in the main image for this post)
I hope these school lunch ideas for kids will be helpful in making your transition into school year just a touch easier!  Save and print the below pdf to hang on your fridge for anytime you need a little extra lunchtime inspiration.