Active dry yeast is hard to come by these days, so you can make your own 'wild yeast' by starting a sourdough starter and use it to bake bread (which is also hard to come by). Until now, I have been making my whole wheat honey oat flax bread, but I ran out of active dry yeast and had been seeing everyone make their own sourdough starter and bake beautiful bread, so I decided to start my very own sourdough starter. It's been an emotional experience. I finally baked a loaf of bread after two and a half weeks. See below for links to all the resources I used.
Starting a sourdough starter is/has been an emotional roller coaster. There was literally one day where I was staring at my sourdough starter and was feeling depressed and like a failure, proceeded by 2 hours of google searching if I had killed my sourdough starter, followed by my 2 year old son asking me "what's wrong mama" and me having to explain that I was just a little sad because I didn't know what was happening with my sourdough starter. Then there was the time I woke up at 3 in the morning because I had forgotten to 'feed' my sourdough starter. Or the time my husband and I had a conversation at the end of the day because I had left him (twice) with all three kids and just went into my office to watch videos about sourdough starters.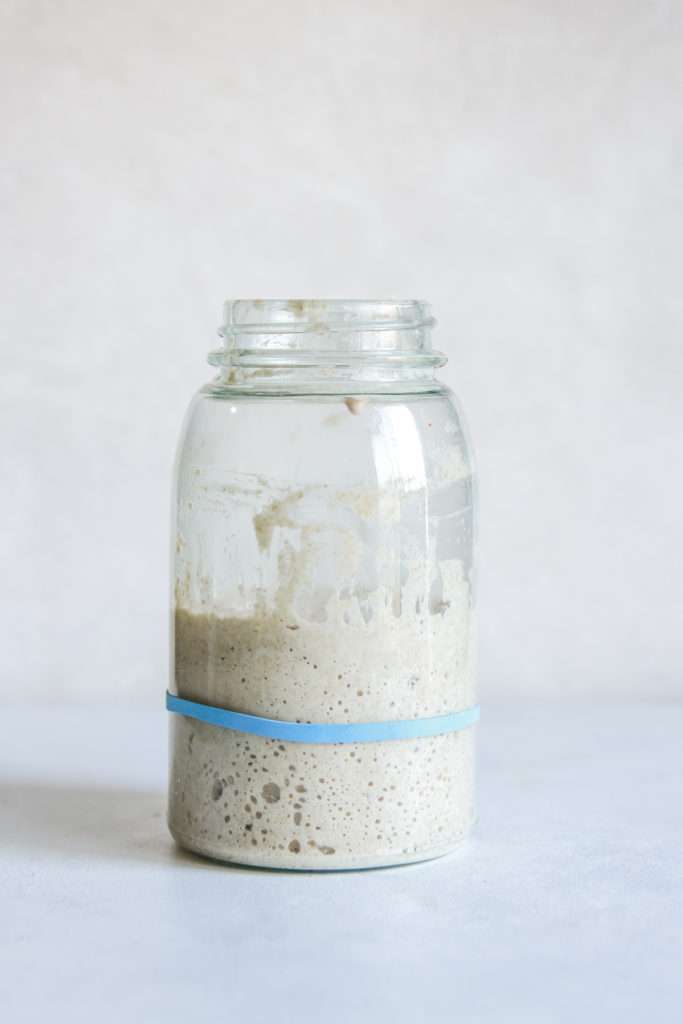 The thing that I didn't understand (and that maybe not a lot of others understand -based on the conversations I'm having with friends and others as clueless as I am) is that it takes TIME and a lot of patience to start a sourdough starter.
You see guides saying that you can make a sourdough starter and then be baking bread with it in 7 days. Well, that is like best case scenario, in perfect conditions.
I started my sourdough starter giddy with excitement, thinking I'd be baking bread in a week!!
It started off kind of funny – I told my husband I would never make a sourdough starter, but then after I couldn't get active dry yeast at the store, I decided to just give it a try. He forwarded me a recipe from a reputable bread site. I mixed the ingredients together, and it was little pebbles. I knew that couldn't be right, so I found another easier guide (this is the one I used) and it started off strong.
When you're making a sourdough starter, you are essentially 'feeding' it a mixture of flour/water/saved sourdough starter…and then it grows wild yeast, and then you're taking a little bit of that 'fed' starter, and feeding it again…then discarding the rest.
Since it's just a mixture of flour and water, I decided I wanted to have a zero waste sourdough starter, so I've been baking up a storm. I've made the best sourdough pizza crust recipe (which so many people have been making on Instagram) and I've made amazing banana bread with sourdough starter discard (recipe in this Instagram post)
You feed your sourdough starter twice a day, until it grows/rises/falls predictably.
Here's where things get tricky. It might not grow/rise/fall predictably in the first week, and you don't know what the issue is!
Is your air temperature perfect?
Are you using a special spoon to stir it with?
Are you feeding it the right things?
Is your window facing the perfect way?
Are you using the latest and greatest tools?
Who the *bleep* knows. All I know, is that day 7, mine didn't look like it had a lot of activity, and I was literally in tears.
You're feeding it it twice a day, and I don't know about you, but if something you're feeding twice a day isn't showing signs of activity, you begin to wonder if it's you…or if you're doing something wrong or if it's dead?
I googled away, and read that a good tip was to put the starter in your oven (turned off) with the oven light on. That was what did the trick for me.
Still…after doing that, it took a FULL WEEK to see my sourdough starter rise and fall.
There's so much fancy sciencey stuff and fancy tools and whatever…it can be very overwhelming for a new bread baker. And I get it, bread baking is a science, but I don't know…I just wanted to see if I would be able to make a loaf of bread before buying something new!
You name your sourdough starter – it's a thing- mine's name is Crust Hemsworth, so you'll see me refer to it as 'him.'
Anyway, after 2+ weeks, I finally had an active sourdough starter. The day before I was set to begin baking, I found myself sneaking away into my office and losing track of time while reading about sourdough bread baking and watching videos. Not gonna lie…my husband and I had a conversation at the end of the day because twice I just kind of left the room and left him with all three kids, only to be holed up in my office watching YouTube videos…not cool on my part. Sorry honey.
Finally the day came to bake bread…and oh wait…it's a two day process!
I patiently followed all the instructions (I used this recipe for artisan sourdough bread from A Beautiful Plate) and after two days, I cut into the loaf of bread, and was giddy with excitement, it worked!!
Links/resources I've used:
Sourdough starter recipe and guide: how to make a sourdough starter I used this one by Girl Versus Dough – which is adapted from The Perfect Loaf sourdough starter guide which I referenced a lot too
Sourdough bread recipe with timetable: I used this recipe for artisan sourdough bread from A Beautiful Plate. I printed the recipe which printed out not only the recipe but also the timetable. It was so so helpful to have it printed out.
I watched videos on shaping from A Perfect Loaf
I didn't use bread flour, I just used regular all purpose flour
I didn't use any special tools or baskets or whatever, I used what I had in the kitchen. A note to this, I have subsequently noticed that if I didn't score the bread on top, it doesn't rise like it's supposed to
So there you have it, my emotional experience with a sourdough starter. It feels like it was a little dramatic, but from the messages I've been getting, I can tell I'm not the only one who has struggled with it. My only big comment would be that whatever your sourdough journey, please know you're not a failure and that it is different for everyone.
Have you ever tried making sourdough bread? I'd love to hear about your experience in the comments below!