This week on Catching up with the Kelnhofers, I'm sharing how you can make fried rice with almost any leftover meat, pictures from the twin's 10 month photoshoot and stories about everything we're cooking up in the kitchen these days.
This past week, I did some recipe testing. I had a pineapple and some chicken. I was thinking if a ginger pineapple chicken over rice dish. I made it, Ben helped. It was ok, but not up to recipe standards for something I would share on sweetphi.com. The next day, I decided to make fried rice out of the leftovers (I had leftover white rice and the chicken/pineapple mixture).
I used my recipe for the best shrimp cauliflower fried rice and modified it with what I had on hand.
SO SO GOOD!
I had done the same thing after Easter with ham; I made it into ham fried rice. Nick said I needed to share how to make anything into fried rice because he LOVED both dishes. So here's what I did:
In a large pan, heat up 1 tablespoon oil (vegetable oil or olive oil or whatever you have), 1 teaspoon sesame oil and fry up 1/2 of a chopped onion (omit if you don't have an onion)

Add in protein (either leftover chicken/pork-ham/tofu/shrimp/whatever) and add a dash of garlic salt.

Add in rice (or cauliflower rice or quinoa or other grain) and pour in 2-3 tablespoons soy sauce.

Add in veggies (I just used a frozen bag of stir fry veggies or mixed vegetables)

Then lastly beat 2 eggs in a small bowl. Create a little well in the center of your pan, add in the beaten eggs and stir in a circle out towards your other ingredients. Cook until egg is cooked. Serve (top with chopped green onion if you have any.)
There you have it, leftovers turned into the best leftover fried rice
New on the Blog:
What to Make:
Since the whole family loved the fried rice dishes so much, I'm all about rice dishes this week!
I also wanted to share a few more things that we've been making and enjoying this past week:
Ben and I were going to make

lemon loaf

for his grandparents. The first time I decided to try it with sourdough starter discard. It was a huge flop, it was solid and dense and bready. Then the next day we decided to make it again, and Ben measured the baking powder and baking soda and put in probably a tablespoon of both…and I used a small loaf pan and it poured everywhere in the oven. So….note to self, follow recipes when baking, LOL. But so many of you have been making the

lemon loaf

, and it's so good. I promise to make it one of these days for my in-laws (when I get more lemons, lol).
We made homemade ranch from

Barefeet In The Kitchen

and it was amazing. Nick tried making Cacio e Pepe and it was meh, ok but kind of not worth it.
Ok, I/we tried making homemade tortillas from scratch with chicken mole for tacos. I can now say I've done it, but, wow, is it a labor of love. I have a whole new appreciation for tortillas! Dinner took like 3 hours to make when homemaking tortillas.
Reader Comments:
This week, I'm loving these two sweet comments on one of my favorite recipes: asian ground turkey and rice bowls.
"I needed a new simple quick recipe to add to my list. I made this recipe tonight and it turned out so well. I used green bean for veg and some of my homemade pickled carrots. It all went very well together. Thanks for posting this!"

"The recipe was delicious and easy. Family loved it and it was quick"
Reader Recreations:
This week, reader @mumlovesfood made a delicious looking batch of my Asian pickled vegetables. Thanks for using my recipe!
General Stories/Things I'm Loving:
What I'm Reading:
What I'm Watching:
I haven't had much time to watch TV or movies, but there is so much I want to see! What are you watching?
Personal Stories:
I had to go into my office for a bit super early (we're talking 5am) one morning. Ben woke up and wanted breakfast before I got home and wanted to call and show me what he was eating –

eggless waffles

(his favorite).
Frankie and Freddie are growing so much, it's a little crazy! They're 10 months!
Freddie and Frankie both pull themselves up to standing, and then don't know what to do. Freddie falls over and hits his head (hence the little bruises on his head) and Frankie does it in the middle of the night and freaks out and yells and wakes everyone up. Not fun.
We had a video chat with Nicks family and our whole family took part!
Ben got some fun

polarized sunglasses

, he has been so cute with them and hasn't wanted to take them off!
The

trike

we got Ben for his birthday last year is proving to be a great gift, he uses it all the time!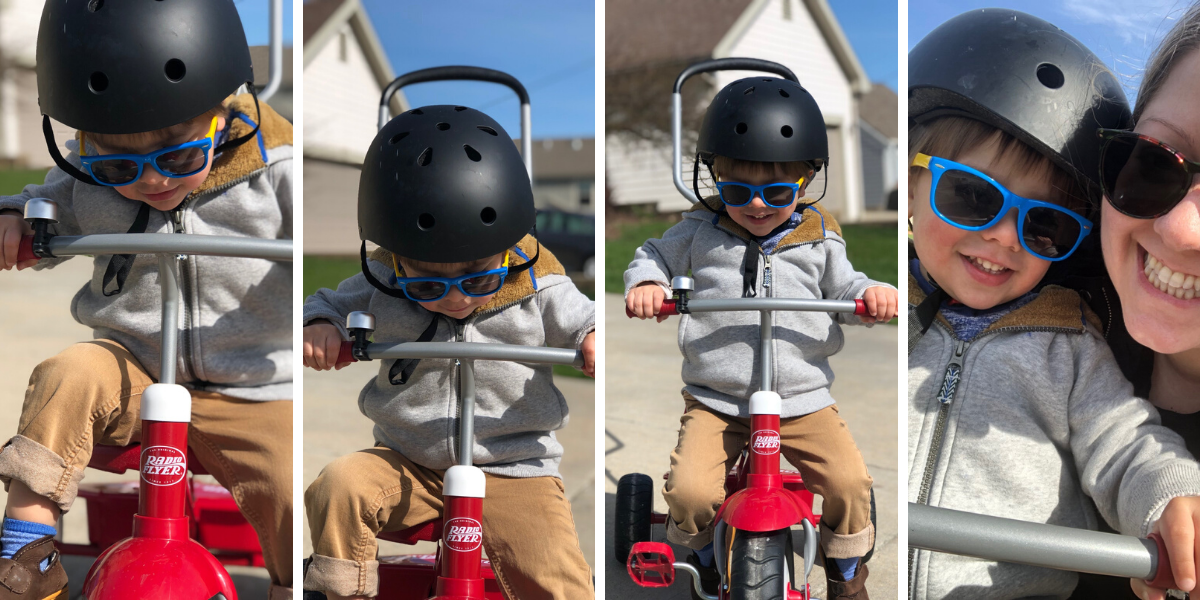 This week we made 2 crafts – first we painted and then I cut out fish and used an old pasta box to make a 'fish tank' Ben did not quite get it or care about the actual fish tank that Nick and I lovingly made during his nap time lol, but loved painting. The next day, we drew on coffee filters with washable markers (

best invention ever

) and then we got the filters wet outside and let them dry. Then, we made them into butterflies.
Truly heartwarming and heart breaking at the same time. We went to drop something off at Nick's parents house (I'm working on a tuna salad recipe with pickled celery that was so good. I wanted Ken, my father-in-law, to taste it. I also made

vanilla scones

that I wanted my mother-in-law to try) and they had made signs and said hi to Ben through the door. How sweet and sad, right?
I keep trying to play the 'lets nap' game with Ben, but he never plays along and ends up jumping on me, lol. He did read sweetly.
Also, I wrapped him up like a burrito once, and now he requests it and it's hilarious.
Popular This Week:
>>I have a few new videos up on YouTube, so don't forget to check them out<<
How are you doing? What are you cooking or 'making work' with what you have? Also, what TV shows are you bingeing on?  Leave a comment below and let me know!