These raspberry filled sandwich cookies are the most delicious cookie ever, they're great because they can be made ahead (they actually taste better after 3-5 days of being made!) The official name for these raspberry filled cookies is Vanilice (meaning 'little vanilla), it's a Serbian raspberry vanilla cookie recipe.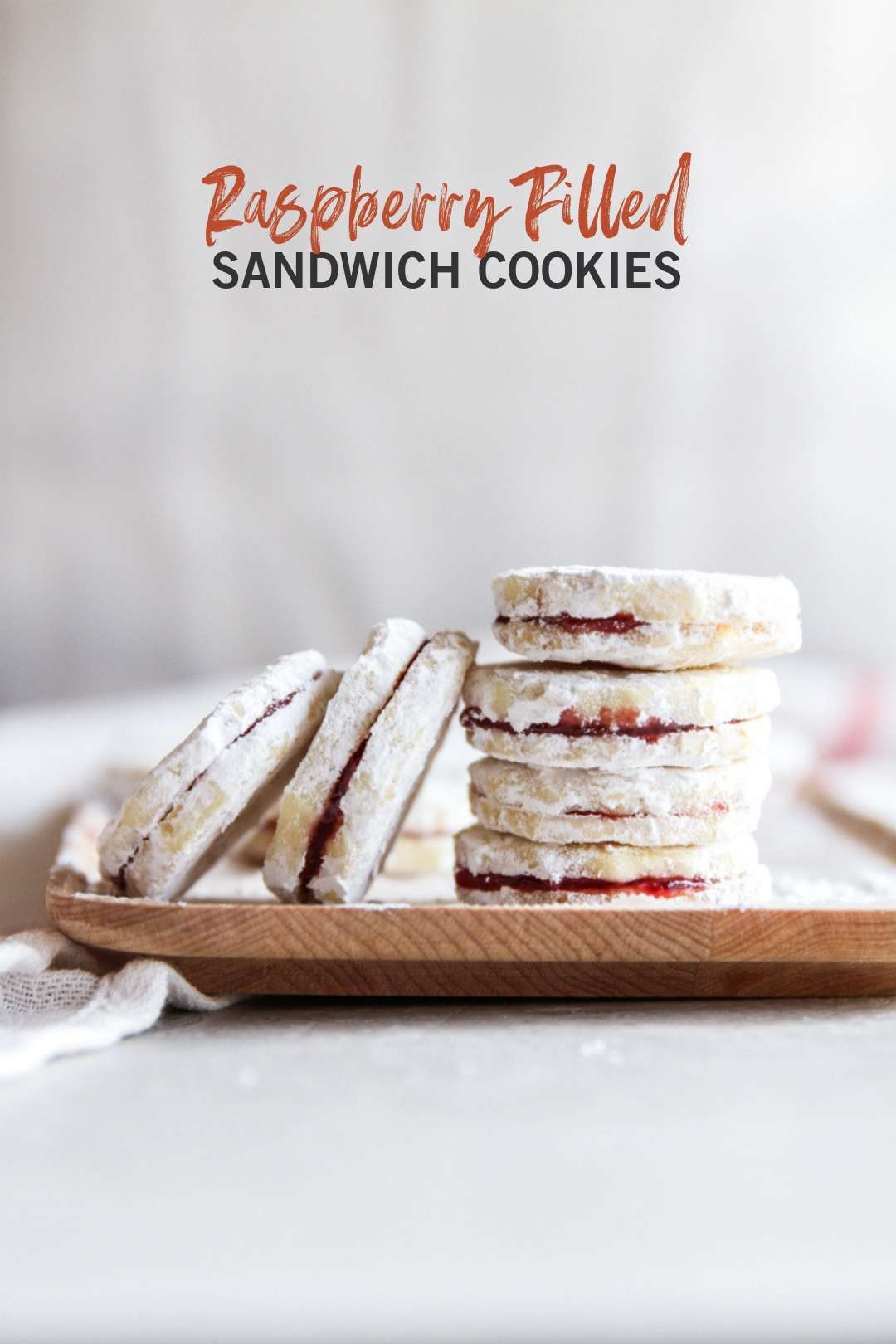 I'm updating the photos for this post (the post was published over 5 years ago!!)
This cookie…is delicious, is a labor of love, is a little Serbian sandwich cookie, and is a cookie I still cannot pronounce the name to even though my husbands grandmother has told me 100 times. Vanilice (pronounced vah-ny-ly-tseh, try saying that over and over) means 'little vanillas' and are small Serbian cookies traditionally made for the holidays and special occasions.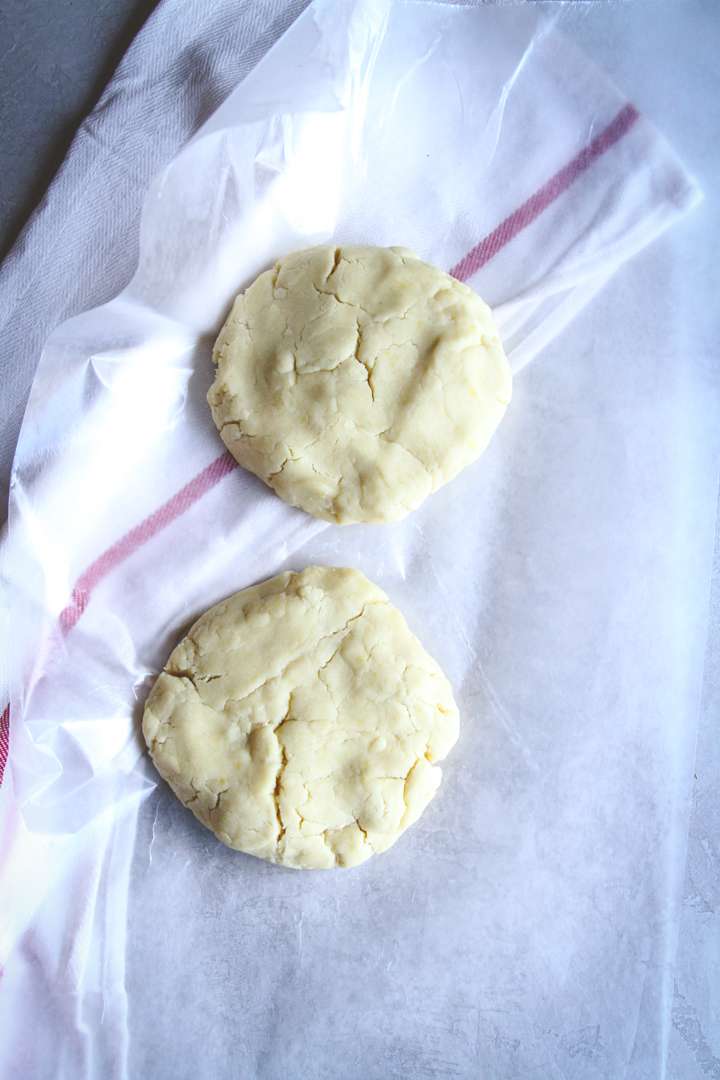 My side of the family is German, and we always make little cinnamon star cookies called Zimtsterne around the holidays, so adding another difficult to pronounce cookie to the mix shouldn't be a problem haha.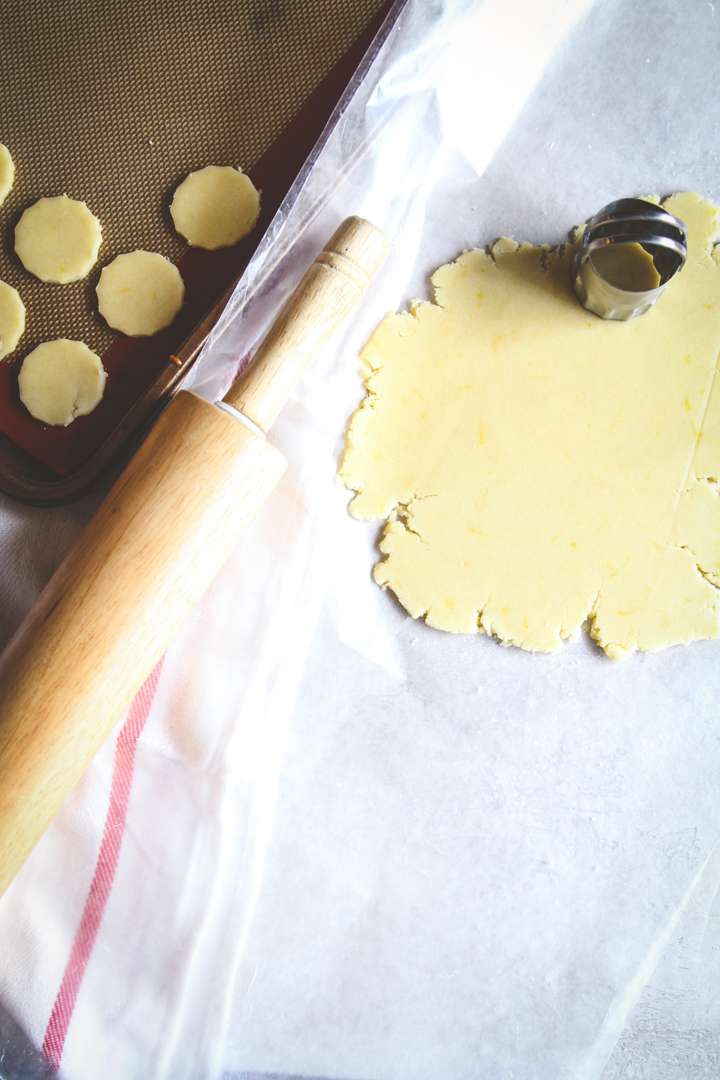 Why did I make these cookies in the first place you might ask?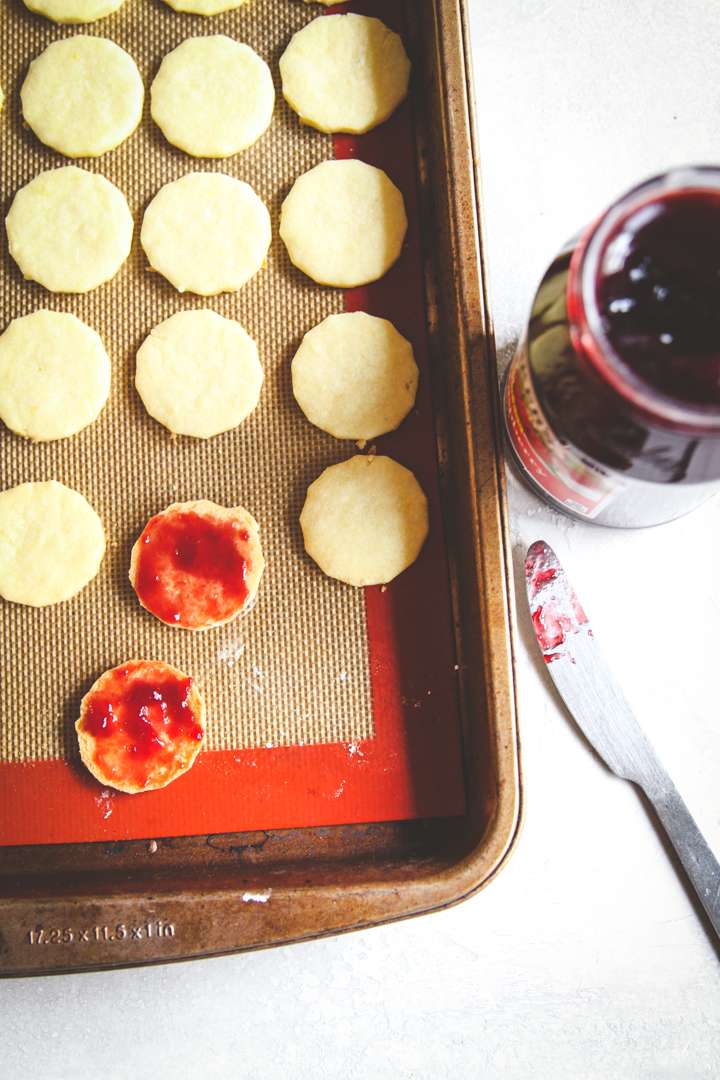 Well, my husband is Serbian Orthodox and the church we got married in asked me to bake 100 cookies for a fundraiser they are having and asked that I make Serbian Inspired Cookies (see some pictures below from our wedding). I of course picked these little beauties to make, not really considering the time it would take to bake all the cookies and then fill them and coat them…I think there is still powdered sugar and hiding out that didn't get cleaned in my kitchen…but it was really worth it, the cookies are THAT good!
There are many different versions to this recipe I'm told, the one I used was from a church cookbook called 'Bless the Food and Drink-A Collection of Recipes by Orthodox Christian Parishes – Milwaukee and Madison, WI' (below are some pictures from the original post which I think are still helpful).
I doubled the recipe to make all the cookies, but this recipe is for about 60 finished Vanilice sandwich cookies. I've since remade and remade and remade these cookies (I make them every year to include on Christmas cookie trays) and I've always gotten 50-60 (the yield depends on how thin you roll the dough and how big your circles are, mine are usually 1-1 1/2 inch in diameter).
A few things I've learned about these cookies:
use spreadable fruit or a firm jam, otherwise the filling will be runny in your cookies, use seedless raspberry
let your cookies 'age' in a cool dry airtight container, but don't put in the fridge to do this, the cookies taste better after a few days (perfect for making ahead!)
these cookies are very freezer friendly, meaning you can make them ahead and freeze them, and then when ready to enjoy just let them come to room temperature.
I don't know the exact shelf life of these cookies, but it's at least two weeks (after the 3-5 days resting). I made them in early December once and by Christmas they were still good!

Note: I've since made this recipe 3 times and each time I have used this recipe and they have come out perfectly! They are best after 3-5 days time, they just melt in your mouth!
Yield: 60
Vanilice - Raspberry Filled Vanilla Cookies
Prep Time 2 hours 10 minutes

Cook Time 13 minutes

Total Time 2 hours 23 minutes
Instructions
Beat sugar, butter and vegetable shortening with a hand or stand mixer until well blended.
Add egg yolks, lemon zest and vanilla sugar. Beat until light and fluffy.
Add flour and salt into the butter mixture, mix well.
Divide into 2 parts, flatten between waxed paper, wrap and chill 1 hour or longer (I put mine in the freezer for 45 minutes and then transferred the dough I wasn't using into the refrigerator.)
Preheat oven to 325 and line 2 baking sheets with parchment paper or silicone baking mats and set aside.
Lay out a sheet of wax paper on a counter, then put half of one disk of dough on the wax paper, cover with another piece of wax paper and roll out to 1/4-1/2 inch thickness (they should be thin).
Remove top layer of wax paper and cut little 1 inch circles or scalloped edge circles (<- that is the exact cut out set I use, I use the smallest one) out and put on prepared cookie sheet. The cookies don't expand so you can put the cookies pretty close to each other on the baking sheet.
Bake for 11-13 minutes (you don't want the cookies to be brown). Cool for 5 minutes, then spread a little bit of the raspberry jam onto one side of a cookie, top it with another (don't put too much filling, you don't want it coming out the sides).
Put the powdered sugar in a heap at the bottom of a bowl, and roll the stuffed cookie sandwich in the powdered sugar, put coated cookie on cooling rack to cool completely for 15 minutes. Store in an airtight container, in a cool place, and let age 3-7 days before serving. Can be stored be stored for a few months in the freezer and then brought to room temperature before serving.
Another thing I loved about our wedding is that because it was Serbian Orthodox, there were a lot of Serbian Wedding Traditions that went along with the service. To explain to my friends and family what was going on, I put together a comprehensive Program explaining each of the traditions. Prior to this, the priest said he hadn't seen anything in such detail and in English, and ended up taking a big stack of our wedding programs for future reference lol. Yes, finding and putting together all the information in English was quite the task, but here it is, all in one place 🙂 The PDF for the program is under the pictures.
Serbian Wedding Traditions Program