The holidays are fast approaching. Fast, fast, fast…as in Thanksgiving is T-minus-2 days! And with all the hustle and bustle, commitments, parties, and everything else going on, one can get caught up and forget to take a few moments to just relax and be thankful.
I am thankful for so many things in my life (family, friends, weekends-ha) but today I'm going to talk about one little thing that brings me happiness in the cold months (and especially during the holidays) and that is enjoying a warm up of coffee.
There's just something about drinking a freshly brewed cup of coffee. Whether it's relaxing on the couch, being served breakfast in bed, or rushing out the door with my coffee in hand on the way to work, drinking coffee is something that I enjoy and that always signals the start of the day.
And my favorite way to make my coffee is using my iCoffee® Single Serve machine. To be honest, I've had a few different single serve coffee machines, but the iCoffee machine is my favorite, it is like it produces French Press-style coffee every time (with no bitter or acidic aftertaste). But my favorite, favorite thing about the iCoffee is that it features the world's first Dial-a-Brew™ technology which allows one customize strength and taste (for a stronger taste, simply brew a smaller size cup, and for a more mellow taste, brew a larger size up.)
Speaking of customizing ones' coffee, I just have to ask, how do you like your coffee? I like a bold coffee flavor, but then love cream and sugar added to it, just adds a little somethin' somethin'!
So what I like to do is make a batch of vanilla bean cream (takes under 10 minutes to make) and then for the next week (plus) I'll have a delicious coffee creamer that is already sweetened so all I have to do is brew my cup of coffee (thanks to the iCoffee I can brew a 10-ounce cup of coffee in less than a minute), add some vanilla bean cream and I'm good to go.
To make the vanilla bean cream you'll simply scrape a vanilla bean into a pot and cook it with some half and half and sugar, then after a few minutes you'll pour it into your desired container and leave the vanilla bean in with the cream. The flavor really develops after the cream has been in the fridge overnight.
Then in the morning you can snuggle up with your cup of coffee on the couch and start the day with bold coffee flavors that are complimented by the earthy vanilla undertones of the cream. YUM!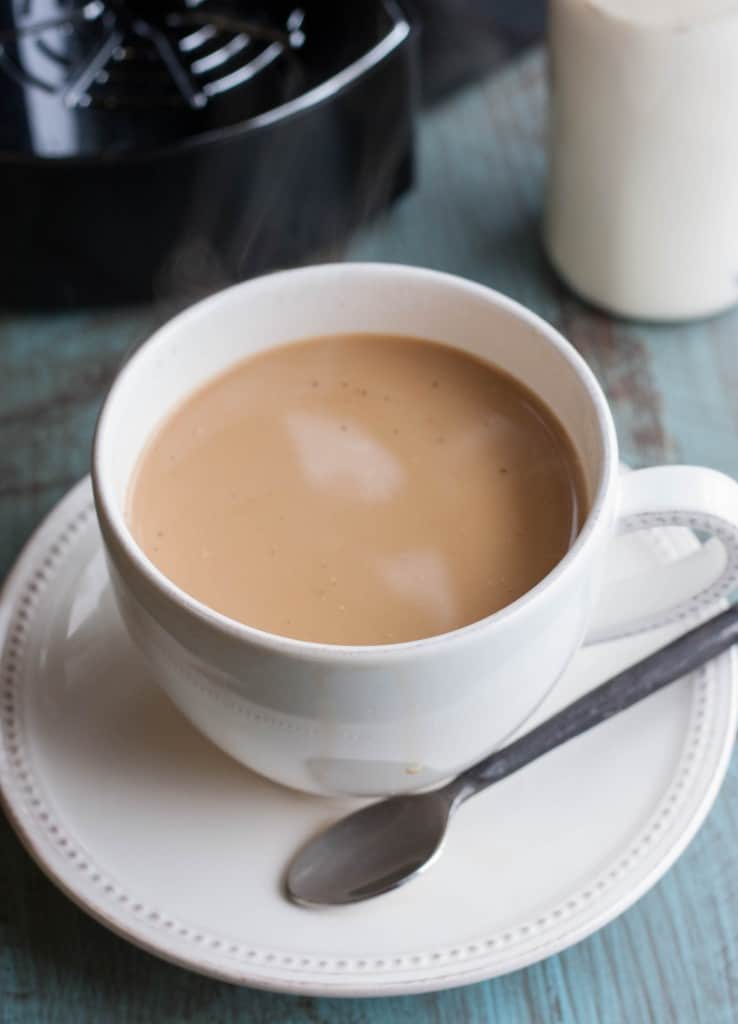 As you're going about your holiday shopping just know that an iCoffee machine from Bed, Bath and Beyond would make the perfect present for that special someone on your list.
Vanilla Bean Cream Coffee
This recipe will show you how to make a rich vanilla bean cream that is super tasty in your coffee.
Print
Rate
Ingredients
For the vanilla bean cream-

1

Cup

Half and Half

1

Vanilla Bean

1

Tbs

Sugar

For the coffee-

1 9-10

oz

single serve cup of coffee
Instructions
In a medium sauce pan pour the half and half and sugar, then slit the vanilla bean open and scrape insides into the half and half and then drop the entire vanilla bean into the half and half. Bring to a slow boil (about 5 minutes), whisking or stirring gently all the while, then remove from heat and allow to cool a little, then pour into desired container.

To make the vanilla bean cream coffee pour vanilla bean cream into a cup of freshly brewed coffee, stir, and you're ready to enjoy!
Disclaimer: This deliciousness was sponsored by iCoffee, as always, all opinions are mine alone. Thank you for supporting the brands and products that make the Sweetphi blog possible!