This luscious and refreshing cucumber limeade with chia seeds recipe is so good that it will completely overshadow how healthy this green drink is!
But it's so good for you!
And yet, it's SO delicious.
When my husband and I went on a trip to Scottsdale, we went to this healthy restaurant and ordered two drinks.
Mine was a cucumber lemonade, and his was a pomegranate chia limeade. They were equally delicious, and I could not stop thinking about them.
So much so, that over a year later, and I was still thinking about the drinks.
With St. Patrick's day coming up, I really wanted to make something "green" in color, but just was not feeling the trendy things you see all over the internet around this time of year (things shaped like four leaf clovers or a pots of gold lol).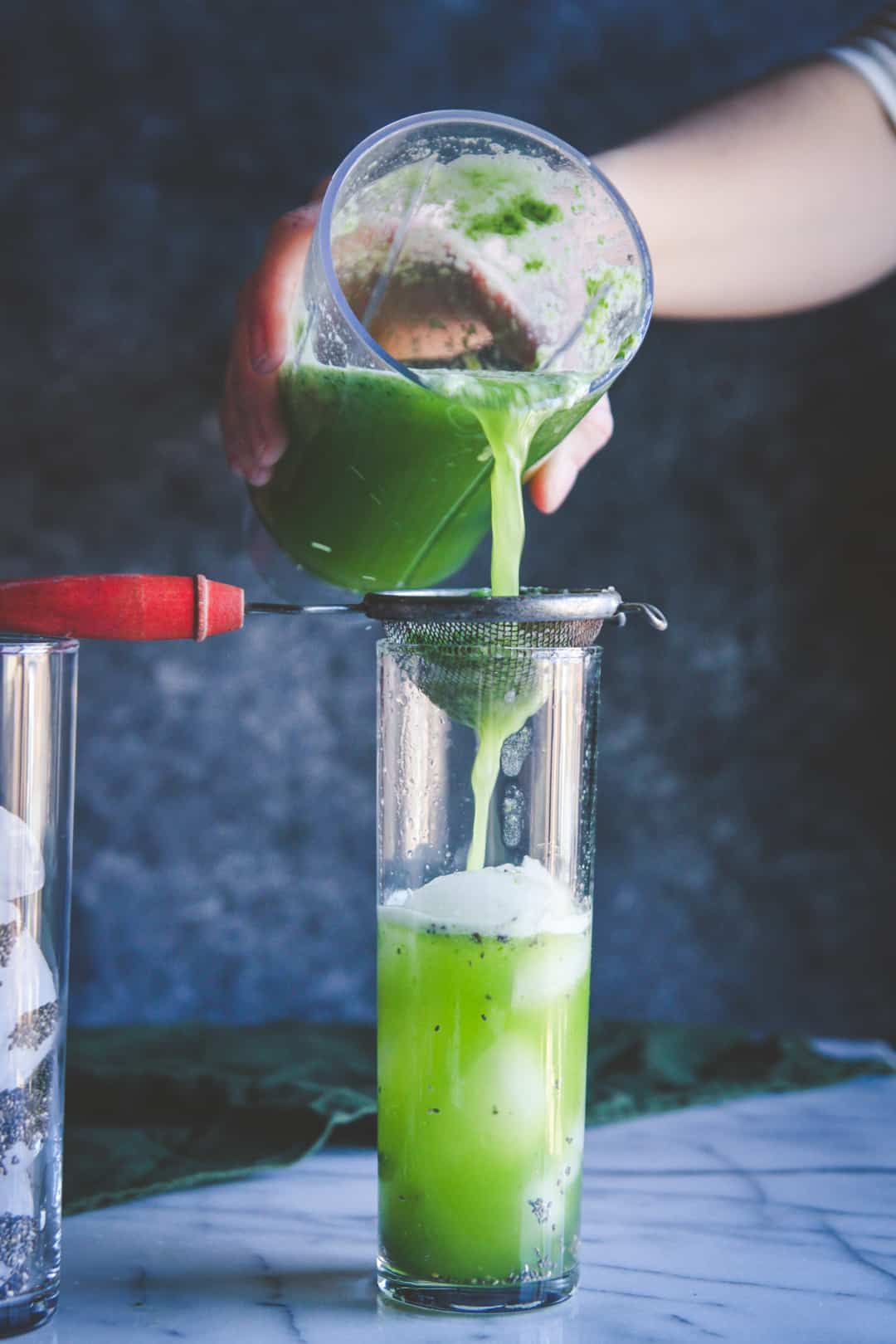 I actually put the holiday completely out of my mind, and as I was making the recipe, I realized it was green.
A friend joked that these would be the perfect hangover cure because it's a delicious healthy drink.
And the health benefits of chia seeds, just 'googling' it had my eyes crossing. Chia seeds are a good source of antioxidants, omega-3 fatty acids, a good source of fiber (reducing inflammation and bowel issues) and about a million other things! So really, yes, this drink would be good to have if you've had one too many!
This cucumber limeade with chia seeds is like a smoothie, but better…it's a juice and sometimes, juices are just more refreshing than a smoothie.
Enjoy this cucumber limeade recipe as a refreshing green drink any time of day, oh, and it only has 5 ingredients – hello Five Ingredient Fridays!


Yield: 2 glasses
Cucumber Limeade with Chia Seeds Recipe
Prep Time 5 minutes

Total Time 5 minutes
Ingredients
1/2 of a seedless cucumber, peeled and cut in large pieces
1/2 cup baby spinach
2 large limes, juiced
2 tablespoons agave (or honey)
Instructions
In a blender combine cucumber, spinach, lime juice, agave and 2 cups of water. Bend until well combined.
Sprinkle 1 tablespoon chia seeds each into two glasses. You can add ice if you'd like, or serve without
Pour blender liquid through a strainer, over the chia seed glasses, dividing evenly between both glasses.
Refrigerate for 1/2 an hour so that the chia seeds plump up a little, then serve over ice.