When you're looking for a thoughtful gift or are not sure what to get for that impossible-to-shop-for person, food gifts to the rescue!  I'm sharing a food gift roundup to give you some last-minute gift inspiration.
These recipes all keep well, with is necessary when giving food as a gift.  I love buying adorable Christmas containers, like these, to for my food gifts!
Peppermint Fudge - Perfect for a Food Gift
Peppermint fudge, a delicious holiday fudge recipe that is perfect for a food gift
Read More
Chocolate Turtle Chex Mix
A salty sweet snack that's a perfect party dessert, this chocolate turtle chex mix is a crowd pleaser!
Read More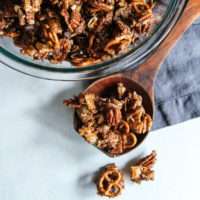 Bananas Foster Party Chex Mix Recipe
If you love bananas foster as much as I do, then this is the snack for you!  I seriously can't believe how much it tastes like the traditional dessert, and turned into a party Chex mix, your guests are going to love this unique and delicious Chex mix recipe (that also happens to be a completely gluten-free snack recipe!)
Read More
5 Ingredient Peanut Brittle without a Candy Thermometer
This recipe for a 5 ingredient peanut brittle without a candy thermometer is super easy to make and perfect to give as a gift!
Read More
Anything goes big batch granola
This recipe for anything goes big batch granola is so simple, very flexible and great to make ahead and freeze!
Read More
Homemade BBQ Sauce Recipe
The best homemade bbq sauce recipe for chicken or pork, for grilled, baked. slow cooker or seared meat!
Read More
Perfect Christmas Recipe for Gifting: Sea Salt Turtle Cups
These delicious sea salt turtle cups are the perfect Christmas recipe for gifting that everyone is sure to enjoy and are made with only 5 ingredients (yay for 5 ingredient desserts and 5 ingredient Fridays!)
Read More
Freezer Butternut Squash Recipe
This freezer butternut squash soup will quickly become a fall favorite! There are plenty of ways to make butternut squash soup, but this recipe has a special tasty kick!
Read More
The Best Freezer Chocolate Chip Cookies Recipe
This recipe will teach you the best way to make a cookie dough and freeze it for later use.
Read More
Red Wine Brownies in a Jar
Delicious red wine brownies in a jar that are great to give as a food gift.
Read More
Rocky Road Brownies In a Mason Jar
Giving these rocky road brownies in a mason jar as a gift is one of my favorite things to do!
Read More
5 Ingredient Peanut Butter Banana Fudge
This 5 ingredient peanut butter banana fudge recipe is super easy to make, tastes delicious and would make a great food gift.
Read More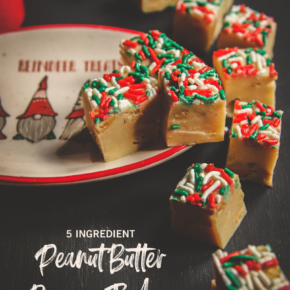 No Bake Coconut Date Energy Bites
These naturally sweet no bake coconut date energy bites are sweet little bites of absolute deliciousness, and just so happen to be gluten free, vegan and whole30 compliant!
Read More
Caramel Pretzel Bite Candies Recipe
These caramel pretzel bit candies are the perfect addition to any Christmas cookie plate/tin!
Read More