This gluten free lemon loaf with frosting recipe might be one of my favorite recipes I've ever shared. It is so tasty and lemony and YUM! For years, readers have loved my Gluten Free Pumpkin Loaf, which is a Starbucks copycat recipe.  So, I figured that it was about time that I re-create the lemon loaf with frosting from Starbucks (and this is made even better by being a gluten free version of lemon loaf with frosting!)
One of my favorite things is to have a slice of lemon loaf with icing to go with my iced coffee at Starbucks. But the order ends up being $7 + dollars. I mastered making sweet cream iced coffee at home, and now I've mastered making the lemon loaf with icing at home as well. I made this gluten-free because I have a lot of gluten-free readers, but I've also tested this with regular all-purpose flour, and it turns out great either way!!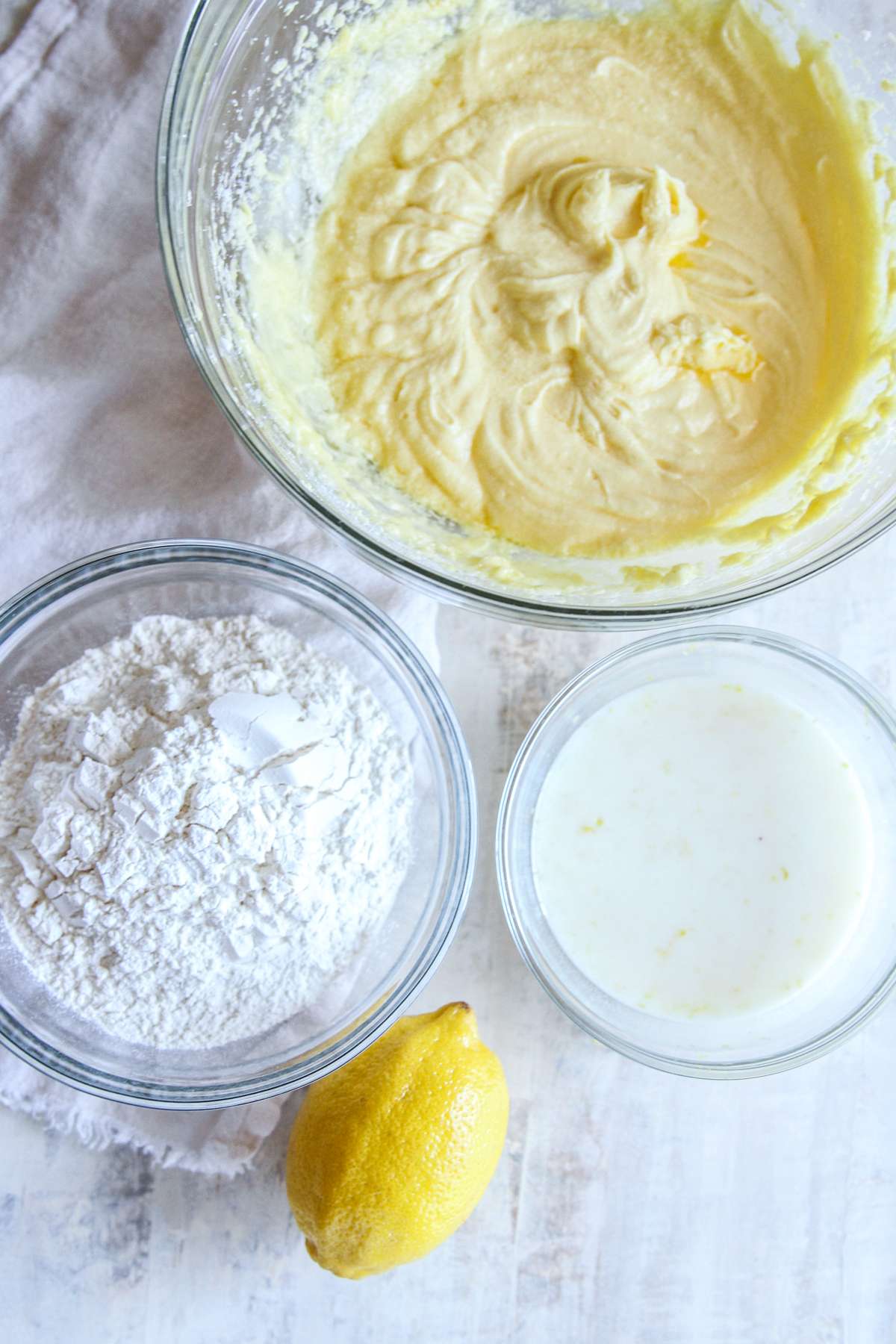 For the cake, I adapted an old recipe from Martha Stewart and added an extra layer of frosting!  I love to make recipes gluten free when I can.
But, if you'd prefer not to, all you have to do is swap out flours.  To make recipes gluten free, I love to use Bob's Red Mill 1 to 1 baking flour, which is what I used in this recipe. But, as I mentioned, you can use regular all purpose flour works as well and it will be just as delicious.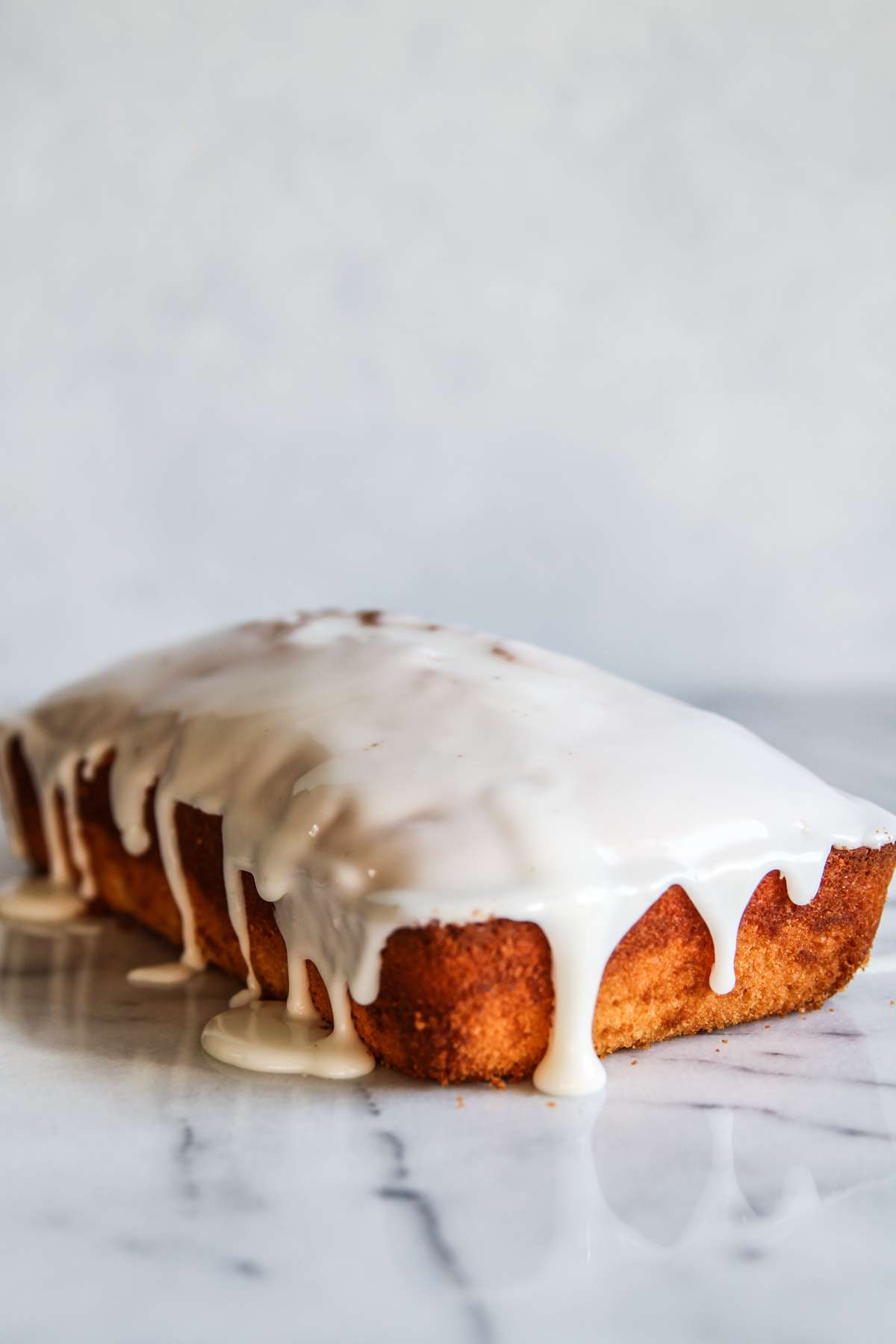 This lemon loaf is like a pound cake, so it's a super tasty dense cake.  The key to getting the frosting just right is to make sure you let the loaf cool properly.  If it doesn't cool enough, the frosting will just be absorbed by the cake.  It will still be delicious, but won't look as pretty!
When I make this loaf, I'm making it with fresh ingredients so the taste will be slightly different than what you might be used to at Starbucks, but it is (dare I say) BETTER than the lemon loaf at Starbucks!  Starbucks has to use more preservatives to keep things shelf-stable longer and when you're baking at home, you don't have to!
If you're looking for a thicker (or taller) loaf, you can easily swap pans.  Just opt for a small loaf pan (normal loaf pans are 9×5 but they make smaller ones) and you will have taller slices.
I love the amount of lemon in this cake, but if you're looking to amp up the lemon flavor, add in a 1/4 teaspoon of lemon extract for a real punch of flavor!
This recipe will look beautiful on any brunch table, it's one of the best brunch recipes I've ever made, and I can't wait for you to make it over and over!
Gluten-Free Lemon Loaf with Frosting
This gluten free lemon loaf with frosting is the perfect spring recipe that is a great recipe for Spring or Mother's Day and it's a Starbucks copy cat recipe!
Print
Rate
Servings:
1
loaf (10-12 slices)
Ingredients
For the lemon cake
1/3

cup

low fat buttermilk

2

Tbs.

fresh lemon juice

juice from one large lemon

Zest of one lemon

1/2

tsp.

vanilla extract

1/4

teaspoon

lemon extract

optional

1/2

cup

butter

1 stick, softened

1

cup

sugar

3

eggs

1/4

tsp.

baking powder

1/4

tsp.

baking soda

1/2

tsp.

salt

1 1/2

cups

gluten free baking flour

you can substitute with regular flour or make your own - see note
For the Glaze
Juice of 1/2 lemon

1 1/2

cups

powdered sugar
Instructions
Preheat oven to 350 degrees. Prep a 9x5

loaf pan

by coating in butter and then sprinkling with flour. Tap off excess flour. Or simply spray it with cooking spray.

In a small bowl, combine buttermilk with lemon zest and juice (zest lemons before juicing) and vanilla extract (and lemon extract if using).

In a separate bowl, combine butter and sugar and use a hand mixer to combine it until light and fluffy. Next, add eggs, one at a time, beating after each egg. To the butter and sugar mixture, add baking powder, baking soda and salt and 1/2 cup flour and combine. Next add half of the buttermilk and lemon mixture and beat to combine. Then add 1/2 more cup of flour and beat. Add remaining buttermilk mixture and combine. Lastly, add the remaining 1/2 cup flour and combine well, but don't overmix.

Pour into pan and smooth top. Bake until a toothpick inserted in center comes out clean, about 55 minutes. Cool for 15 minutes in a pan. Remove from pan and let cool completely; at least half an hour before glazing.

For the glaze: in a small bowl, put the lemon juice first, then add as much powdered sugar (about 2 cups) whisking in between until it is thick white in color and pourable, but not too liquidy, you want it to be thick!

Slice and enjoy!
Notes
You can use regular flour or Gluten Free Flour. I use Bob's Red Mill Gluten Free 1 to 1 baking flour, or you could make your own gluten-free baking flour, I like this recipe.
Recipe adapted from a Martha Stewart recipe.
If you don't have buttermilk on hand, you can make your own by mixing milk and lemon juice (add 1 teaspoon lemon juice to 1/3 cup milk).
Nutrition information disclaimer: the nutrition information presented on this site should be considered an estimate as the calculations will change based on the exact products you use in your own kitchen.  
Nutrition
Serving:
1
slice
|
Calories:
230
kcal
|
Carbohydrates:
51
g
|
Protein:
4
g
|
Fat:
2
g
|
Saturated Fat:
1
g
|
Polyunsaturated Fat:
1
g
|
Cholesterol:
56
mg
|
Sodium:
212
mg
|
Fiber:
1
g
|
Sugar:
40
g