This week on Catching up with the Kelnhofers, I'm recapping our low-key Easter at home, sharing all sorts of pizza recipes and re-creations and hilarious attempts at family pictures!
Not going to lie – some days have blurred together and I have to remind myself what day it is in the mornings so I don't miss meetings.
I've been doing more cooking than I ever have before, and this week was so full of work and exciting new things on the blog. I'm working on a family meal plan with a shopping list that I'm hoping to have out by next week- it's something i'm so excited to share with you, because it's something I've been using so much lately. I've also been using my recipes using basic pantry staples ideas all the time – like this week when I made iced salted honey lattes, a nice change of pace from my boring coffee, and my friend used that list to figure out what to make with sausage and rice and ended up making one pot sausage and rice casserole with rave reviews.
New on the Blog:
A few fun, new posts were up on the blog this week:
What to Make:
All things pizza!! I've made the sheet pan pizza and whole wheat pizza so much lately and I loved seeing that my readers have been as well. Here are some other fun pizzas:
Oh and if you want to end your meal with something sweet, a lot of readers have been making these two tasty treats!
Reader Comments:
If you do decided on making a dessert, maybe this reader comment will convince you to choose the
blueberry skillet dump cake
that she loved so much!
"Devoured! I am so amazed at how good this is, especially since so quick and easy to make. I love the crunchiness of the crust, yet the soft cake texture under all those delicious fresh blueberries. Thanks for sharing!"
Reader Re-Creations:
I love seeing what people are making and this week and sheet pan pizza was a popular one!
Gina from skinnytaste.com made my sheet pan pizza and shared about it – how sweet!:
General Stories and Things I'm loving:
My

favorite mules

I mentioned were/are 40% off, so I bought another pair, I love them that much

This year I'm trying to use up all my makeup and skin care products and then switch to all clean beauty products. I shared that in my

night time skin care routine

that I ran out of my foundation and just got some of this

Ilia brand

. It's day 2 wearing it and I'm loving it. It is super lightweight so you don't feel like you're wearing any makeup!

If you live in the Milwaukee/surrounding area, I tried

Brewers Organics

and they deliver fresh organic produce. I loved it, found it very affordable, and all the produce was really awesome quality. It was so nice to have some greens and kale. I of course made

sausage pizza with kale

. I also added a zucchini to my

sheet pan pizza recipe

.
I'm all about the Quarantine High Five these days! Love this post I ran across on Insta.
A friend of mine shared this awesome hack for a healthier version of waffles with me! Her very simple recipe is below:

Oatmeal Waffle – note, this makes one serving/one large waffle

1 cup oats (grind up to make oat flour)

1/3 cup unsweetened applesauce

1/4 – 1/3 cup water or almond/cashew milk
What I'm Reading:
I finished

Meet Cute

and it was exactly the romance book I needed, it was light and fun and a cute story that hasn't been done a million times. Loved it!

Now I'm reading

Dear Edward

which is a heavier book that I was putting off reading, but I have book club with it coming up so I figured I had to read it. Plus, it's been getting tons of rave reviews.
What I'm Watching:
Did you know there was a 6th and (tear) final season of

Schitts Creek

?!? I couldn't wait and we bought it and ended up watching it in 2 days. So worth it, I laughed so hard I cried and it was just such a perfect thing to watch. Love love loved!
Personal Stories:
We tried to take a family photo for Easter…lol
How was your Easter? We kept it low key, but still tried to make it special

The kids each got a beautiful new outfit from

Black Bear Boutique

which has the most adorable and soft and beautiful clothes ever, the woman who owns the shop is so friendly and gave me the best ideas for dressing the kids. If you're looking for a beautiful outfit for kids, I'd definitely recommend (and it's supporting a small business!)

We used my recipe for

whole wheat honey oat flax bread

and made a giant bunny bread out of it, every time we have a piece now, Ben says "bunny bread!!" it's very cute
Nicks parents brought over ham, twice baked potatoes and caesar salad. They got one ham that was $.99 per pound and one that was $4.99 a pound and labeled them A and B to see which one people liked. We liked B better, and it turned out that was the $4.99 per pound one, lol.

The Easter bunny came and left foot prints for Ben to follow and then a little Easter basket

We made bunny butt pancakes for breakfast (my sister sent me the idea the night before and we happened to have the ingredients!)

We played with legos, and I also tried to get Ben to play a game called 'nap time' … it did not work, lol
Zoom calls/Facetime/Google hangouts…it's become the new normal, hasn't it? I've had some awesome meetings and nice calls with friends like when my bestie

Lynn

and I talked for 2+ hours and then I talked with one of my oldest friends who I've known since kindergarten – now he's in an amazing band called the

Dustbowl Revival

and they just came out with an incredible album. And then one of Nicks friends was making

miso deviled eggs

(but with curry powder – tip, add salt to curry powder recipes, lol) and we were talking to another one of his friends, so it was just a fun convo!
Ben got more amazing mail to his alligator mailbox!
We made

sourdough pizza crust

and put zucchini on it, yet another way I'm using my sourdough starter discard.
I told Ben we were going to play 'pirate ship' and the blue towel was was the water, lol, because last time we played with water it got everywhere.
We've had some really lovely storytime/playtimes with the kids
Ben (with his

kid safe knives

I always rave about – best $9.95 I've ever spent) and I made my

easy cucumber salad

and instead of a jalapeno used a green onion I had in the fridge. It was so good and has me looking forward to spring!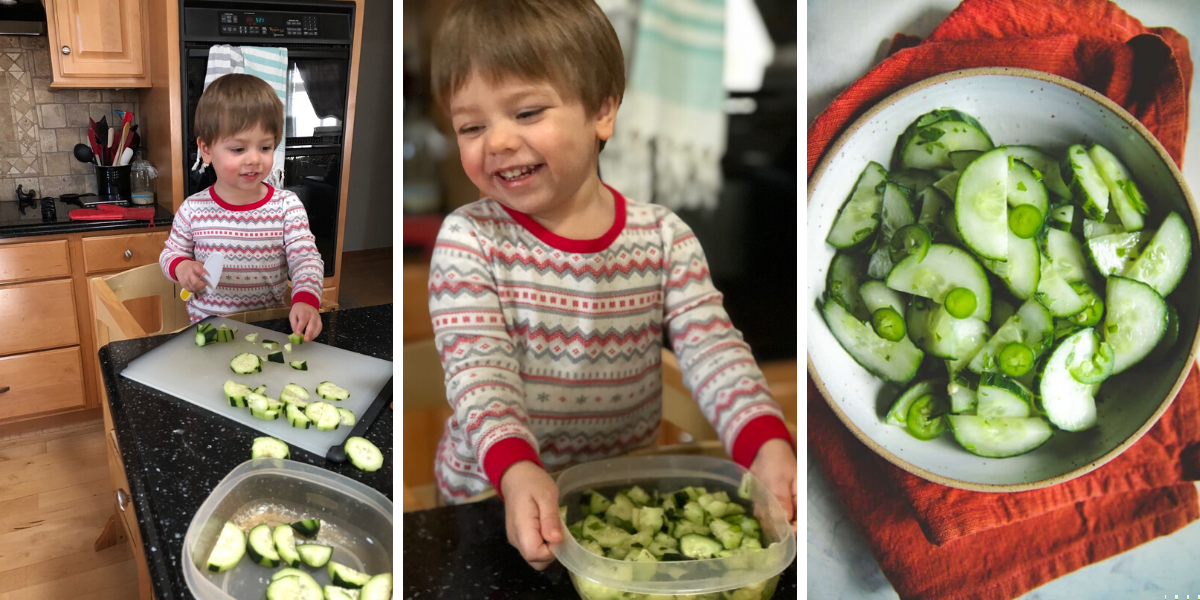 Popular This Week:
We have a few new videos up on YouTube, so don't forget to check them out!
How are you doing? What are you cooking or 'making work' with what you have? Leave a comment below and let me know!