Need a super tasty meal idea that comes together in a flash? Perhaps something that is great for lunch or for a date night in? These mushroom and wine sirloin steak sandwiches with a side of sweet potato fries are going to be your favorite quick meal, coming together in less than half an hour, and are packed with tons of amazing flavor and is sponsored by Omaha Steaks, but as always, all opinions are mine alone. #ad
Even though I'm the cook in my household and have a food blog where I share recipes and talk about food all day long, there's one thing my husband cooks for me. It is a steak dish. Not just a plain steak, no, he makes steak with mushrooms and a wine sauce that is out of this world delicious.
It started as a Valentine's Day tradition where he'd make steak one year which then turned into him making steak a second year and adding mushrooms, which then year three turned into steak with mushrooms in a deglazed wine sauce with a side of bread which has been what we've enjoyed the last few years. I've luckily talked him into making me steak a few times per year, not just on one day a year, which is not nearly enough times in the year for the deliciousness of steak.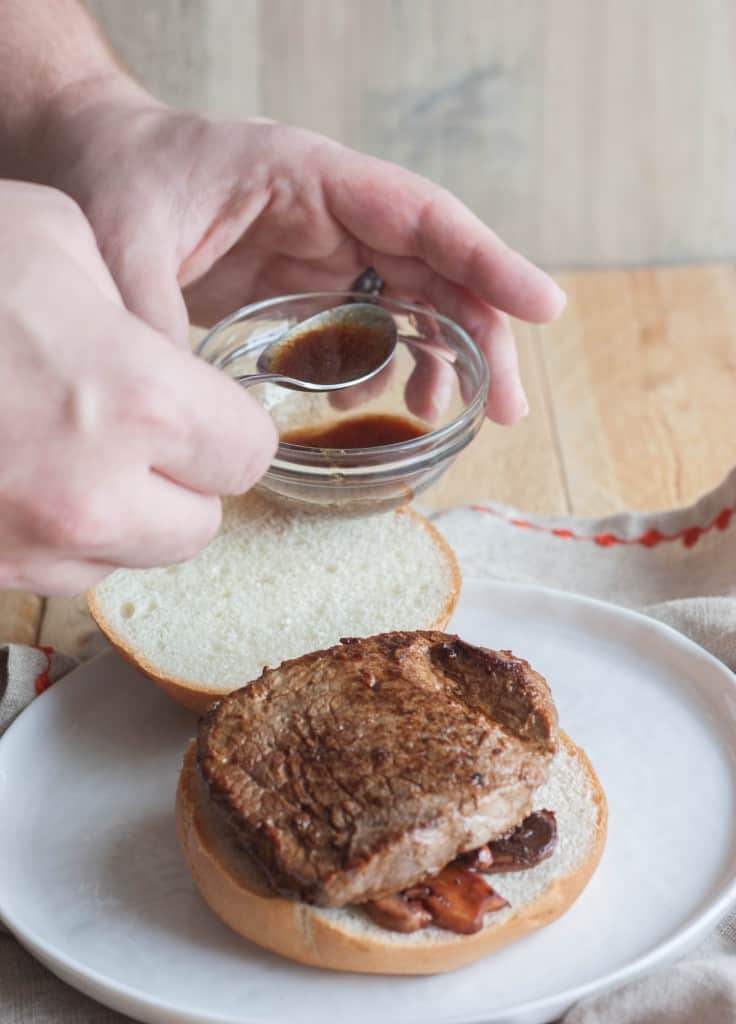 We'd usually use the bread to sop up the sauces from the pan or on the plate. The juices from the steak on the bread…what an amazing combination…I started putting cutting a little piece of steak and adding a few mushrooms and then eating it on the bread. My husband looked over at me and kind of laughed, he said "why don't I make this into a sandwich?" I knew I married a genius.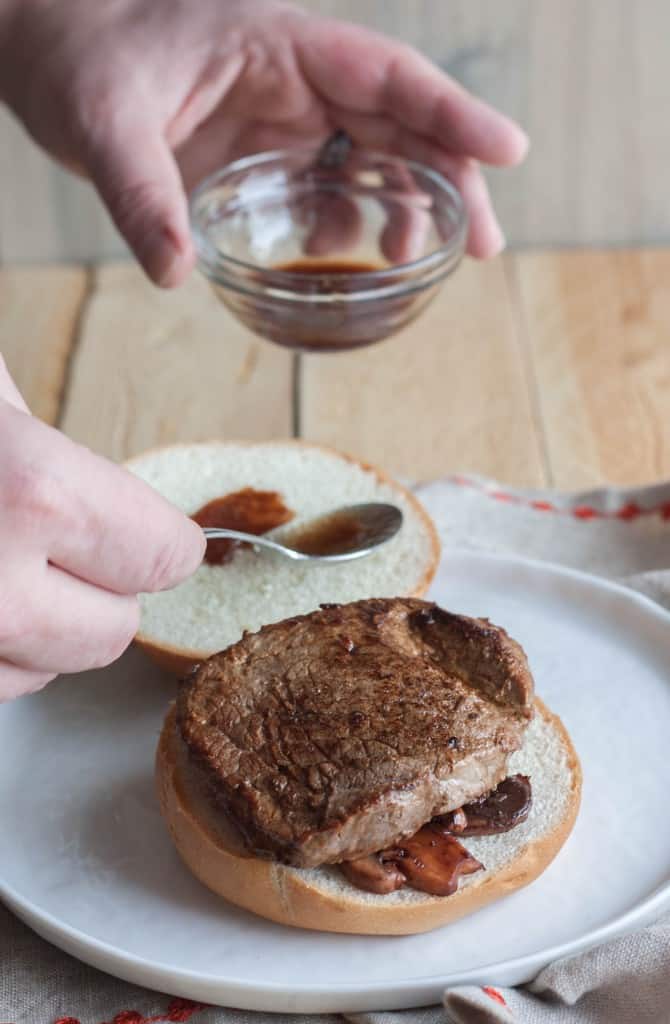 This sandwich is one I just cannot get enough of. So much so, that I just felt I had to share this deliciousness with the world! The steak is cooked to perfection and then the mushrooms are cooked in a wine reduction, all of which goes amazingly well on a sandwich. And let's not forget a side. This sandwich was perfectly complimented by chipotle sweet potato fries which were super easy to prepare and added a nice little kick in flavor!
And of course, since Omaha Steak is amazing, they have the perfect size steak for this sandwich: 5oz Top Sirloin. They come individually wrapped (I got the two pack) and have a great beefy flavor that bodes well with simple seasonings and the mushroom and wine sauce (and as my husband informed me "never cook with something you wouldn't drink" lol, yes sir, so pour a glass of wine to enjoy this meal with.) Need some more date night ideas? I've started a new Pinterest board where I'll share favorite date night ideas:
Follow Sweetphi's board Recipes: Date Night on Pinterest.

Ingredients
2

– 5oz ea. Beef top sirloin steaks

A few pinches of salt

about 1 tsp

1

tsp

vegetable oil

A few pats of butter

about 1 Tbs

1

shallot

finely chopped

½

cup

mushrooms

sliced

1

cup

red wine

I used a Shiraz

2

buns

I used Kaiser rolls

½

package chipotle sweet potato fries
Instructions
Preheat oven and bake sweet potato fries according to instructions.

Unwrap sirloins and place on a cutting board and cover each side of the steaks with a pinch of salt (you just want to use salt and not pepper, because pepper burns when put into the hot oil).

In a skillet over high heat, heat up the oil for about a minute until it is hot, then carefully add the sirloins into the pan and cook each side for 1 minute and then add the butter.

Now you're going to take a spoon and as spoon the melted butter over the steak in a constant spooning and pouring over the steaks cycle.

Cook your steak to the level of doneness you like (we spooned butter over the steaks for about a minute and flipped once and then spooned for another 30 seconds and ours were medium well.) Remove from skillet and place on a plate to rest (leave the juices in the skillet).

Turn heat down to medium and now you're going to pour wine in the skillet (you want enough red wine to cover the whole bottom of the skillet) and deglaze. You're going to scrape the bottom of the skillet and stir occasionally until it has reduced significantly.

Now you're going to add in the chopped shallot and cook it for a minute until it is starting to turn translucent and then you'll add in the mushrooms. Cook until the mushrooms are soft (about 3-5 minutes).

Cut buns/rolls in half, spoon half of the mushrooms on the bottom bun of one roll and then repeat with the other roll, then place sirloins on top of mushrooms, and then spoon any remaining liquid from the skillet on the top buns and place on top of the sirloins.

Serve sandwich with a side of sweet potato fries.