With only a few ingredients, you can make these 5 ingredient chorizo sandwiches! Hints of spice and grilled to perfection, these chorizo sandwiches are super delicious and mouth watering!
Walking through Borough market when my husband and I visited London, I clearly remember the moment my husband stopped at a stand to buy a sandwich. I was in one of those moods where I couldn't make up my mind what I wanted to eat. I wanted everything, and nothing all at the same time. Does that ever happen to you? My husband took it upon himself to just order something for us to eat. He chose wisely.
When I was watching the sandwiches being made, I was shocked at how easy it seemed to be, so I counted off the ingredients in my head. 1-bread 2-olive oil (brushed on the bread and a little on the grill) 3- arugula 4-roasted red peppers 5-chorizo. 5 ingredients! That's it! Standing there, waiting for a sandwich, I was already enamored. Could something seemingly so simple truly be a sandwich that would be worth buying?
The answer, my friends, is a resounding YES! Upon first bite, I was impressed by the perfect combination of flavors-peppery arugula, smoothness of the roasted red peppers, and then a little bit of a kick from the spicy chorizo, all sandwiched between two lightly grilled pieces of a ciabatta roll.
After we devoured the sandwich, I told my hubby that I just HAD to make this as soon as we got home, and I did. I'm so in love with this simple sandwich, that I had to share the recipe with you guys for this weeks' Five Ingredient Friday.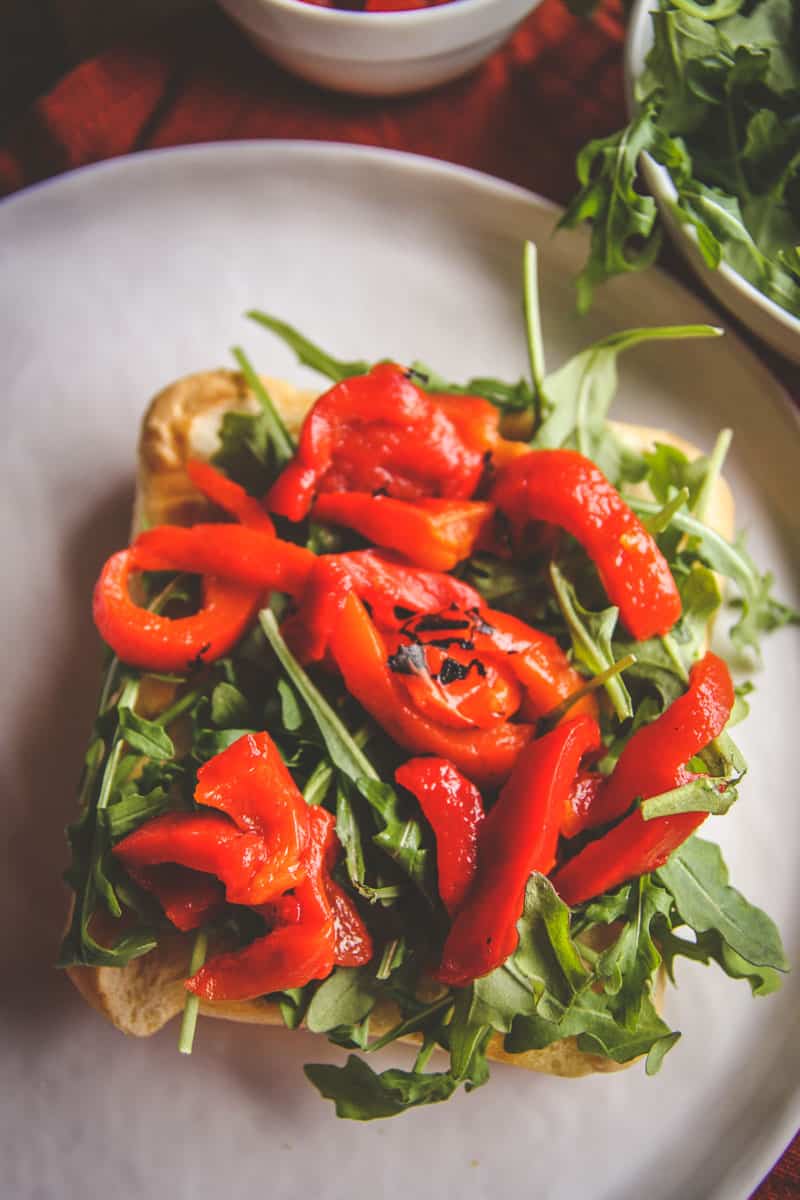 Something that I love about this sandwich (besides the fact that it is super delicious and easy to make) is that I made the entire thing (toasting the bread, grilling the sausages) on my panini press! I have this super cool 5-in-1 panini press unit that works as a contact grill, panini press, full grill, full griddle, and half grill/half griddle. I'm totally in love with my panini press, for real, I've used it to make pancakes, burgers, pork chops, paninis…basically it is amazing. Now that I'm thinking of the press and how it turns into a griddle, I'm craving pancakes – these tres leches pancakes in particular (since it's almost cinco de mayo, how perfect would it be to have them?!?)
Next time you're in the mood for a unique sandwich, I'd definitely recommend making these 5 ingredient chorizo sandwiches!
Other recipes you might enjoy:
Yield: 4
5 Ingredient Chorizo Sandwich
With only a few ingredients, you can make these 5 ingredient chorizo sandwiches! Hints of spice and grilled to perfection, these chorizo sandwiches are super delicious and mouth watering!

Prep Time 5 minutes

Cook Time 15 minutes

Total Time 20 minutes
Ingredients
1 lb chorizo sausage, sliced into 3-4 inch pieces and scored on top
4 ciabatta rolls
2-3 tablespoons extra virgin olive oil
1 1/2 cups arugula salad
1/2 cup roasted red pepper slices, drained from the oil they are in
Instructions
You can either cook the chorizo on a grill/panini press or in a pan.
Heat the grill to high. Place sliced chorizo on the grill and cook, turning occasionally until it is cooked through (about 10 minutes). If the chorizo has a casing on it, remove it when putting the sandwiches together.
Brush each side of the ciabatta rolls with olive oil and grill for 5 minutes, or until grill marks form.
To assemble the sandwiches, place a handful of arugula on the bottom bun and a few roasted red peppers, and then top with two chorizo pieces. Place top bun on top, press down a little, and then enjoy.
Nutrition Information:
Yield:
4
Serving Size:
1
Amount Per Serving: Calories: 879Total Fat: 62gSaturated Fat: 19gTrans Fat: 0gUnsaturated Fat: 40gCholesterol: 100mgSodium: 1860mgCarbohydrates: 45gFiber: 3gSugar: 6gProtein: 35g


Disclaimer: some of the above links are affiliate links, if you purchase amazon products through my store at no cost to you, I will earn a few pennies. As always, thank you for supporting the brands and products I love that make the Sweetphi blog possible.