I hope that I can convey how delicious this 5 ingredient jalapeno enchilada pizza recipe is and that I can do this magnificent pizza justice. If you wanted to make a recipe from my Five Ingredient Friday's series, this one would definitely be right at the top of my list.
I sometimes title recipes as "bests" here on the SweetPhi blog. Like the best pumpkin loaf, or the best turkey tacos. This pizza definitely falls in the "bests" category, so let me tel you the story of how this 5 ingredient pizza recipe came to be.
So you know how there are somethings that may seem 'weird' food wise? Like dipping fries into milkshakes. That combo is crazy good. Or like making Korean tacos, Asian food mixed with Mexican food? It just works.
Just like this pizza.
It's crazy good and unexpected.
It started when we had cream cheese as a topping on pizza at a restaurant. We were hesitant to order it. Cream cheese. On a pizza? Ummm…weird. Cream cheese should be used as a bagel spread, or in a dip, right? RIGHT?
Well, when we tried the pizza, omg. It was so good. Was it the cream cheese? I had to try it out at home to see.
And yup, I'm here to tell you: pizza with cream cheese on top is the best.
I'm also really digging enchiladas (like these 5 ingredient shrimp and black bean enchiladas) and have a ton of jalapenos growing in my garden (as you know from my 5 ingredient jalapeno cheddar dip last year, and this year it's the same!) , so while we were getting crazy with the pizza toppings, why not use enchilada sauce as a pizza sauce?
The end result? Amazing!
We even made it at my in-laws for Sunday dinner, when they were having one of their famous pizza parties where pizzas are made using a kettlepizza grill attachment (here and here are past ones).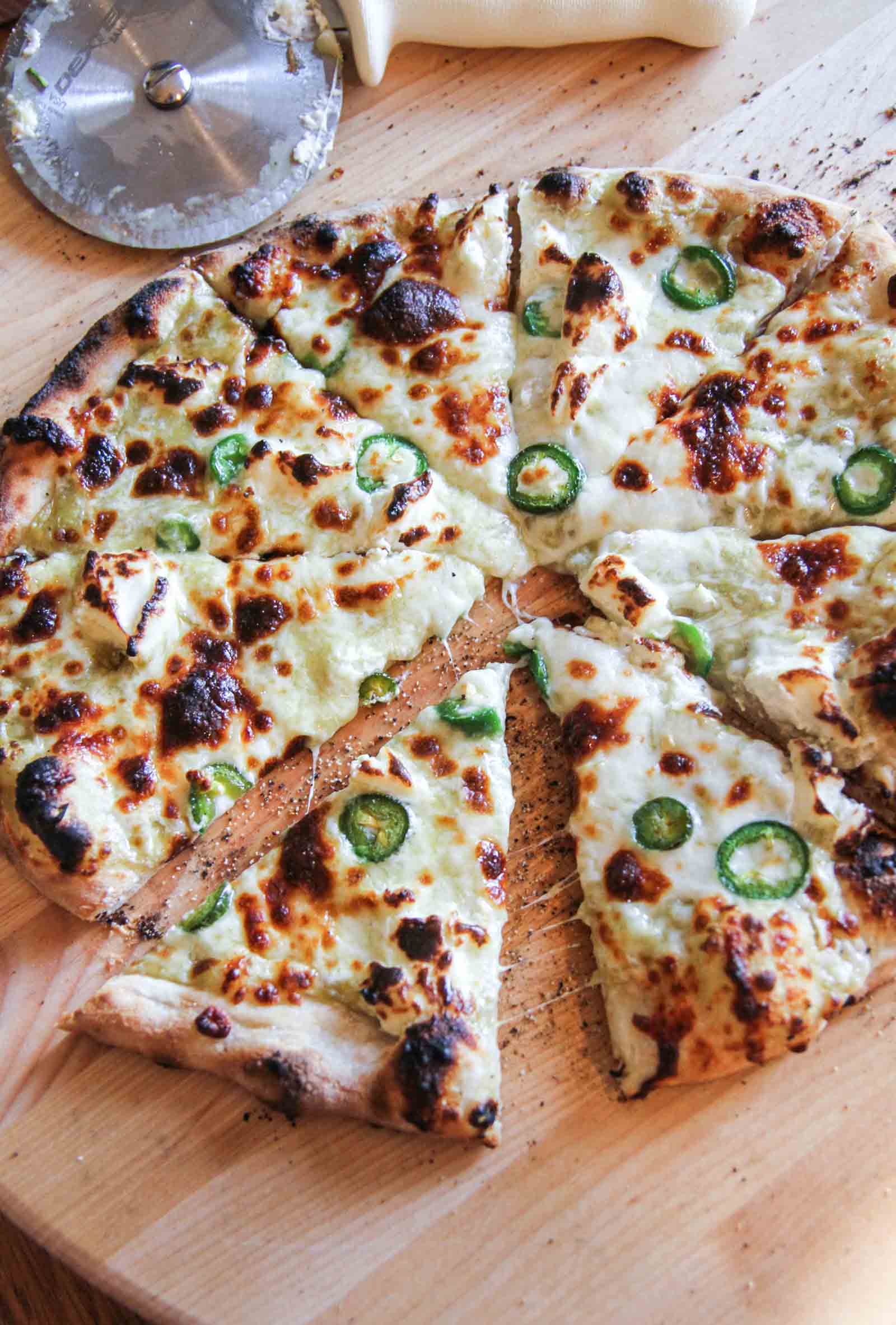 A super easy and delicious jalapeno enchilada pizza, perfect for any weeknight meal!


Yield: 8 slices
5 Ingredient Jalapeno Enchilada Pizza
Prep Time 5 minutes

Cook Time 15 minutes

Total Time 20 minutes
Ingredients
1 (10 oz.) thin premade pizza crust
¼ cup enchilada sauce (I like using green, medium heat)
2 fresh jalapenos, thinly sliced
1 ½ cups cheese, shredded (can use Mexican blend, or mozzarella)
2 oz. cream cheese
Instructions
Preheat oven to 425.
Place a pizza crust on a baking sheet.
Spread sauce over the crust, then sprinkle cheese around the pizza and place jalapeno slices over the cheese. Spoon dollops of cream cheese around the pizza.
Bake for 12 minutes, then check for doneness and bake further until brown around edges and cheese is all melted (mine usually takes 15 minutes).