Imagine making a soup, spending hours over the stove stirring a pot and waiting for flavors to develop…now forget that, because the best healthy instant pot baked potato soup recipe I'm about to share with you takes about 30 minutes start to finish, and is SOOOOO good.
OK, so let me back up a little. I know everyone has been hearing about the Instant Pot lately. It's all the rage.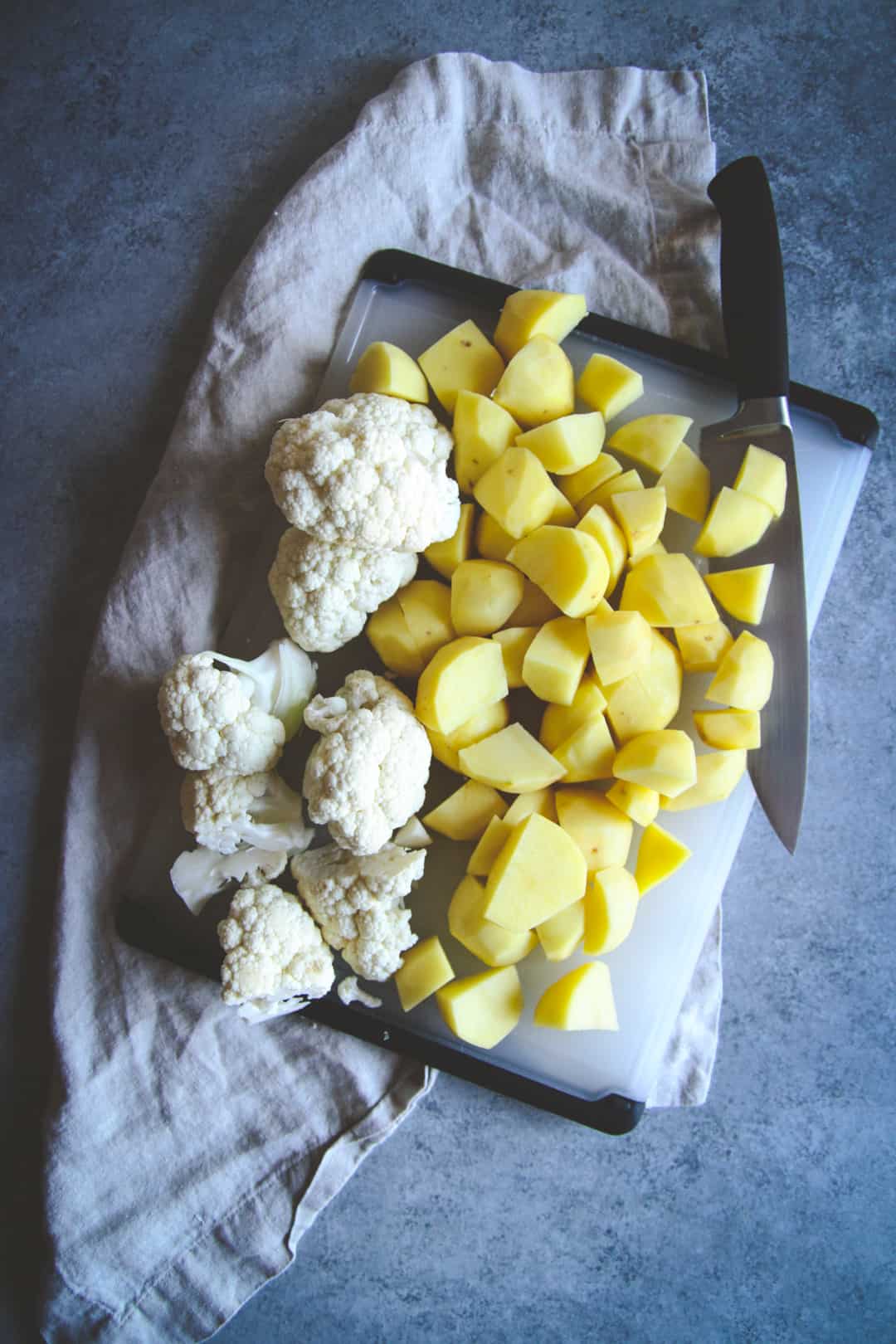 I mean, my older sister who barely cooks and could care less about kitchen gadgets spent 40 MINUTES talking to me on the phone about her instant pot.
I rolled my eyes and thought "oh great, another kitchen gadget"
An instant pot is a pressure cooker, but it also saute's and can be used as a slow cooker and a rice cooker, and a steamer and about a million other things.
So I caved. I bought one.
I wanted to hate it. I went in skeptical, at best.
Could one kitchen gadget really be that amazing?
The answer my friends, a resounding YES.
I made this healthy baked potato soup recipe and had to make it a few times just to make sure it wasn't beginners luck.
It is SO good.
My husband, who really isn't a "soup person" had two bowls, and asked for it for lunch again!
The flavors in this baked potato soup are so amazing, they seriously taste like the soup has been cooking all day: newsflash – it took 10 minutes, and no stirring or anything was involved as the soup cooked!
I will admit that I was a little scared of how to use the pressure cooker/instant pot at first. There's lots of buttons and I didn't want to mess anything up. But there were test cycles and I felt fine after the first time using it (I did jump when I ran the first 'venting' cycle lol).
I've seen a few different sizes of Instant Pots out there (at Target specifically)…but the thing is, you want to get one normal sized (6 qts) because you can only fill it up half way sometimes when cooking different things, so you don't want this small thing that you can't make soups or stews in, right? I have this 6 qt Instant Pot, it's truly amazing.
My husband asked me 'was it really all that different than cooking on a stove top?' YES is the answer to that. It cooks so fast, and really doesn't require any attention when it's cooking.
In this soup, there's cauliflower in addition to potatoes. When cauliflower is cooked, it adds this beautiful cream texture so you don't have to add a bunch of milk or heavy cream.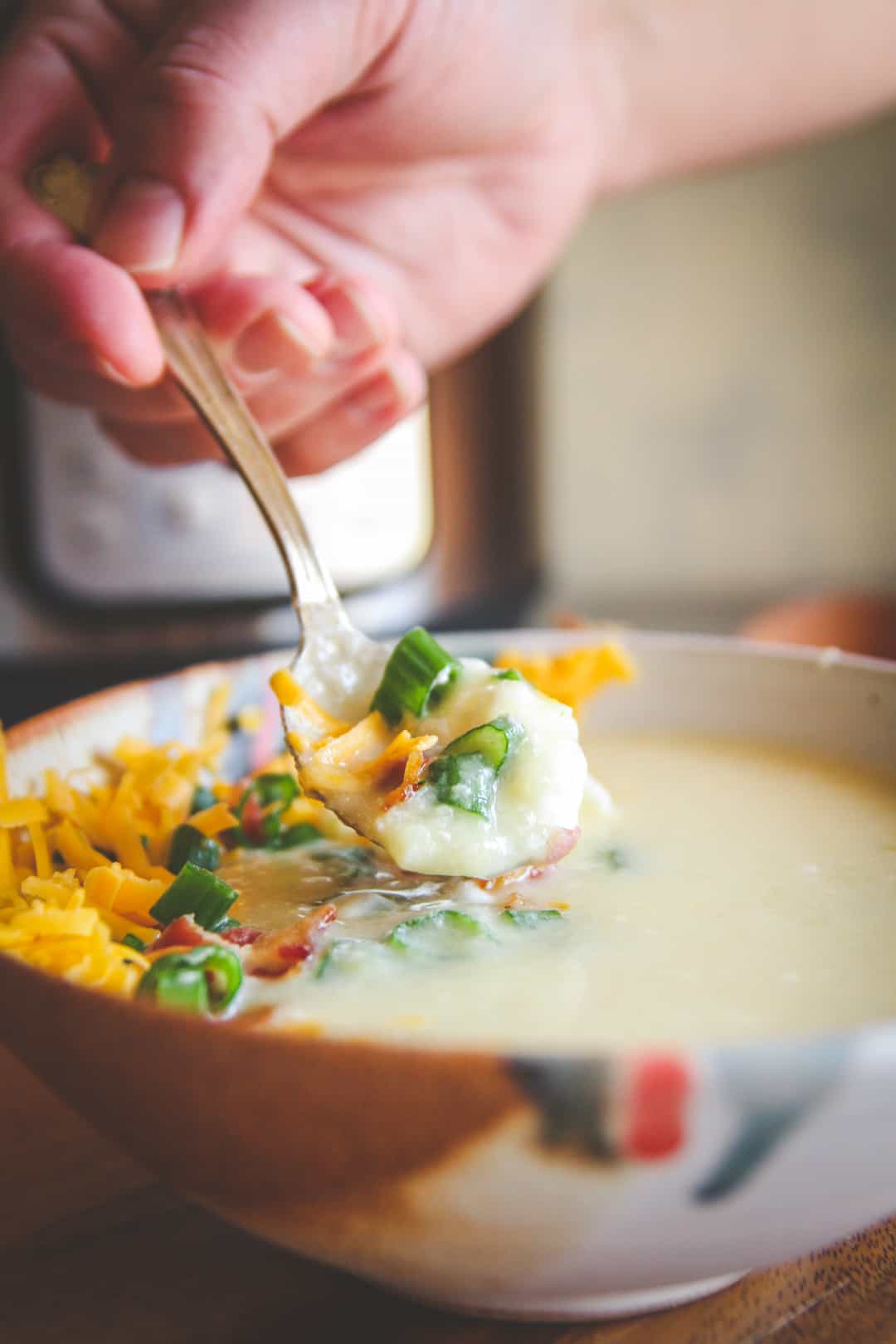 Best thing yet? This healthy instant pot loaded baked potato soup has 223 calories per serving! That's WITH a piece and a half of bacon crumbled on top!! So the next time you're in need of a healthy dinner recipe that takes less than 30 minutes to make, this loaded baked potato soup should definitely be top of your list!
Other recipes you might enjoy:
Yield: 7-10
The Best Healthy Instant Pot Baked Potato Soup Recipe
Imagine making a soup, spending hours over the stove stirring a pot and waiting for flavors to develop…now forget that, because the best healthy instant pot baked potato soup recipe I'm about to share with you takes about 30 minutes start to finish, and is SOOOOO good.

Prep Time 5 minutes

Cook Time 10 minutes

Total Time 15 minutes
Ingredients
2 lbs small gold/yellow potatoes, peeled and cut into 4s (I had 10 potatoes - you could use other types of potatoes.)
1 pound cauliflower (one small head of cauliflower, cut into large florets)
1 bunch green onions, chopped, greens and whites separated
6 1/2 cups fat free chicken broth
1/2 teaspoon salt
1/4 teaspoon garlic salt
1/2 cup Greek yogurt (or sour cream)
3 ounces 1/3 reduced fat cream cheese
2 tablespoons butter
1 1/2 cups cheddar, shredded (1/2 cup reserved for toppings)
15 pieces bacon, baked and finely chopped (or you could use bacon bits)
Instructions
Start by peeling and chopping the potatoes, and chop the cauliflower and add both to a 6 qt Instant Pot.
Finely dice the green onions, and put the white parts in the instant pot (save the greens for topping the soup).
Pour chicken broth into the instant pot and add salt and garlic salt. The broth should slightly cover the potatoes and cauliflower.
Seal the Instant pot lid and move the valve to 'sealing' and cook on manual or soup setting for 10 minutes. My Instant Pot had a little bit of preheating time, around 3-5 minutes.
When the timer goes off, turn the valve from sealing to venting to release the pressure. This will make a hissing sound and the steam will come out which takes a few minutes.
I like to wait a few minutes (usually at least 5 minutes) after the venting is done before removing the lid. Use a potato masher and mash directly in the instant pot. If you like a chunkier soup, leave some pieces not mashed.
Add in the Greek yogurt, cream cheese and butter, and stir until combined well. Then add in 1 cup of the cheddar and stir. Add a pinch of salt and pepper if you like soup a little saltier.
I like to cook the bacon while the soup is cooking, but this can be done ahead of time, or you can use bacon bits.
When soup is done cooking, ladle into a bowl (2 1/2 big ladle fulls made up one serving for this recipe) top with a pinch of green onions, shredded cheddar and a piece and half of bacon, crumbled and enjoy!
Notes
This can also be made in a Crock Pot/ Slow Cooker - cook on low for 5 hours, then follow the same directions for when the soup is made by mashing/adding the remaining ingredients.
Nutrition Information:
Yield:
7
Serving Size:
1
Amount Per Serving: Calories: 414Total Fat: 22gSaturated Fat: 10gTrans Fat: 0gUnsaturated Fat: 9gCholesterol: 64mgSodium: 1702mgCarbohydrates: 35gFiber: 5gSugar: 5gProtein: 22g

Nutrition information isn't always accurate.