Today I'm sharing a super simple recipe for brown sugar and honey baked grapefruit; a delicious and easy breakfast or snack.
Grapefruit is one of those things I always think I like, but then I take a little bite and hate the bitterness. But top grapefruit with brown sugar and honey and bake them? That's a whole different story. That's a story I want to be part of! The grapefruit looses its bitterness when baked and has this wonderful gentle sweetness from the honey and brown sugar.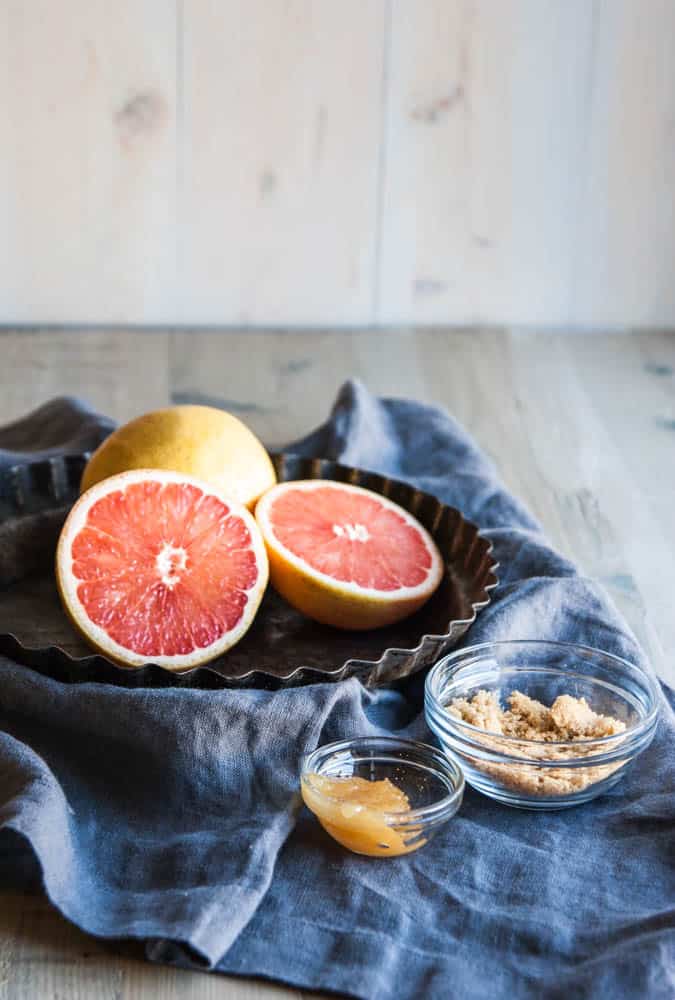 This grapefruit is a definite breakfast must try and this weeks' Five Ingredient Friday recipe. And I just have to know…do you like grapefruit?
As this post goes live, I'm in northern California! I'm attending my cousins wedding with my husband and my parents, then I'm going to take a road trip (you can better believe I'll have my favorite granola bars and all the other amazing organic road trip snacks with me) along the coast of Oregon up to Portland (where I know I'll be visiting my favorite food truck to get the Whole Bowl, a recipe I made once I got home and loooove). I'll spend a few days in Portland with my husband, then he'll leave and I'll be joined by one of my best friends (Lynn from Order in the Kitchen), and we'll attend a conference together and then travel to northern California to participate in a program that brings bloggers closer to how food is grown and processed.  Needless to say I'm excited!
I haven't been on a vacation of this magnitude, well, um, ever!
I am in awe at how things came together for this trip, and I cannot wait to experience it. Pacific Northwest and Northwest here I come!
I'll be popping in and out here on the blog and on social media, you can follow me on instagram, facebook, and twitter for updates outside the blog. I also always use the #SweetPhiJourneys hashtag when I travel, so follow that to see where I'm at!
AND,  Sweetphi is on Snapchat! Hey, that rhymes, sweetphi is on snapchat!
So I've been on Snapchat for well over a year. I was that weirdo that was talking about it after I first heard about it from my sister-in-law. It's just now becoming hip, but I have always been ALL ABOUT IT! Snapchat is an app for phones, where you can 'snap' pictures and draw on them and write text on them and then send them to your snapchat friends or send them to your 'story' which is visible to all your followers. The pictures or videos stay up for only a few seconds and then are gone. It is perfect for behind the scenes, traveling, and general dorky things that are going on in my life. Here are some of my favorite snaps from over the past few months. (You may also recognize this Snap style of picture from when I made roasted chicken and shared a picture of my husband that he had snapped me).

I was told I need to share with you that I'm totally in love with gnomes, it's weird, I know, but I love gnomes! A few years ago when I was shopping at an antique store I turned around and got scared by this little gnome that was on a shelf. Naturally I bought it and started bringing it to different restaurants, other outings or picnics and would give it to a server or staff and have them bring it out and surprise my husband with it. I never ceased to burst out it complete laughter. There was a point to the madness, to this #projectgnome- I printed a little gnomes out and sent them to everyone in our wedding party and asked them to take a picture with the gnome, then I made I put them all into a collage and printed it and gave it to my hubby for our first 'paper' anniversary. Long story short, I love gnomes, so snaps that include a gnome – those always make me smile!
Follow Sweetphi on Snapchat to follow along on my travels and other fun adventures! Also, please send me gnome snaps lol!
[Tweet "Follow Sweetphi on snapchat for fun food photos, travel adventures, and the occasional gnome picture ;)"]
I didn't just want to leave you hanging when I was out of town, so I've set up some amazing guest posts that I cannot wait to share with you! You can still expect 3 posts a week while I'm gone! I can't tell you how much I appreciate all of you wonderful readers, thank you thank you thank you from the bottom of my heart, see you in two weeks!

Brown Sugar and Honey Baked Grapefruit {& bonus- travel plans and SweetPhi on Snapchat!}
Print
Rate
Ingredients
2

grapefruits

sliced in half

2

Tbs

honey

2

Tbs

brown sugar
Instructions
Preheat oven to 400

Smear honey on halves of the grapefruit.

sprinkle brown sugar over the honey on the grapefruit halves.

Bake for 15-20 minutes, until all the brown sugar has melted and the grapefruit has puffed up a little.

Remove from oven, allow to cool for a few minutes, then enjoy