This week on Catching up with the Kelnhofers, I'm talking about my favorite footwear, sharing comforting meatloaf recipes and talking about a new meal delivery service that I tried and of course sharing a bunch of family happenings and pictures!  
Remember how I told you I wanted to be the cool mom who wore wooden clogs (mentioned in this post)? Well it was my birthday last week (thank you for all the messages) and I opened a present from Nick…it was CROCS! Fur-lined Crocs to be exact. They are so comfy! He said he got them for me for work-from-home days or days I'm on my feet in the kitchen all day (they're such comfy kitchen shoes). I was so excited I wore them to work. 1/2 a day in, I thought I was going to die, they were so hot, my feet were wet, lol. So I would totally 100% recommend them for amazing indoor shoes, maybe not for all day wear.
I really felt like a mom mom wearing them, it was very fun. Ben and I went on a walk.
Want to know what my every-day shoes are for all seasons besides winter/snow (and even sometimes then)? It's Tieks! I just have not found a cuter/comfier all-around shoe that just works so well with everything I own and for every occasion. They're Italian leather ballet flats. They just work with everything and are so comfy right out of the box. It was 4 years since I purchased my last pair and the pair I had were just a little more worn than I would have liked, so I splurged and bought a new pair (I probably could have gotten another few months out of them). I'm currently wearing them in – even though I've been wearing them since 8 am right out of the box – I love that the wear in time is so minimal!! Do you love Tieks?
March Giveaway
I've been talking about skincare lately, and specifically my night skin care routine. This month, I'm giving away your choice of a skin car travel kit – either Caudalie or Tula. AND, I love my Drunk Elephant cleanser so much that I'm giving that away with the travel kit too! To enter, leave a comment on my night skin care routine post letting me know if you have a favorite skin care product or have a product you'd like to try.
New on the Blog:
What to Make:
This week several of my recipes were featured in round ups. One roundup on Eat This Not That was about meatloaves, and it got me thinking about how much I genuinely love meatloaves – here are several of my meatloaf recipes. I didn't grow up eating meatloaf…did you?
Reader Comments:
A blue cheese mac that you can't go wrong with!
"This is my second go-to homemade mac & cheese recipe! I LOVE mac & cheese and i tried blue cheese for the first time a few days ago. And i HAD to look up a recipe that had blue cheese and stumbled upon by this and I'm IN LOVE with this version omfg"
Reader Re-Creations:
This reader re-creation was one of my recent faves for so many reasons, but I especially love the great caption included with the picture.
"No shame in the semi-homemade game." by RD_Amy
On SweetPhi.com, I love sharing recipes that help YOU have an easier day and a lot of times that means quick dinners. This one pan vegetarian dumpling stir fry (and I make it with any kind of dumplings so it doesn't have to be vegetarian ones) is just that!
Things I'm Loving:
Links from around the web:
LOVING my new pair of

Tieks

!

Just tried

Every Plate

– it's a meal kit delivery service and it's the cheapest one! The slogan is "America's Best Value Meal Kit." One thing I liked was that one could see the menu without having an account (whereas a lot of other services you have to have a plan selected before seeing the meals.) I would say it's most similar to

Hello Fresh

. The food was good, and it was definitely a good price!
What I'm Reading:
Finally got to finish

The Wife Between Us

– my heart was racing near the end because of the thrilling story, and then, I don't know, I liked the ending, but it just kind of took a slow dive at the end. Overall though – very good, suspenseful book.

Currently reading

My Friend Anna

and it is SO fascinating – it is a true story! "Sex and the City meets Catch Me if You Can in the astonishing true story of Anna Delvey, a young con artist posing as a German heiress in New York City—as told by the former Vanity Fair photo editor who got seduced by her friendship and then scammed out of more than $62,000."

I think I need a good romance next…anyone reading any good ones?
What I'm Watching
Guilty pleasure show to watch is

Love & Hip Hop

, it's so bad it's good…and I cannot believe it's a reality show, I mean you cannot make this stuff up!
Personal Stories:
I had a work-from-home-day meeting, Ben was my helper, we went to get coffee (of course one of his cars had to come with) and then he helped carry napkins to the kitchen.
We were playing in the living room and Ben said he wanted to get a pillow and blanket and lay down. Then he went to get Frankie her docatot lounger and wanted her and Freddie to lay down with him, it was the cutest thing ever!!!
I had the most lovely birthday celebration! First my parents came to visit and say hi to the babies. And they brought a cake!! How so incredibly thoughtful and smart, because as an adult you don't really go and buy your own birthday cake, so it was so nice (and seeing them is always so nice.)
Then we had sushi for dinner, and then the next day Nick and I went out with friends. It was one of the nicest meals ever. I didn't even take any picture of us! We went to

Bacchus

where they have my favorite salad in all of Milwaukee, it's a spinach salad with a poached egg and a mustard dressing – I remade a version at home

here

which is a really good homemade salad, I now want it again!
I took Ben to the

Milwaukee Domes

with my sister-in-law (Ben's aunt) and we had so much fun. They were also having the Winters Farmers market there (only 4 left this winter!) They had a trains display in the 'show dome' and Ben was pointing and looking and loving all the plants and domes, then afterwards we went to lunch.
Cafe Hollander

has such a good kids menu and a great adult menu (I love their chopped salad…I think I'm going to need to recreate something for the blog!!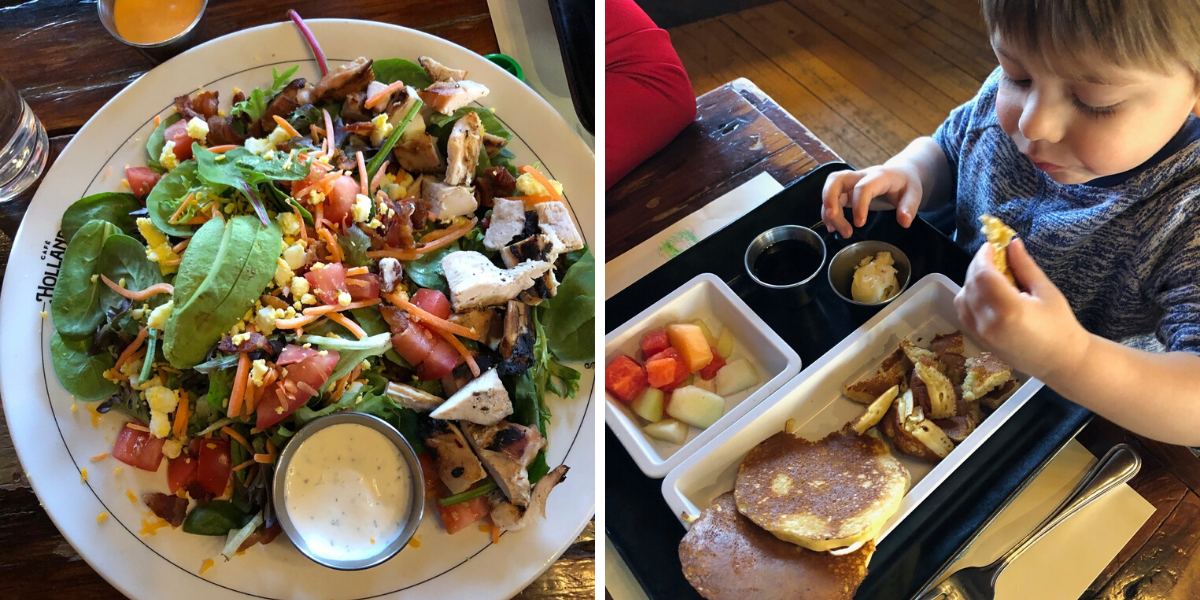 Like I said in

this

Instagram post I didn't know I could actually love my home office more…but we put up a little strip of removable wall-paper from a super cool local company called

Chasing Paper

and I love love love it
Freddie can sit up by himself!
My friend got us the cutest cutest cutest little onesies for the twins that say 'perfect pair' of a cup of coffee and a donut and i LOVE them.
Popular This Week:
This week, fail-proof pizza dough is the new video on YouTube – check it out and subscribe to me channel while you're there.
And, did you know? I have a Pinterest page where you can explore and save your favorite recipes. Check it out here.
Do you like meatloaf? What is your favorite one- did you grow up eating it?? Just leave a comment below and let me know!