This week on Catching up with the Kelnhofers, I'm sharing some great recipes to kick start apple season, fun with kids in the kitchen and one of my favorite reader re-creations to date.
Can you even believe that it's apple picking season already!?  I didn't realize it until I saw an apple orchard down the road already open and Nick said he knew someone who went apple picking and the orchard was cleared out already!  Crazy.  
This has got me thinking about all of the amazing apple recipes I can't wait to make!  Here are some of my ideas:
As I was putting together the newsletter and thinking about apples, Nick asked if I wanted to watch Goodwill Hunting this weekend…I haven't seen it in years, and can't wait! That movie always reminds me of the famous line …how about them apples: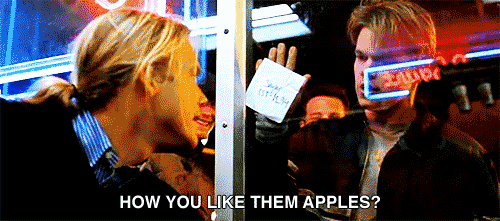 Sharing the latest posts up on Sweetphi.com:
I made muffins with the kids (

7 amazing muffin recipes

)

and within 2 minutes, Freddie got batter in his hair and then got annoyed when we tried to get it out lol. Also, I was setting up lunch and put out a bowl of berries. All of a sudden it was quiet and I turned around and the three kids had eaten ALL the berries lol.
These fruit and nut muesli bread rounds are a great snack and an even better copycat recipe.
"Omg, these are to die for!! And they are indeed better than Starbucks!"
Loved seeing this re-creation from reader @raeofsunshine01 who used my Baby Food Maker Cookbook to create a bunch of delicious food for her kiddo!
With the holidays coming up sooner than you think, this will come in handy before you know it!  Cookies, cookies and more cookies.
Started now on

The Heart Principal

by Helen Hoang which is book 3 in the Kiss Quotient series!! 
Anniversary pottery class

– it was our 9th wedding anniversary (the pottery anniversary –

anniversary gifts by year

) so we took a class! It was so fun, but also more challenging than one might think. Nicks work kept collapsing, the teacher asked if we had a pet and suggested he might use it as a water dish, lol. I loved it so much, I made three smaller-ish bowls. Afterwards we got pizza to eat on the way home! 
Walks with grandpa –

 my dad came to visit the kids and took them on a nice walk, and watched them all by himself 🙂
Carousel

– Frankie did NOT love her first carousel ride, it was too funny the little face she made the whole time. Ben loved it!
Cleaning the car

– oh my goodness, we have been needing to rearrange the car seats (in preparation for the new baby and because I just wanted to clean) and oh my goodness, grossness. There were shoe soles? Wrappers! And so many crumbs. The kids helped clean and all love using my little

Bissell cordless vacuum cleaner

. 
Random smiles

– some fun pictures from the past week.
Backpack hooks

– I had gotten

these hooks

months ago (seriously, had to click 'all of 2021' in order history to see them) and this weekend we (<- Nick) finally had some time to put them up, I love our little backpack hooks wall now!
EAT
Rotisserie chicken or roasted chicken is just so so good and versatile. We recently finally opened a

gas grill rotisserie attachment

(

here

is one that looks similar to the one we got but cheaper) we had gotten as a gift, and we used

THIS RECIPE

– so so good. Also, here are

5 ways to use rotisserie chicken. 
WATCH
Came across this funny show called

The Other Two

on HBO max and I have to say, I really laughed! 
PURCHASE
I've recently heard amazing things about these

reusable grocery bags

– especially in terms of them not tipping over and spilling in the trunk!
How was your week?  I'd love to know so leave a comment below and let me know.