This week on Catching up with the Kelnhofers, I'm updating you on how everything is going in our family of 5 (scroll down to the bottom for family things and pictures!), breaking down the trials and tribulations of a sourdough starter and talking about a few of my favorite Easter recipes for this year's Easter at home.
Quick hello to all the new readers! There's been a bunch of new readers and email sign ups this week, if this is your first newsletter or your 100th, a big WELCOME and THANK YOU for being part of this community.
Me a week ago: I will never make a sourdough starter. I don't have the patience and doesn't it require a bunch of fancy equipment and things?
Me this week: I NEED to start a sourdough starter, we're out of bread and almost out of yeast (I've been making this whole wheat honey oat flax bread weekly).
So Nick, the amazing supportive husband that he is, sent me a recipe to a reputable bread site and it said all you needed was whole wheat flour and water…those I had. Followed the recipe, but.. omg was it a bust, the ratios were just off. It didn't even resemble what I thought it was supposed to, it was a crumbly mess. I remembered I had seen Girl Versus Dough talk about sourdough starters, so I looked up her site, and oh my goodness, it was easy to follow and there were pictures and a chart and it didn't seem intimidating! So I have started a sourdough starter. I'll report back to let you know! Ben helped me fix it and the twins love watching when I feed the starter
I am keeping a note with all the recipes I've been making with the sourdough starter discards. My goal is to have a zero waste sourdough starter, so I'll keep you posted.
With sourdough starters, you have to essentially 'feed' them. When you feed them, you keep a small portion of the starter you've been feeding, and then add new ingredients like water and flour, and you discard the rest…it ends up being 3/4 cup of a flour/water mixture that you're throwing out, and I really don't want to be throwing out a perfectly fine flour/water mixture…hence the no waste starter.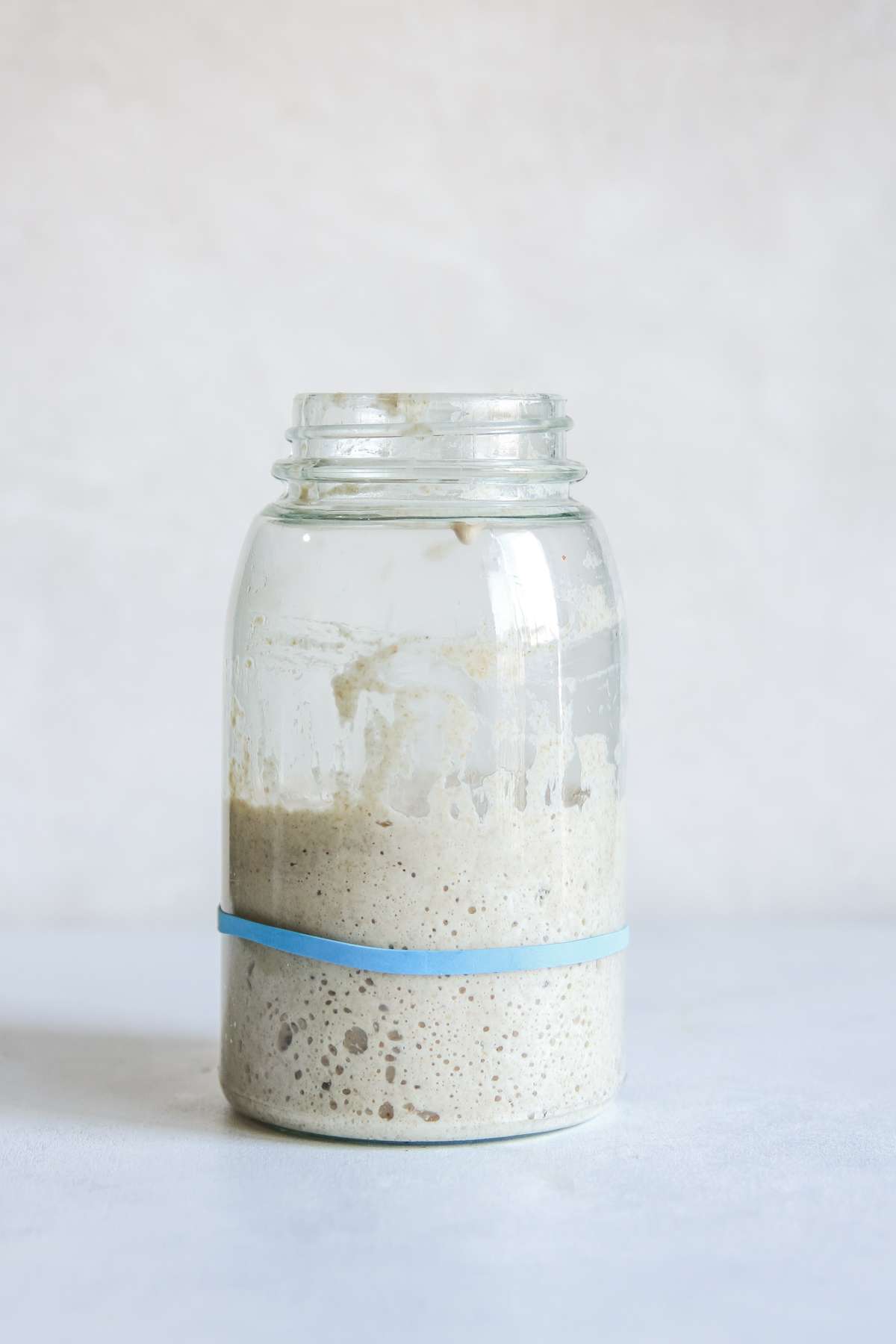 So, here is how it's going so far:
Day 1- sourdough starter started

Day 2 – discards used to make

banana bread muffins

and added 3 Tbs all-purpose flour Instead of flour listed, everything else the same- 1/2 cup sugar instead of 1 cup because bananas were super ripe

Day 3 – (lots of activity to the starter during the day) Had about 3/4 cup discard. Used discard and made

sea salt crackers

. 1 cup whole wheat flour, 1/2 cup ap flour 3/4 cup water+2 Tbs and used

this recipe.

Day 4 – made some healthy kids carrot muffins, they were very 'healthy' (apple sauce used as the only sweetener) and I would not recommend them
All you really need is whole wheat flour/all purpose flour/water, and a container…and some eyeballs to read, there are SO many resources online.
A kitchen scale helps (I dug mine out of a cabinet), but again, there are conversion charts.
With the crackers we had a fun lunch where we just put some cheese and random things we had in the fridge on a board (this is our cool "&" board someone gifted us. More on this below!
New on the Blog:
I've been very excited about this new spring recipe and another update on what's going on in our family!
Recipes using basic pantry staples – this post took over 16 hrs to write, it's full of so so many good ideas, I've used it 3 times this week already. It has things in it like 'recipes to make with canned tomatoes' or formulas for how to put together a 'bowl' meal with what you have on hand!
What to Make:
Since Easter is this weekend, I've got breakfast and brunch on my mind! We'll be doing a lot of cooking at home this year.
Still need a few recipes for Easter inspiration? Some more of my favorite options are below:
Reader Comments:
One of my all-time favorite dinners is popular amongst my readers too and that always makes me smile! Here is a great comment on my
asian ground turkey bowls
:
"YUM!! Needed to use up some ground turkey and stumbled upon this, and I'm so glad I did. Quick and great flavor, the whole family enjoyed. I had to sub chili garlic paste for the gochujang, and cut it back to 1 tsp for kids. I didn't have pickled veggies either so I julienned and lightly sautéed what I had – bell peppers, carrots and cabbage – and that worked great. Thanks for a new and fun addition to our dinner rotation!!"
Reader Re-Creations:
I had two great reader re-creations this week, so I had to share both! On the left, I absolutely loved this re-creations of my sugar cookies that actually hold shape. Look at t hose Dino-details, made by @megtimmler!
And reader @heidyswj made a delicious-looking stack of salted caramel chocolate chip cookies!
General/stories/things I'm loving:
Nick sent me

an article about a chef who had people send him pictures of their pantry and he suggested what to make. I love this so so much. And most of my recommendations would have been similar, although maybe a little easier lol. I'd totally love to help and do the same thing. So if you are running out of ideas or have a weird ingredient you don't quite know what to do with, shoot me an email with a picture or question and I'll help come up with ideas or point you in the right direction!!!

Just what the world needs right now – a wonderful new news station called SGN – Some Good News, by John Krasinski. Remember how much I LOVED

Jack Ryan

(I watched the seasons in a weekend when they came out) and I LOVED

The Office

, both with John Krasinski, well I came across this

YouTube video

of him sharing some good news. I was BAWLING, it was so beautiful and up-lifting. Exactly what we need right now. I loved this so so much.

Ben is obsessed with something called

Paw Patrol

. He wanted 'paw patrol mac n cheese' and after we used the box I cut the dog off and pasted it on another box of what we did have, turning it into 'paw patrol macaroni and cheese' – gotta do what you gotta do! And, this was so funny, I asked Ben what he would buy if he had one million dollars and his answer was Paw Patrol macaroni and cheese. So, you know how much he loves it!
Links from around the web:
Have you heard/seen the good that

Chef Jose Andres

is doing? He is donating meals to those in need, and has been doing so since 2010 through his non profit

World Central Kitchen

. He is doing work NOW to get food to those in need, he has converted several of his restaurants into food kitchens, he delivered meals to those stuck on a cruise ship, he owns over 30 restaurants (I've eaten at one in Last Vegas years ago, it was amazing). The article said "his work has earned him a reputation as a tireless advocate for humanity" and I couldn't agree more. It is truly remarkable.

I saw this beautiful…albeit, slightly somber…message. Spring is coming and we'll get through this!
Why you should ignore that Coronavirus-inspired Productivity Pressure

– THIS!!! I feel like I just needed to read this. As I've been saying for the past few weeks, I know everyone is on their own journey, and it's different for everyone. But seeing all this tone deaf content about 'all your extra time' is just not my reality (and I don't think the reality of many of my close friends). If it's yours, again, all power to you, this article is probably not for you. I've had to stop reading certain things or 'mute' certain people that keep spreading messages of making me feel bad because I haven't taken up a new hobby. I'm just trying to keep my kids happy and healthy, get meals on the table (hey, sometimes it's just a pbj sandwich which is A-ok) , get a little work done and survive.

Have you heard about Dalonga Coffee (it's all the rage right now – it's whipped instant espresso/sugar/water (all 2 tbs) it works, it whips up into a creamy mixture that you're supposed to put over iced milk. I tried it, it worked, but I did not care for it, it was super bitter and sweet.
Saw

this

image and it made me laugh…which person are you?
What I'm Reading:
I am loving that I'm reading again, I missed it. I don't have as much time as I did on my commutes, but I'm really liking it.

I'm currently reading

Meet Cute

which I mentioned last week and am loving it!! So far, so good, but I'll let you know how it is when I'm done!
What I'm Watching:
Always Be My Maybe

– have you seen this? I've seen it before, but we re-watched it and I still love it!!

Onward

– made me cry! Ben didn't quite get it so Nick and I watched it after he went to bed.
Personal Stories:
Easter activities – Nick made the cutest paper plate Easter 'basket' art with ALL THREE kids! We found some chocolate from last year to spruce it up! We went on a family walk, look at Freddie. We put up our Easter egg (Nick made this when he was in cub scouts when he was in grade school!!)
Ben and I are building lots of LEGOs.
One day he said 'mama I bring you coffee in bed' and brought me the

coffee teething toy

(I wrote about my other favorite teething toys

here

) and I about melted. This would be my DREAM; I cannot wait until he's old enough to actually bring me real coffee in bed (right now I'd just settle for him sleeping until I'm ready to wake up? Baby steps, lol)
We made pancakes (from my

5 ingredient cookbook

– and doubled the recipe and added chocolate chips at Ben's request) and then had dinner (we now say grace) and he knows to not eat before grace, which is so special. Anyway, he ate FOUR giant pancakes
It's getting harder to take pictures of the kids – they all move now, LOL
Story time is so funny when the twins take the books (and try to eat them most of the time).
Ben's mailbox – ok, you guys, I am so moved by how many letters he's gotten. From grandparents and family/friends, to people I have never met sending him letters, and even a stuffed car (his FAVORITE NEW TOY) from a blog reader. Thank you, it has truly brought him joy and happiness.
We ordered a breakfast bundle from one of our favorite local restaurants

Braise

who is now doing pickup/delivery. In the box were farm fresh eggs and bacon. I made my

soft boiled egg spinach salad with bacon

. We didn't have candied pecans so I made some with just pecans and a little sugar in a pan, surprisingly easy. I'd never made them at home. Oh my goodness – just look at the yellow of those yolks! First of all, there was no editing on this picture at all and yeah, it was amazing!!! Someone said they were going to make the salad over roasted potatoes, I think that would be genius too!
There's a #FirstPhotoChallenege going around where you share your first photo of you with your partner. This is Nick and mines; we were babies! Also, it was at a Dave Matthews Band concert. The other day I listed to

"I'm Alive"

by Kenny Chesney and Dave Matthews and the song made me cry because it seemed so fitting for our times, and it's just a beautiful song.
Oh my goodness – my in laws dropped off a pizza for us to bake. It was SO amazing, they also included caramel brownies. It was so so sweet and special. It was beyond amazing not to have to cook a meal. Also, it was my father in laws famous deep dish pizza. He shared the recipe with me so if you'd like it just email me and I'll forward it to you! They also included caramel brownies and garlic bread. We felt so well fed and taken care of, it was amazing, thank you Ken & Sonja!
I know I talk about these

kid safe knives

a lot, but man, they're amazing. Ben loves chopping and making things.
This weeks' Ben meltdown was because cookies we were making (from

this cookbook

) needed to rest for a few hours before putting sprinkles on lol. Don't worry, he is fine!
Lots of cooking and 'making it work' … with the

homemade crackers

I made (refer to the top of the newsletter), I am putting together fun cheese boards with whatever I can put find in the fridge and calling it 'lunch'. It's been amazing and Ben has been loving help make them.
Popular This Week:
How are you doing? What are you cooking or 'making work' with what you have? Just leave a comment below and let me know!