I absolutely LOVE cookbooks. I have an ever growing collection, and I always get asked about my favorite cookbooks, so I thought I'd make list to share with you, so I present to you: a list of my favorite cookbooks, a list of the best cookbooks if you will.
I will be adding to this list, and referencing it in the future.
Cookbooks are such a source of inspiration for me. I love reading them from cover to cover and trying new recipes in the kitchen. After having written a cookbook, they're even more special to me. I know first hand what an act of love it is to put a book together and put it out there in the world.
Fast & Easy Five-Ingredient Recipes: A Cookbook For Busy People – by yours truly. I tell everyone this, but it's so true: ever since becoming a mom, I use my cookbook more than ever. It sits on my kitchen counter and it contains so many of my go-to recipes (like my yogurt chicken, omg so good, or the sloppy joes, or even the recipe for taco seasoning, because I never have those packets when I need them, so I can make it by following my recipe in the book). It's also a great starting point if you're looking for inspiration, because so many of the recipes can be modified or be used as a starting point and then varied depending on your tastes.
The All New Good Housekeeping Cookbook – by Susan Westmoreland. One of my best friends gave me this cookbook she picked up at a garage sale for 10 cents. It's such a good cookbook. It is the first cookbook I can remember ever really using repeatedly. It has followed me through college, graduate school, newlywed life and now beyond. It has recipes for just about everything under the sun, and they all turn out great. I definitely need to make something and share it on the blog here for you guys (it's where I learned how to make pot roast, polenta and apple pie!)
100% Real: 100 Insanely Good Recipes For Clean Food Made Fresh – by Sam Talbot. When I first got this cookbook I dismissed it as 'healthy food' and asked my husband to pick a recipe he thought sounded good. He handed me back a list, which was basically every page of the book. I took another look, and sure enough, there were tons of good-sounding recipes. I since have made several recipes (including these almond butter pepita date granola bars) and omg, so good. Everything I make from this book is insanely delicious! Don't let the healthy title throw you off! I made these insane ham and brie toasts with apricot jam that I'm going to be sharing soon from this book.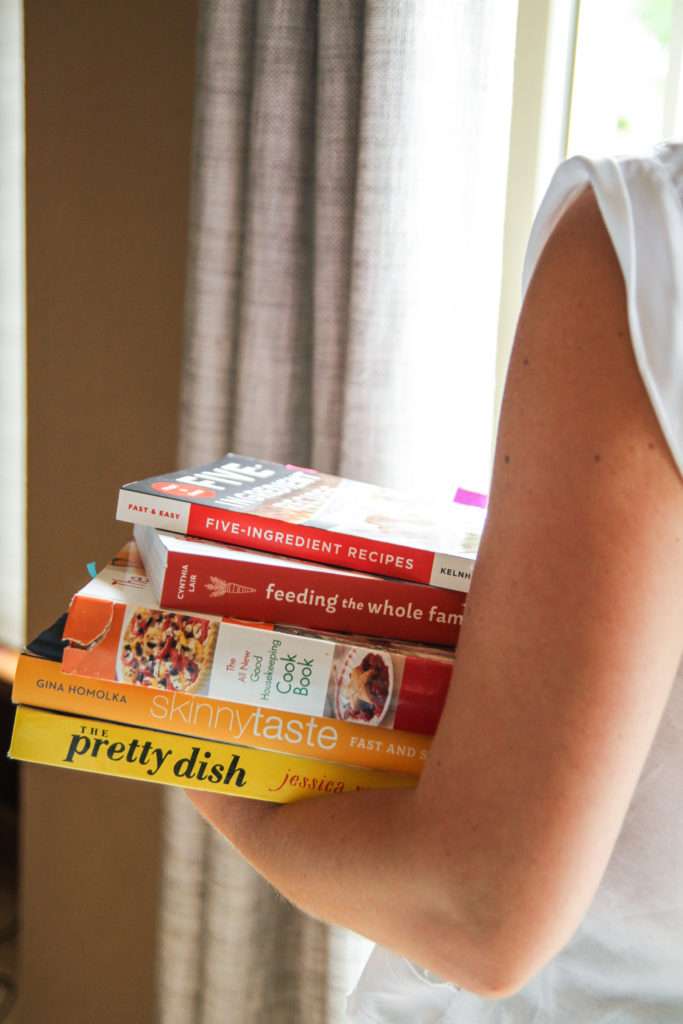 Cooking That Counts: 1,200- to 1,500-Calorie Meal Plans to Lose Weight Deliciously – by the editors of cooking light. Even though this book is a 'healthy' cookbook, the recipes are SO GOOD! I have made at least 1/2 if not more of the recipes in this cookbook and have not been disappointed my any of them. Really good healthier recipes and inspiration.
Feeding the Whole Family– by Cynthia Liar. There are over 200 recipes for feeding babies, kids and their parents. I love this cookbook and have been using it since I started feeding Ben. I love that there are variations for all the recipes on how to make them perfect for everyone. This book is in its 4th edition, so you know it's good!
Skinnytaste Fast and Slow: Knockout Quick-Fix and Slow Cooker Recipes– by Gina Homolka. I love making healthy recipes from this book. Gina's recipes always turn out great, and this is one of my favorite cookbooks. The book itself is beautiful, and is perfect for those set-it-and-forget-it slow cooker days! I shared this recipe for the best ground turkey tacos from this book and I make them ALL the time, they truly are the best.
Martha American Food – by Martha Stewart. This cookbook was given to me as a gift, and I love not only reading it and learning food history tidbits, but the recipes are super good. The chicken and dumplings, farmhouse chowder, and so many others are favorites are from this book. Every time I open this book it makes me want to travel to a different part of the US to try new food!
Carla Hall's Soul Food: Everyday and Celebration – by Carla Hall.  This book has post-it's marking almost every page for recipes I want to try and love to make over and over . Everything from cheddar zucchini bread to brown sugar chicken to cornbread!  With each recipe, I'm discovering new amazing flavors and can't wait to keep cooking from it.
Seriously Delish – by Jessica Merchant. My all-time favorite banana bread (it uses coconut milk) and my favorite whole wheat chocolate chip cookies come from this book. That says a lot. It's a really fun book that I actually use! Jessica also happens to be coming out with another book (The Pretty Dish) soon which I cannot wait to get my hands on, I promise I'll share a recipe from it!
Eating In The Middle: A Mostly Wholesome Cookbook– by Andie Mitchell. I love this book, which has both healthy and no-so-healthy recipes in it. I've made a bunch of recipes from this book, my fave faves are the cashew chicken lettuce cups, the meatballs, and the chicken curry with ginger and yogurt.
Food Swings: 125+ Recipes to Enjoy Your Life of Virtue and Vice – by Jessica Seinfeld. If you're thinking the name 'Seinfeld' is familiar, you'd be right. This is Jerry Seinfeld's wife. She is a really great cook, and this is my second cookbook of hers I've loved. Years ago (before kids) I got Deceptively Delicious: Secrets to Get Your Kids Eating Good Food and really enjoyed the book. Her latest cookbook though, this Food Swings one is a winner. So many amazing recipes, including the best ever chocolate layer cake!
Baby Led Weaning Cookbook: Enjoy the Convenience of One Meal for the Whole Family – by Tracey Murkett & Gill Rapley. At first glance I paged through this book and didn't really think anything more. Then Ben started eating, and I re-opened this book. So amazing, the egg cups recipe, I make those once a week for us, there's lots of recipes the whole family can eat and enjoy, so you're not cooking separately for everyone.
In my home office, I have a bookshelf that holds cookbooks. What you don't see is the stacks and stacks of cookbooks on the side of the room. It's gotten to the point where my husband suggested we think about building some wall shelves to hold them (YES! love that idea!)
I have so many cookbooks I still haven't gone through and given the proper 'once over' to, so I promise I will come back and update this list.
Now I'd love to know – do you have a favorite cookbook? Or, what are some of your favorite cookbooks?!