This rainbow salad with blood orange dressing is packed full of vibrant flavors, not to mention beautiful colors, and is the perfect combination of fruits and vegetables in a salad, all ingredients of which are organic.
When I placed my first Instacart order (use code PHILIAK125 to get $10 off your first order for new customers!) I was so excited by all the produce offerings on their site that I think I must have ordered #ALLTHEFRUITSANDVEGETABLES lol. I loved getting my order delivered right to my door chuck full of organic produce. I think what surprised me most was the vibrant colors that emanated from the bags!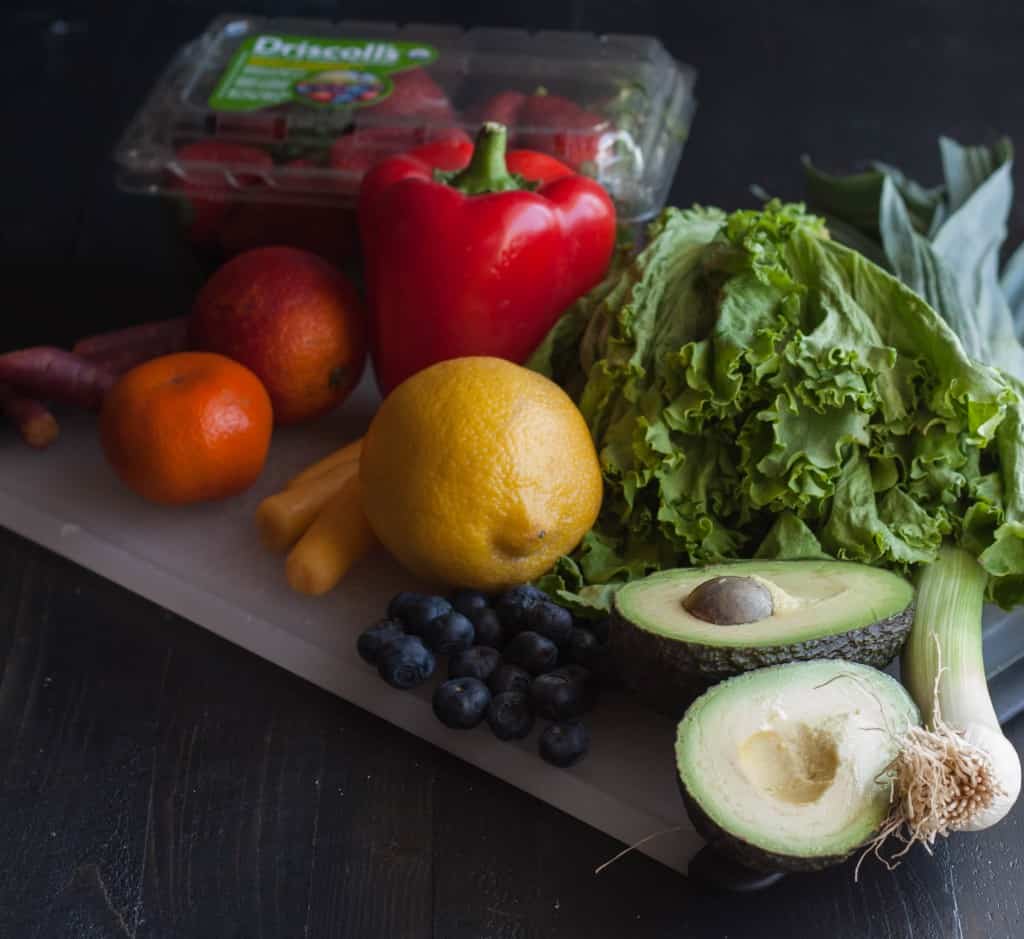 The first thing I thought of was looking down at my order was that it looked like colors of the rainbow. There was everything from rainbow baby carrots (super adorable by the way) to red peppers and blueberries.
The only way to truly do the produce justice was to showcase it and use as many fruits and vegetables as possible. And what better way to use fresh fruits and vegetables than in a healthy salad?
Made with different color fruits and vegetables, this rainbow salad will bring any dreary day to life, something that is much needed here in Wisconsin. I feel like this winter has just been dragged out, endless, and whenever I think it's getting better, I wake up to a fresh snowfall. So having something to look forward to that reminds me of brighter times is what I'm all about!
Making the salad is something that doesn't require a lot of work either. The most involved part comes from cooking the chicken and leek together. But even that takes a total of 2 minutes prep and then 12-15 minutes cooking, a really hands off process during which you'll be putting everything in a bowl for the salad and making the dressing. And since there are fruits as well as vegetables in the salad, I made a dressing that was a little on the sweeter and tangy side, it really ties the salad together and is made with blood oranges, giving it this gorgeous pink color.
Put everything together: the salad, the chicken, the dressing, and you're left with one delicious rainbow chicken salad.
Want to experience Instacart delivery? Use code PHILIAK125 to get $10 off your first order for new customers! Be sure to let me know what you think!
Ingredients
For the salad:

1

head of lettuce

cleaned and chopped

1/2

red bell pepper

chopped

1

avocado

diced/cubed

1

clementine

1

blood orange

sliced

3

yellow baby carrots

shredded

3

strawberries

sliced

3

purple baby carrots

shredded

1/4

cup

blueberries

For the chicken:

1

lb

chicken tenders

1

leek

sliced

1

Tbs

extra virgin olive oil

1/2

tsp

salt

1/2

tsp

pepper

1/2

tsp

garlic salt

For the dressing:

1

blood orange

juiced

1

lemon

juiced

1

Tbs

honey

1/4

cup

extra virgin olive oil
Instructions
For the salad place the lettuce in a bowl and arrange the vegetables and fruit on top.

For the chicken, heat oil in a large frying pan, add leeks and chicken and salt, pepper and garlic salt. Cook the chicken for 5 minutes, flip, then cook for another 5 minutes, then another 5 minutes. And then set aside.

To make the salad dressing whisk together the blood orange, lemon juice, honey and extra virgin olive oil until combined.

Pour salad dressing over salad, toss the salad, and serve with chicken tenders