Are you excited or dreading it? It's officially time for the kids to go back to school and time to really get back to work. It's a love-hate time of year for a lot of parents out there….and teachers too! I have family that are teachers, so it's back to work for them! Today I'm sharing a work lunch recipe roundup, I know I get short on ideas, so it's helpful to have them in one place. Hope you love these work lunches as much as I do!
Last year, I shared a roundup of some super tasty back to school recipes, but this year, I'm helping all those teachers out and sharing some excellent work lunch recipes.
A lot of great ideas are in the post for freezer meals too because any meal you can prep and freeze works great to grab for work! But I'm more of a light sandwich or delicious salad for lunch kind of gal. If I eat a hearty, heavy meal midday, I'm practically asleep by 3pm!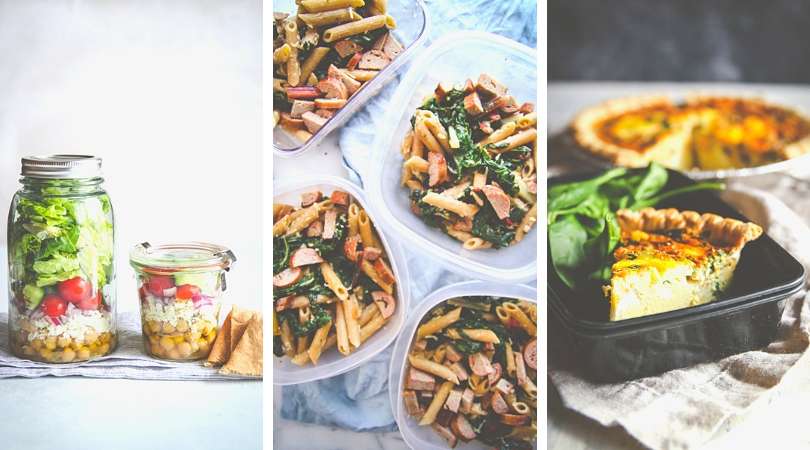 Pepperoni pasta salad in a jar – I love mason jar lunches because they make it so easy to pack full of goodness, throw in my bag and be off to work.
Ham and Swiss sandwich with maple mustard mayo – the mayo makes the whole sandwich! It's the perfect touch of sweet and tangy.
Grilled chicken Green Goddess Cobb salad – this salad is based off of one I had at Panera. It's super filling and healthy.
Rainbow salad with blood orange dressing – I love the beauty and color of this dish, not to mention the great variety in ingredients!
Greek chickpea salad in a jar – another salad in jar and it's one of my faves – Greek salad!
Spinach salad – a homemade dressing makes a salad even that much more healthy. And any salad with fruit, nuts and cheese is a homerun in our house.
Vegetarian sandwich – a fresh sandwich full of protein, thanks to tasty tofu
Steak and nectarine salad – any salad that also includes steak is ok by me! The ingredients of this salad make it perfect as you welcome the fall season.
Chicken Caesar pita wrap – I'm a sucker for Caesar salad, in any form. This recipe is only 5 Ingredients
Whether you're just heading back to work or have had a busy summer balancing work and summer fun, here's to you! Hoping you enjoy some tasty food along the way.