This 5 ingredient slow cooker salsa chicken and quinoa has the perfect amount of zip to it to, making it truly stand out as a healthy and delicious dinner!
Happy Friday everyone-we've made it to Friday, and you know what that means – time for Five Ingredient Fridays. I'm super excited about this weeks' recipe, it only has 5 ingredients but it has such awesome flavors, I think you're really going to like it.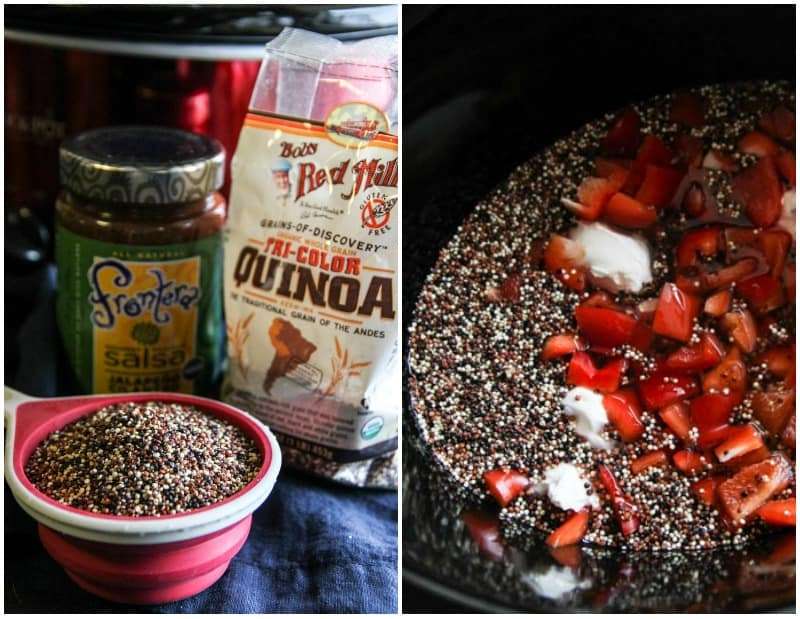 Before we talk about the dish and how to make it (hint-it's incredibly easy) let's talk about your week.  How was it? Are you looking forward to the weekend? I've been looking forward to this weekend for a while, because after work today my hubby and I are headed up to Kohler, Wisconsin (you may remember hearing about that from my last trip I took there which you can read more about here ) for a relaxing weekend getaway. One of my sister got my husband and I tickets to see a band play in Kohler, so we planned a little weekend around it. I'm going to be posting more travel stories here on the blog this year based on awesome feedback from my previous travel stories, I have so many things I want to share, now I just need to find some extra hours in the day, please? Mmmk, thanks!
Now with this 5 ingredient slow cooker salsa chicken and quinoa you should know I'm totally using the word 'zippy,' because it describes the amazing flavors perfectly. While quinoa can sometimes be bland, that is not the case here. Salsa is used to cook the quinoa and the chicken and gives the dish that extra zip that is sometimes missing. The ingredients I'm using in this recipe are Bob's Red Mill tricolored quinoa (I'm totally in love with this quinoa, you can purchase it at your local grocery store or on Amazon here) and Frontera brand salsa in jalapeno and cilantro (this salsa is my fave, it's soooo good! You can purchase it at most grocery stores or here on Amazon.)
To make this you put all the ingredients in your slow cooker (this is the slow cooker I use that I'm totally in love with, and it's on sale at 46% off on Amazon, so if you don't have a slow cooker I would totally recommend buying this one) and you set it and forget it – that's it, told you it was easy!



Yield: 4 servings
5 Ingredient Slow Cooker Salsa Chicken and Quinoa
Prep Time 5 minutes

Cook Time 8 minutes

Inactive Time 1 hour 12 minutes

Total Time 1 hour 25 minutes
Ingredients
2 1/4 cups water
4 oz cream cheese, reduced fat
2 red bell peppers, roughly chopped
1 lb. chicken breasts (2-3 chicken breasts, halved if they're big)
1 jar (16 oz) salsa, heat level of choice (I use Frontera salsa in jalapeno and cilantro flavor which is medium)
Instructions
Pour water into a slow cooker. Pour in quinoa.
Dollop the cream cheese around the crock pot (I usually do about 4-5 dollops of it).
Add chopped bell peppers and chicken breasts to the crock pot, then pour jar of salsa over the chicken and set the slow cooker to low and let cook on low for 8 hours (you could stir it once or twice while it's cooking, but that's not necessary. Also, I've found that when you turn off the heat, if you remove the lid for 15-20 minutes the quinoa firms up.)
To serve simply divide chicken onto 4 plates and spoon quinoa/pepper mixture on the side, the chicken will fall apart so there's no need for a knife, serve and enjoy!


Here is a picture of the this chicken and quinoa for healthy meal planning, the turkey meatloaf you see in the picture, that recipe will be coming next week! And if you want other healthy meal planning recipes, check out my recipe for slow cooker beef and sweet potato stew-that one is great for lunches!
Disclaimer: some of the above links are affiliate links, if you purchase amazon products through my store at no cost to you, I will earn a few pennies. As always, all opinions are my own and thank you for supporting the brands and products I love that make the Sweetphi blog possible.