It's always such a bummer when you cook an amazing meal and then you have a sink full of pots and pans to wash.  That's why one pan/pot recipes are my favorite, so I'm sharing the best one pan recipes for you to make any weeknight!
These are just twelve of the best one pan recipes that I love, but there are plenty  more for you to enjoy!
Sheet Pan Ground Turkey Balsamic Meatloaf
A great family meal all made on one sheet pan, this ground turkey balsamic meatloaf with sweet potato fries and green beans will become a favorite easy meal!
Read More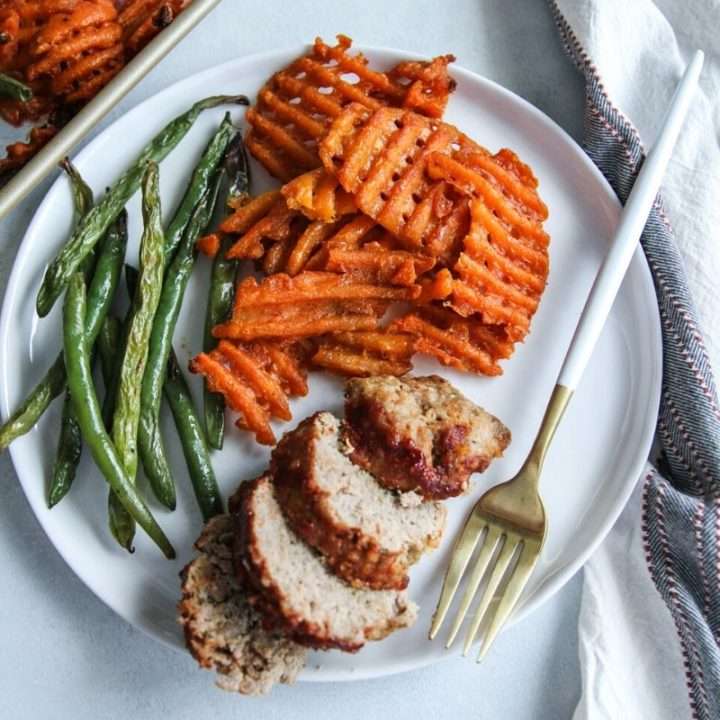 Sheet Pan Pork Chops Sweet Potato and Fennel Dinner
Sheet pan pork chops with sweet potato and fennel make for the perfect easy one-pan dinner! You're going to love how delicious the marinated pork chops are, and love how everything is cooked in one pan and how easy clean up is!
Read More
Hot Honey Baked Chicken Sheet Pan Dinner
An easy baked chicken dinner made on one sheet pan? Sign me up! This hot honey baked chicken with roasted broccoli and potatoes is such a great easy family meal to make, you'll be making it on repeat!
Read More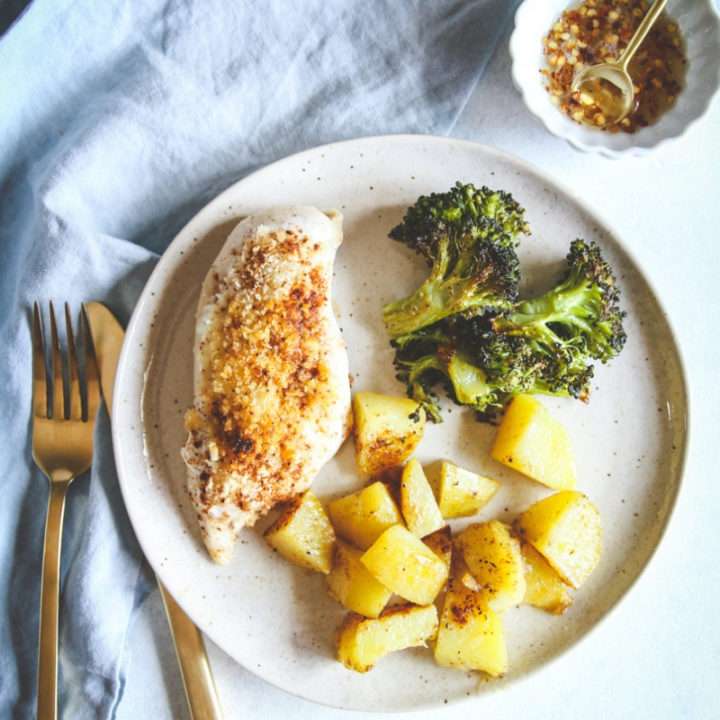 5 Ingredient Baked Chicken Parmesan Pasta
This 5 ingredient baked chicken parmesan pasta dish is one that any household would love to eat.  And it's even perfect for a dinner party.  It's a take on a classic chicken pasta recipe everyone will love.  It's my take on a chicken parm, made all in one dish, with super minimal prep and a dinner with only 5 ingredients
Read More
One Pot Sausage and Rice Casserole
This is a super tasty and easy to make one-pot meal the whole family will love. Perfect for those busy nights when you don't feel like doing a lot of dishes, this casserole is made in only one pot and is made with sausage, bell peppers, mushrooms, and rice cooked in a tomato sauce, then topped with cheese. 
Read More
One Pan Vegetarian Dumpling Stir Fry
This one pan vegetarian dumpling stir fry recipe is the perfect dish to make when you're short on time and want an incredibly delicious dinner on the table in less than 30 minutes!
Read More
Carne Asada Fries
This carne asada fries recipe is such a great party food (or one pan dinner), you'll never even know they're healthy! The carne asada fries are loaded steak fries taken to the next level, and are an easy and delicious meal everyone will love! Fries topped with flavorful steak, pico and cheese, YUM, and are from the new Skinnytaste One and Done cookbook!
Read More
One Pot Thai Shrimp and Quinoa
Made in one pot, this Thai shrimp and quinoa will soon become a family favorite meal. It's healthy, protein-filled, and so incredibly delicious! And did I mention it's made in one pot? It's so easy to make and clean up is a breeze!
Read More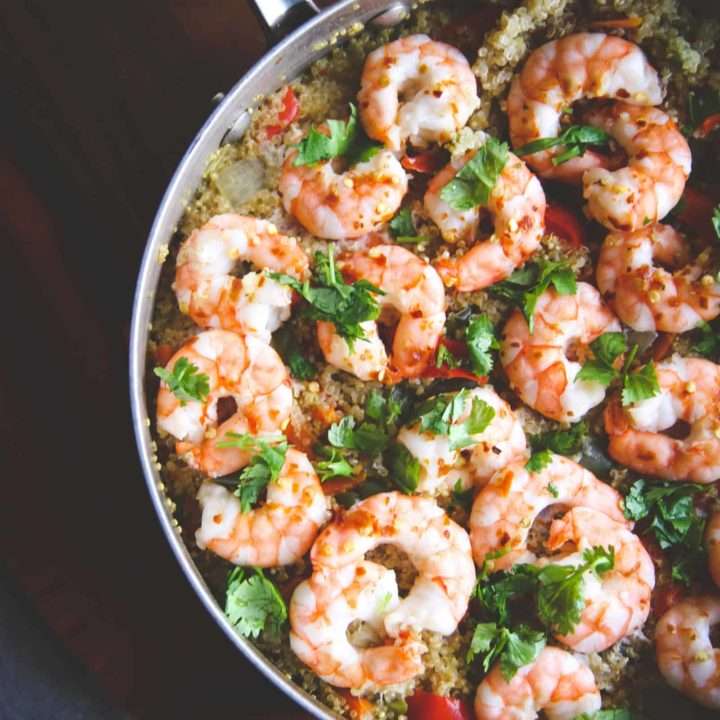 5 Ingredient Chicken and Leek Skillet
This 5 ingredient chicken sausage and leek skillet is an easy one pot super budget friendly meal that's filling and delicious!
Read More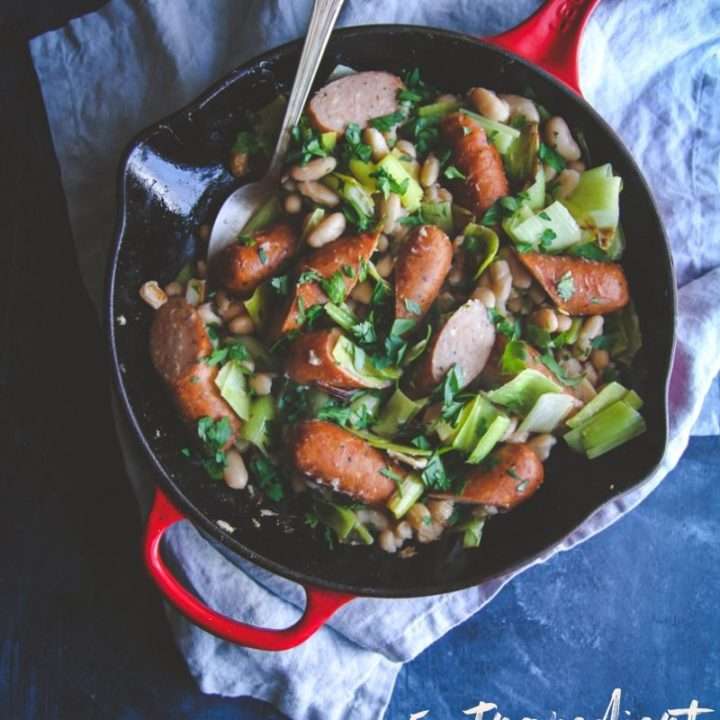 Vegetarian Sheet Pan Dinner (Mexican Kale Salad)
Happy Meatless Monday - this vegetarian sheet pan dinner of a Mexican kale salad is going to be your new favorite super easy dinner to prepare.
Read More
Sheet Pan Pizza Recipe
This sheet pan pizza recipe is so incredibly delicious and feeds a crowd, perfect for your next family dinner or get together!
Read More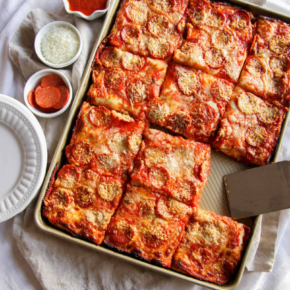 5 Ingredient Stovetop Blueberry Crisp
A delicious dessert for two that is as simple as can be, this 5 ingredient stovetop blueberry crisp will be your go-to fast and easy dessert recipe.
Read More