We love pizza in our house and there's no reason to always stick to the same old cheese and pepperoni.  Pizza is a great to get creative with recipes and let the kids help in the kitchen.  I'm sharing the best pizza recipes that we make on repeat in our house.
5 ingredient jalapeno enchilada pizza
Prosciutto fig and arugula flatbread
Fresh herb butter and cheese flatbread
Winter vegetable and sausage pizza
I cannot talk about the best pizza recipes without mentioning my father-in-law's pizza. He grills pizza using a Kettle Pizza grill attachment and I've shared three pizzas made with a Kettle pizza in the past. His grilled pizza is incredible!
When I'm making my own pizza at home, the below two recipes are my go-to crust recipes that are a hit every time!
I would love to hear what your favorite pizza toppings are – just leave a comment below and let me know!
Sheet Pan Pizza Recipe
This sheet pan pizza recipe is so incredibly delicious and feeds a crowd, perfect for your next family dinner or get together!
Read More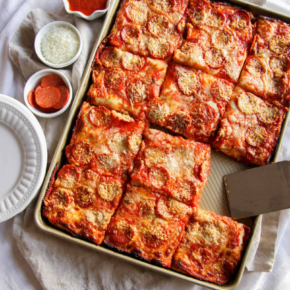 5 Ingredient Jalapeno Enchilada Pizza
I hope that I can convey how delicious this 5 ingredient jalapeno enchilada pizza recipe is and that I can do this magnificent pizza justice. If you wanted to make a recipe from my Five Ingredient Friday's series, this one would definitely be right at the top of my list.
Read More
How To Make Pizza with Kids
Cooking with kids in the kitchen can be so fun and pizza is a great place to start!
Read More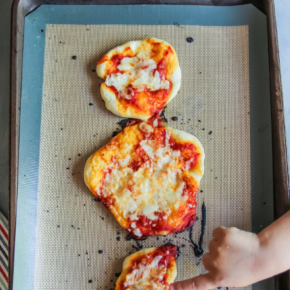 BLT Recipe
A super delicious spin on a summer classic: BLT pizza recipe which uses fresh tomatoes and seasonal produce.
Read More
Sausage and Kale Pizza
This sausage and kale pizza is a great recipe to make with kids in the kitchen and is an easy healthy family dinner
Read More
Taco Pizza Recipe
The best taco pizza recipe - it will become a family favorite and is great for even the pickiest of eaters
Read More
Prosciutto, Fig and Arugula Flatbread
This prosciutto fig arugula flatbread pizza recipe is a fast and easy dinner idea everyone will love!
Read More
Sun-Dried Tomato Clam Pizza
If you're looking for a unique pizza recipe, this sun-dried tomato clam pizza fits the bill. It's super delicious and you'll fall in love with the flavor combination of the toppings after first bite. 
Read More
Fresh Herb Butter and Cheese Flatbread Recipe
Fresh summer herbs used in their best form: in a fresh herb butter, with cheese and baked to perfection for this flatbread recipe!
Read More
Fail Proof Whole Wheat Pizza Dough
This easy recipe for fail proof whole wheat pizza dough will have you and your family enjoying a healthier version of pizza night!
Read More
Sourdough Pizza Crust Recipe
This recipe is for sourdough pizza crust, made with sourdough starter discard and has no added yeast!
Read More